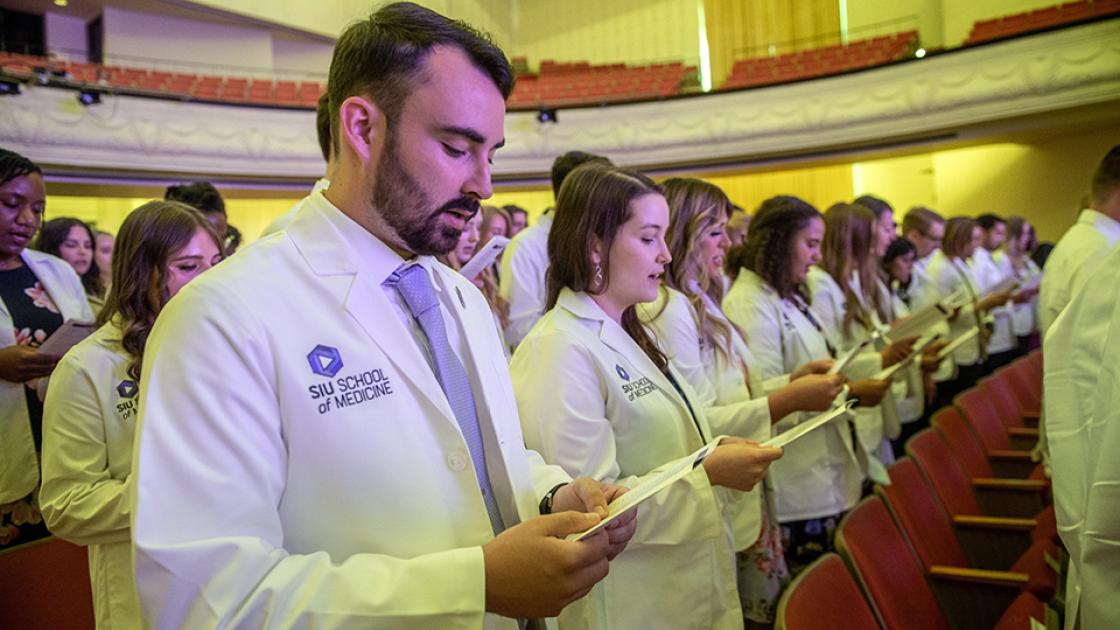 SIU Medicine Class of 2026 begins training
Authorities have long anticipated the U.S. would face a shortage of physicians as the Baby Boomer generation aged and outpaced medical school graduates. The warnings have become more dire as COVID-19 induces the nation's aging physician workforce to consider early retirement or at least significantly reduce its workload.
 
Medical schools like Southern Illinois University School of Medicine have taken a first step in addressing the shortage by expanding the overall number of medical students enrolled in their institutions. In 2020, SIU increased its enrollment to include eight additional students within the new Lincoln Scholars Program, designed to train rural health specialists.
 
A White Coat ceremony on August 12 celebrated the new students in the Class of 2026 who have begun pursuing medical degrees to care for the people of central and southern Illinois and beyond.
 
During the ceremony, students receive their symbolic white coats in Carbondale's Shryock Auditorium to begin their journeys to become physicians. The learners spend the first year of training on the Carbondale campus and years 2-4 in Springfield. Lincoln Scholars students will spend all four years downstate.
 
SIU Medicine Dean and Provost Jerry Kruse, MD, MSPH, SIU System President Daniel Mahony, PhD, and Wendi El-Amin, MD, associate dean for equity, diversity and inclusion, delivered remarks to the group. Matt Winkleman, MD, Class of 2002 and president of the school's Alumni Society Board of Governors, and Amanda Mulch, MD, Class of 2003 and the new Assistant Dean of Student Affairs, presented white coats to the students on behalf of the Alumni Society.
 
Debra Klamen, MD, MHPE, senior associate dean for education and curriculum and chair of the Department of Medical Education at SIU Medicine, led the students in reading the Physician's Pledge.
 
The keynote speaker was Haneme Idrizi, MD, Class of 2003 and the new associate dean for student affairs and admissions at the school of medicine. In her talk, Dr. Idrizi spoke of her memories of being a non-traditional, first-generation college student and recalled her feelings of self-doubt as she strove for perfection in medical school. She knows this is all-to-common among medical students.
 
"One thing that the COVID pandemic and its emotional toll has taught me is that this lack of self-compassion is not only unhealthy, it is dangerous," she said. "During the hardest moments over the next four years, I need you to remember to be kind to yourself. It's the lessons that you glean from these experiences and the understanding you show yourself that allow you to grow and become content in your careers."
 
The White Coat Ceremony is designed to establish a commitment to professionalism and empathy in medicine and takes place at most U.S. medical schools each fall. In his welcome to the class, Dr. Kruse emphasized that the coat is not intended to be a status symbol. "This is not something that separates us from others. It's a symbol of our responsibility to them, ... to partner with our patients to help them make the best decisions."
 
Established in 1970, SIU School of Medicine is based in Springfield and Carbondale and focused on the health care needs of downstate Illinois. It educates physicians to practice in Illinois communities and has graduated more than 3,163 physicians since the first class in 1975.
View the ceremony on YouTube.
Photos of the students are available upon request.
___
Class of 2026 students, hometowns & parents/spouse, grouped by regions:
CENTRAL ILLINOIS
Jennifer Barnes        Normal    John and Terri Barnes + spouse Ed Shafer
Jackson    Blough        Springfield    Brandon Blough and Jennifer Farnsworth
Oliver Caldwell        Springfield    Troy Caldwell and Terri Caldwell    
Anna Carter         Springfield     Marc and Lisa Carter
Kyle Cole        Decatur    Todd and Jennifer Cole    
Devin Compton        Chatham     Scott and Tammy Compton
Cameron Conklin    Chillicothe    Chad and Dahla Conklin    
Noah Drewes        Springfield    Brian and Kimberly Drewes
Emily Fahey        Peoria    Kevin and Molly Fahey
Juliana Guaglianone    Decatur    Perry Guaglianone and Mary McGrath
Hendrick Hamilton    Pawnee     Brad and Teresa Hamilton
Matthew Hoelscher    Eureka     Brian and Nancy Hoelscher
Victoria Hollinshead    Springfield    Frank and Kim Hollinshead
Hannah Johnson    Morton    Bradley and Kara Johnson
Alexandra Karras    Sherman    Peter and Victoria Karras
Imadh Khan        Peoria    Asif and Shazia Khan + spouse Samia Abdul-Qadir
Kyle Kieffer        Chatham    Tony and Susan Kieffer
Shea Lanier        Springfield    Larry Lanier and Linda Lanier
Yixuan Ma        Springfield    Jianjun Ma and Wei Du
Allison Mool        Sherman    Robert and Deanna Mool
Jessica Rajkumar    Morton    Christopher and     Supriya Rajkumar + spouse Braden Bisping
Bailey Stauffer        Virden    Randy and Gayle Stauffer
Zelinda Taylor        Springfield    William and Judith Taylor
Kyra Webster        Springfield    Louis and Stephanie Webster
EASTERN IL
Blaine Baer        Oreana    John and Krystal
Connie Bao        Mahomet    Shiping Bao and Xiaoyun Wu
Barrett Beesley        Effingham    Bradley and Cynthia Beesley
Zachary    Bennett        Charleston    Steve and Wendy Bennett
Connor Cavanaugh    Georgetown    Joshua and Amy Cavanaugh + spouse Rachel Cavanaugh
Yousef Elhalees        Champaign    Walid and Barihan Alemleh
Samuel Fisher        Normal     Charles Fisher and Susan Sprecher
Raya Gandhi        Champaign    Aashish and Rachel Gandhi
Carly Goben        Normal    Phil and Denise Goben    
Murtaza Jatoi        Forsyth    Naeemuddin Jatoi and Farah Mansoori
Lauren Kee        Bourbonnais    Scott and Donna Kee
Savannah Kidd        Bloomington    David and Diane Kidd
Sarah Lee        Champaign    Jae and Helen Lee
Brock Lynn        Bloomington    Jeff Lynn and Michelle Lynn
Christopher Rossi    Bloomington    Dr. Phillip and Dr. Vera Rossi
Marcus Steffen        Bloomington    Cennert and Varpu Steffen + spouse Emily Fisher
SOUTHERN IL
Katie Ayres        Edwardsville    Dr. Robert and Janet Ayres
Alyssa Dollison        O'Fallon    Erik and Twana Dollison    
Mara Downing        Troy    Toby and Ranita Keller
Lauren Garbe        Dieterich    Michael and Gail Garbe
James Hillard        Robinson    Jeff and Shelly Hillard
Trisha Nair        Mt. Vernon    Dr. Sudeep and    Priya Nair
Parth Patel        Collinsville    Pragnesh and Mina Patel
Elizabeth Portugal    O'Fallon    Michael and Cheryl Sommer + spouse Aileen Portugal
Jenna Ribbing        Anna    William and Sheryl Ribbing
Jacob Schmid        Marion    Chad Schmid and Holly Sonnenberg
Hannah Schmidt    Bethalto    Greg and Heather Schmidt
Amber Schwertman    Edwardsville    Christopher and Karie Schwertman
Brianna Sexton        Belleville    Robert Sexton and Tanya Sherwood + spouse Alexander Barry
Madelyn Skinner    Belleville    Greg and Susan Skinner    
Ireland Smith        East Alton    Christopher Smith and Carla Smith
Madison Stacey        O'Fallon    Tim and Pam Stacey
Nicholas Stevenson    Belleville    Nicholas and Lisa Stevenson
Zoe Weld        O'Fallon     Matthew and Martha Weld
Micaylen Wolf        Harrisburg    Melinda Wolf and the late Robert Wolf
NORTHERN IL
Olayemi Adebayo    Chicago     Temitope and Tessy Adebayo
Ted Amadi        Chicago    Ted and Rita Amadi
Alana Goodson         Mundelein    Sabrina and Christine Kilar
Justin Harris        Matteson    William Harris and Angela Woolfolk
Kamil Hester        Chicago    Kamau Hester and Yolanda Carter-Hester
Virginia Kreckman    Mendota    John and Kristin Kreckman
Jenna Lee        Rockford    Jay and Sherry Lee
Kevin Lu        Peru    Min Lu and Shu Huang
Skylar Ozoh        Chicago    Nnamdi Ozoh and Lynnette Wilson
Nana Quainoo        Chicago     John Willington Quainoo and Nana Ama Yeboah
John Salazar        Orland Park    John and Linda Salazar
Kyle Struck        Orland Park    Ray and Kelly Struck
WESTERN IL
Georgia    Graham        Ursa    Daniel and Kimberly Graham
Nina Tran        Moline    Minh Tran, Thuy Tran and Dan Terry
OUT OF STATE
Temitope Adeleke    Prince George County, MD    Dotun and Lola Adeleke    
Diandra Donkor        Bronx, NY    Gabriel and Grace Barnieh
Charles Hughes        Macon, MS    Nathaniel and Gwendolyn Hughes
Afamefuna Maduka    Alpharetta, GA    Bruce and Isabella Maduka
Carlos Marmolejo    Homestead, FL    Carlos Marmolejo and Mirley Serna + spouse Laura Valentina Serna
Aungelique McGhee    Atlanta, GA    Todd McGhee and Lisa Moye    
Justine Newman    Glenmoore, PA    Lee and Jennifer Newman    
Roxanne Okeke        Las Vegas, NV    Charles and Nicole Okeke    
David Salami        Ibadan, Nigeria    Olalekan and Ebunoluwa Salami + spouse Tishauna Edwards    
Shadia Sekle        Charlotte, NC    Patrick Sekle and Shirley Sekle    
Evelyn Veliz        Brooklyn, NY    Pedro and Dolores Veliz