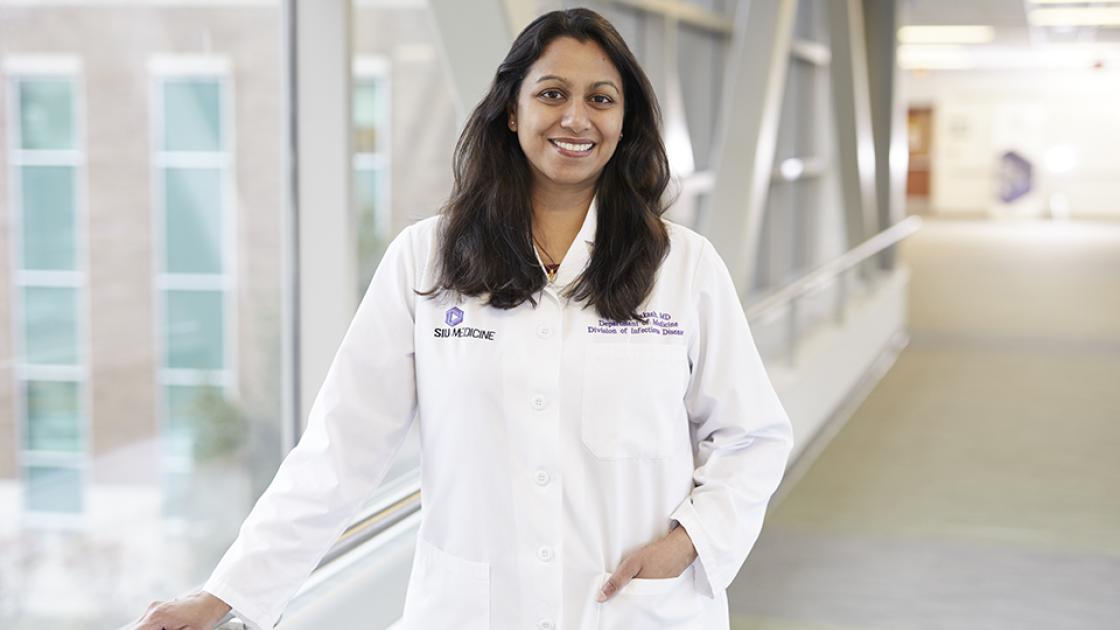 Vidhya Prakash new associate dean, CMO at SIU Medicine
Vidhya Prakash, MD, has been appointed to the dual position of chief medical officer and associate dean of clinical affairs and population health at SIU Medicine.
Prakash will begin her duties on March 1. She joined SIU School of Medicine in 2014 as an assistant professor of internal medicine. She was subsequently promoted to a full professor position. Most recently, she was the Department of Internal Medicine's vice chair of clinical affairs and chair of the Clinical Competency Committee.
Prakash has served the organization in many other positions, including president of the Faculty Council and attending physician for the Infectious Disease service.
Prakash is the founder and current director of the SIU Alliance for Women in Medicine and Science (AWIMS). Through that position, she has led institutional efforts for a more streamlined and equitable promotion process. She also serves as chair of the Health and Healthcare Committee, Illinois Council on Women and Girls (ICWG) and as chair of the Illinois Department of Public Health (IDPH) Diversity in Health Care Task Force. She is chair of the American Medical Women's Association (AMWA) membership committee.
"Dr. Prakash has been an outstanding physician, teacher and mentor," said SIU Dean and Provost Jerry Kruse, MD, MSPH. "Her leadership and expertise will be essential as we address the many opportunities in clinical medicine and population health, and develop systems of care that are more effective, efficient, equitable and enjoyable."
"I am eager to work with our health care team to fulfill our mission and achieve our vision of better health for all," said Prakash. "We are fortunate to have the best people working closely with our hospital and community partners to serve our patients in central and southern Illinois."
A native of Cincinnati, Ohio, Prakash is a U.S. Air Force veteran. She received her medical degree from the University of Cincinnati College of Medicine. She completed an internal medicine residency program and a fellowship in infectious disease at the San Antonio Uniformed Services Health Education Consortium. She held faculty positions at the Uniformed Services University of the Health Sciences in Bethesda, Maryland, and at the Boonshoft School of Medicine and the School of Aerospace Medicine in Dayton, Ohio. She is also a published author, with her book Learning to Listen: A Memoir available on Amazon.
Doug Carlson, MD, had performed the CMO duties at SIU Medicine on an interim basis since May 2021.
"Dr. Carlson has done excellent work in every aspect of the job. In particular, he has provided great leadership to assure stability during the ongoing pandemic, and led significant advances in our quality improvement and safety programs," said Kruse.
Established in 1970, SIU School of Medicine is based in Springfield and Carbondale and focused on the health care needs of downstate Illinois. It educates physicians to practice in Illinois communities and has graduated nearly 3,100 physicians since the first class in 1975.