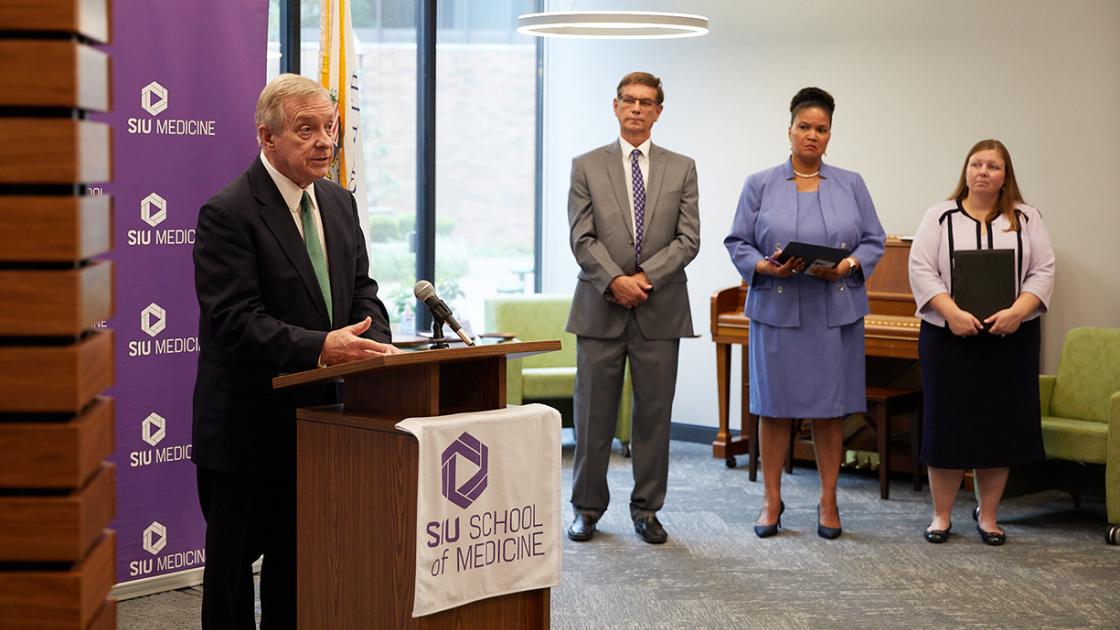 Workforce equity center and telehealth support coming to SIU

U.S. Senator Dick Durbin (D-IL) announced new federal support for the creation of a workforce development center and telehealth technology and training improvements at SIU School of Medicine on May 31.
"Senator Tammy Duckworth and I appreciate the mission of SIU School of Medicine to educate physicians and provide health care for rural areas and small towns across Illinois. So we are happy to announce $2 million in targeted funding to address our communities' most challenging issues: its workforce development and access to health care."
Durbin said, "We realized during COVID that parts of our system are broken. Rural parts of our state have worse health outcomes, higher rates of smoking, heart disease and mortality. They have long drives to visit a doctor and months-long waits to see a specialist."
"Even before the pandemic, there were too few health care providers in the region and fewer still who look like and reflect the patients they serve. We need to be doing all we can to bolster our workforce. Today's funding will help make a difference."
A new Center for Equity in Professional Development at SIU School of Medicine in Springfield will work with business and industry leaders in the region to expand existing equity and diversity professional development opportunities, assess gaps in local industries, and create new pathways to establish a more diverse and equitable workforce for the future. 

The Center will bring together employers and industry leaders in Central Illinois to plan, develop, coordinate and implement new education and training for learners in the region. The goal will be to establish more equitable and diverse professional development pipelines. The Center will also focus on research related to equity and diversity in the workplace and identify opportunities to address gaps in education and workforce development programs for the region.
"Healthy people emerge from healthy and equitable communities," says Wendi El-Amin, MD, associate dean of equity, diversity and inclusion at SIU School of Medicine. "Our overall well-being is impacted by economics and social determinants of health. Through community collaboration, we can better care for our communities and enhance their health outcomes. The Center is our commitment and investment in educational pathways and supportive systems that can foster healthier workplaces for our region,"
Telehealth upgrades
SIU School of Medicine will receive $1.05 million for facilities and equipment upgrades. It will use this investment to establish a more user-friendly telehealth platform, create studio space for telehealth services, expand digital health literacy programs, and provide ongoing training and informational programs for rural health providers in Illinois' counties.
The pandemic accelerated innovation in health care and education in many ways including telehealth, remote learning, and digital monitoring of patients at home, especially those with multiple chronic conditions. In the spring of 2020, all SIU School of Medicine clinical departments used telehealth to deliver care remotely and keep patients safe. Since that time, virtual care has been expanded to reach almost every county in Illinois.
COVID-19 also accelerated the production of digital health literacy and public health education for the areas. Through the use of photography, videography and social media strategies, SIU School of Medicine was able to reach out to more rural, diverse and underserved neighborhoods to encourage the best public health practices and provide resources for better patient engagement and participation in vaccination drives.
 
"This support will help us build a physical infrastructure that allows our digital footprint to grow as we serve telehealth patients and create the digital engagement tools they need to champion health in their lives and communities," says Laura Hepp-Kessel, director of telehealth services at SIU School of Medicine. "With the construction of a new virtual training studio, we will have dedicated space for telehealth, digital health literacy productions and rural health provider education."
"It is a pleasure to work with Senator Durbin as he continues to be an advocate for better health for all," says Jerry Kruse MD, MSPH, dean and provost of SIU Medicine. "His vision for equity in health care access means that SIU School of Medicine always has a partner in our mission to optimize the health of central and southern Illinois."
Established in 1970, SIU School of Medicine is based in Springfield and Carbondale and focused on the health care needs of downstate Illinois. It educates physicians to practice in Illinois communities and has graduated 3,163 physicians since the first class in 1975.
Read the press release from Sen. Dick Durbin's office.
View photos from the event.