Southern Illinois University (SIU) Medicine Department of Population Science and Policy, SIU Paul Simon Public Policy Institute, SIU Medicine Center for Rural Health and Social Service Development and University of Illinois Chicago School of Public Health built upon the work of the 2018 Illinois Rural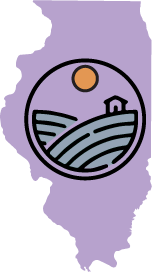 Health Summit and convened rural health stakeholders for 11 discussion forums to better understand and address the COVID-19 pandemic in rural Illinois. Using the 2019 report of the most pressing issues facing rural Illinois as a foundation for discussion, eighty rural leaders representing more than 55 organizations in diverse fields such as public health, health care, academics, industry and government met virtually in late 2020 to discuss how the pandemic is creating new challenges and increasing existing disparities. Forums focused on rural economic development, healthcare workforce, children's growth and development, nutrition and fitness, mental health, opioids, public health systems, caring for an aging population and healthy housing. The information, anecdotes and issues raised and listed below come from those conversations.
For more information on how rural communities can address these challenges or to attend topic specific implementation-focused webinars (held live April 2021 – January 2022; recordings archived), please see the resources below.