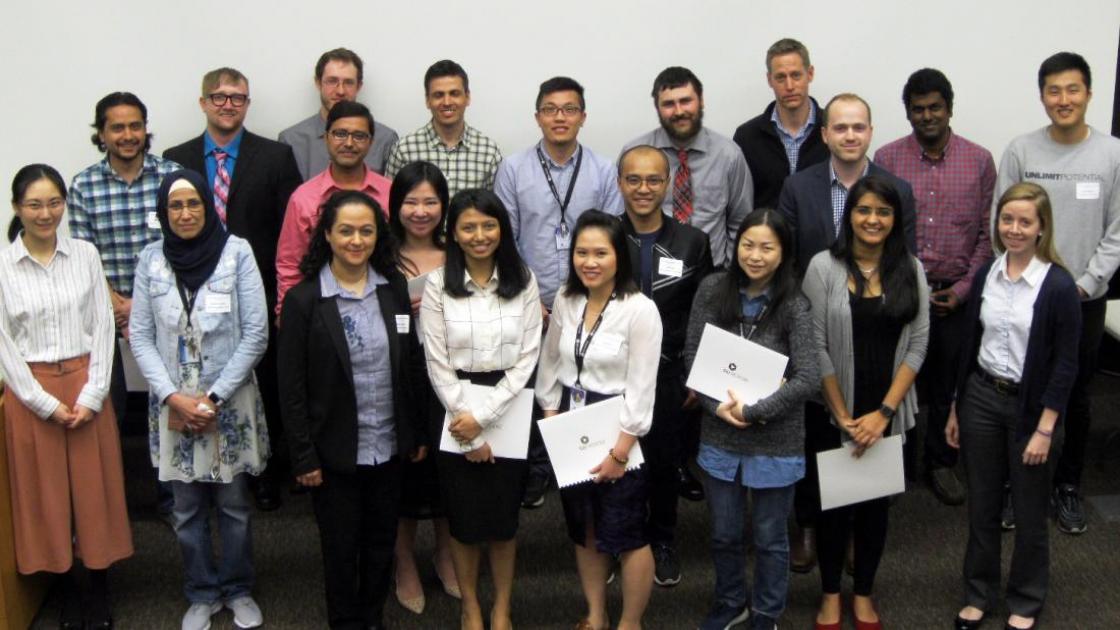 SIU Students & Residents Honored for Research
Young researchers at Southern Illinois University School of M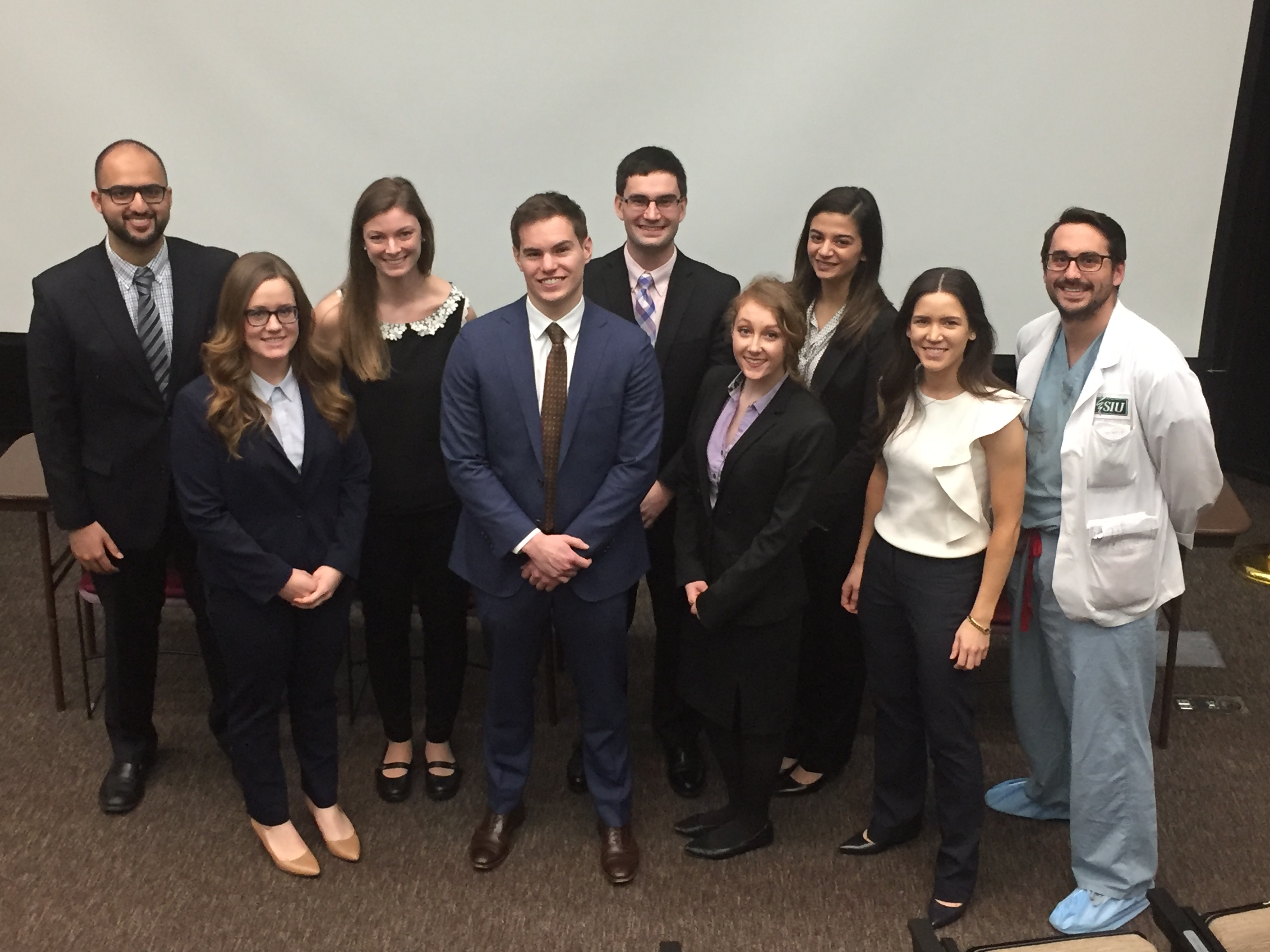 edicine show great promise as they pursued answers to scientific queries during the 28th annual Trainee Research Symposium held recently at the medical school. The two-day symposium on April 18 and 26 offered trainees in Springfield and Carbondale an opportunity to gain experience in making formal presentations of their research findings. Faculty advisors provided assistance for each project. 
"These participants exemplify the caliber and dedication of students and residents at SIU School of Medicine," said Don Torry, PhD, professor and interim associate dean for research. "Their research efforts, in conjunction with those of the faculty, are fundamental to our efforts to improve patient care, advance existing treatments and procedures, and develop new therapies. Topics spanned the continuum from discovery-based research to the bedside ─ a breadth which is required to develop new avenues to diagnosis, treat and ultimately prevent serious health issues afflicting our patients."
The top projects in each category, as judged by a panel of faculty, received monetary prizes.
Five SIU School of Medicine resident physicians and fellows presented their research projects. The top prize went to Rawan Musaitif, MD, a pediatric resident from Peoria, who earned first place for her project "Effect of Potassium Infusions on Serum Levels in Children during Treatment of Diabetic Ketoacidosis." Sangita Basnet, MD, assistant professor of pediatrics, served as Musaitif's advisor.
Third-year medical student Jeffrey Gross of Jacksonville earned first place among 10 participating medical students for his project "Reversal of Fetal-to-Adult Hemoglobin Production by the RNA-Binding Protein IGF2BP1." Andrew Wilber, PhD, associate professor of MMICB, served as Gross's advisor.
Biochemistry and molecular biology (BMB) student Zachary Kartje of Fort Wayne, Ind., earned first place among 24 graduate students for his oral presentation "Chimeric Guides Probe and Regulate CRSPR-CAS9 Activity." Keith Gagnon, PhD, assistant professor of BMB, served as Kartje's advisor.
Graduate students also participated in poster presentations, and first place awards were presented across three scientific groups.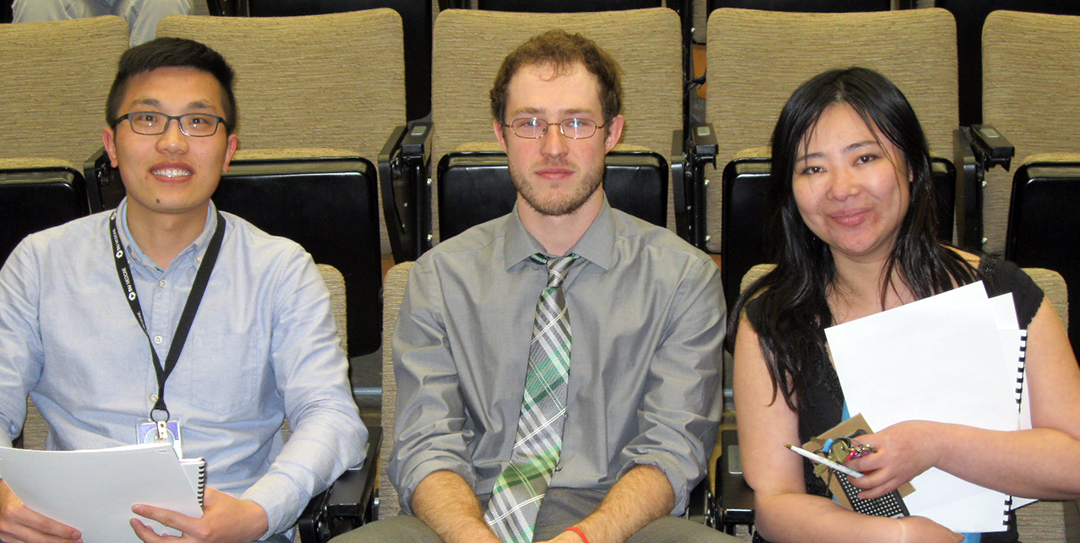 ● Xin Wang, of Zoucheng, China, earned first place among graduate students for his poster presentation "AKR1B8: A Crucial Mediator of Intestinal Homeostasis and the Maintenance of Intestinal Immunity." Deliang Cao, PhD, associate professor of MMICB, served as Wang's advisor.
● Jesse Britz, a PhD student in pharmacology and neuroscience from Divernon, received an award for his research "Implications on Behavior and Metabolism in a Mouse Model of Chronic Circadian Disruption." Shelley Tischkau, PhD, associate professor of pharmacology, served as Britz's advisor.
● Yufang Yin, a PhD student in pharmacology and neuroscience from Hengyang City, Hunan Province, China, received an award for her poster on "The Role of CLCA2 in Anoikis Resistance of HNSCC—Potential Biomarker for Prediction of Sensitivity to EGFR Inhibitor." Randolph Elbe, PhD, associate professor of pharmacology, served as Yin's advisor.
Judges for this year's symposium included: Andrea Braundmeier-Fleming, PhD, Michael Olson, PhD, Sophia Ran, PhD, and Andrew Wilber, PhD - Medical Microbiology, Immunology & Cell Biology; Donald Caspary, PhD, and Shelley Tischkau, PhD - Pharmacology; Randolph Elble, PhD - Pharmacology & Simmons Cancer Institute; Anna Cianciolo, PhD, and J. Kevin Dorsey, MD, PhD - Medical Education; Judith Davie, PhD - Biochemistry & Molecular Biology; Joseph Kurian, PhD - Internal Medicine; James MacLean, PhD, and Prema Narayan, PhD - Physiology; and Amber Pond, PhD - Anatomy.