About me
Dr. El Bitar is a Clinical Associate Professor at SIU School of Medicine. He joined SIU in 2015 after completing extensive training in orthopedic surgery. He provides a holistic approach in orthopedic patient care taking into consideration each patient's circumstances, occupation, background, lifestyle and family. His scope of practice involves all aspects of orthopedics, with a special interest in arthroscopic surgery of the shoulder, knee and hip.
Originally from Lebanon, he attended the American University of Beirut for his undergraduate degree in Biology. He then completed medical school at the American University of Beirut School of Medicine. He completed his post-graduate training in orthopedic surgery at the American University of Beirut School of Medicine and Medical Center. He moved to the US in 2011 and completed a total of 4 fellowships: Adult Reconstruction at SIU, Hip Preservation and Arthroscopy at the American Hip Institute in Chicago, Orthopedic Surgery of the Spine at SIU, and Orthopedic Sports Medicine at the University of Iowa.
Dr. El Bitar is a member of the American Academy of Orthopedic Surgeons, American Orthopedic Society for Sports Medicine, and Arthroscopy Association of North America. He has been very active in research and scholarly activities with numerous publications, podium presentations, posters and exhibits, both nationally and internationally.
Shoulder Surgery
Rotator Cuff Injury/Repair
Shoulder Labrum Injury/Repair
Shoulder Dislocation/Separation
Shoulder Impingement/Bursitis
Knee Surgery
ACL Reconstruction
Meniscus Repair/Debridement
Knee Ligament Injury
Knee Cartilage Injury/Repair
Patellar Tendon/Quadriceps Tendon Repair
Hip Surgery
Hip Labrum Injury/Repair
Hip FAI
Hamstring Repair
Carpal Tunnel Release
Cubital Tunnel Release
Trigger Finger Release
Biceps Tendon Repair
Tennis Elbow
Achilles Tendon Repair
Fractures/Broken Bones
Arthritis
Back Pain
Neck Pain
Foot and Ankle Pain
Hand and Wrist Pain
Education & training
Medical School
The American University of Beirut Medical Center, Beirut, Lebanon
Residency
The American University of Beirut Medical Center, Beirut, Lebanon
Fellowship
The University of Iowa Hospitals and Clinics, Iowa City, IA - Sports Medicine
The American Hip Institute, Chicago, Illinois - Hip Preservation and Arthroscopy
SIU School of Medicine, Springfield, IL - Spine and Adult Reconstruction
Related articles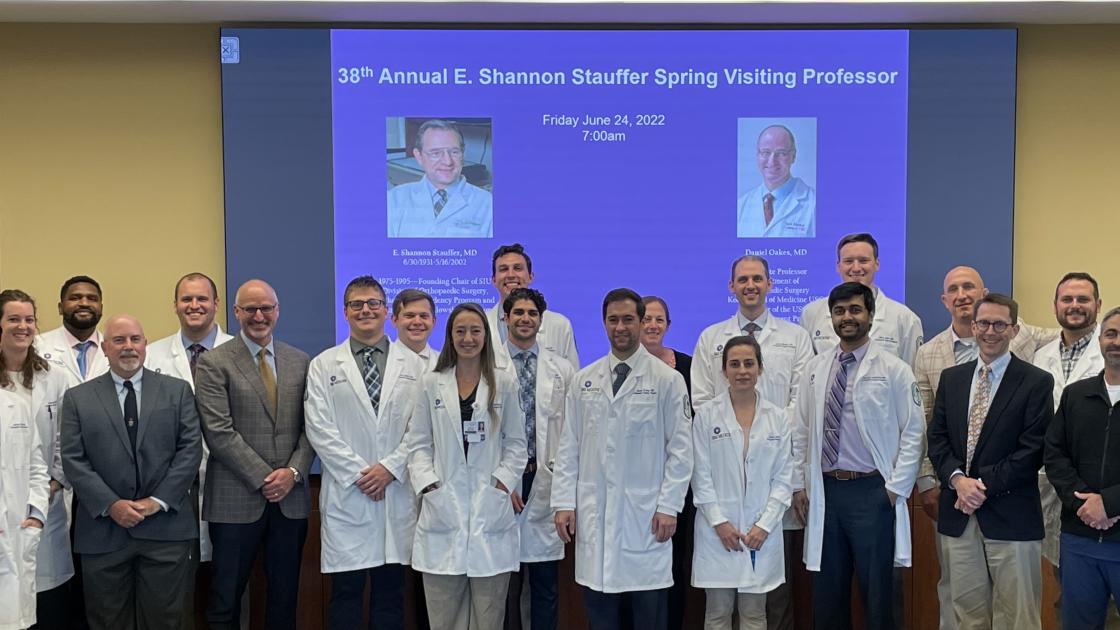 The Division of Orthopedic Surgery was delighted to host the 38th Annual E. Shannon Stauffer Visiting Professor Lectureship at an in-person gathering on June 24, 2022. This year's visiting professor