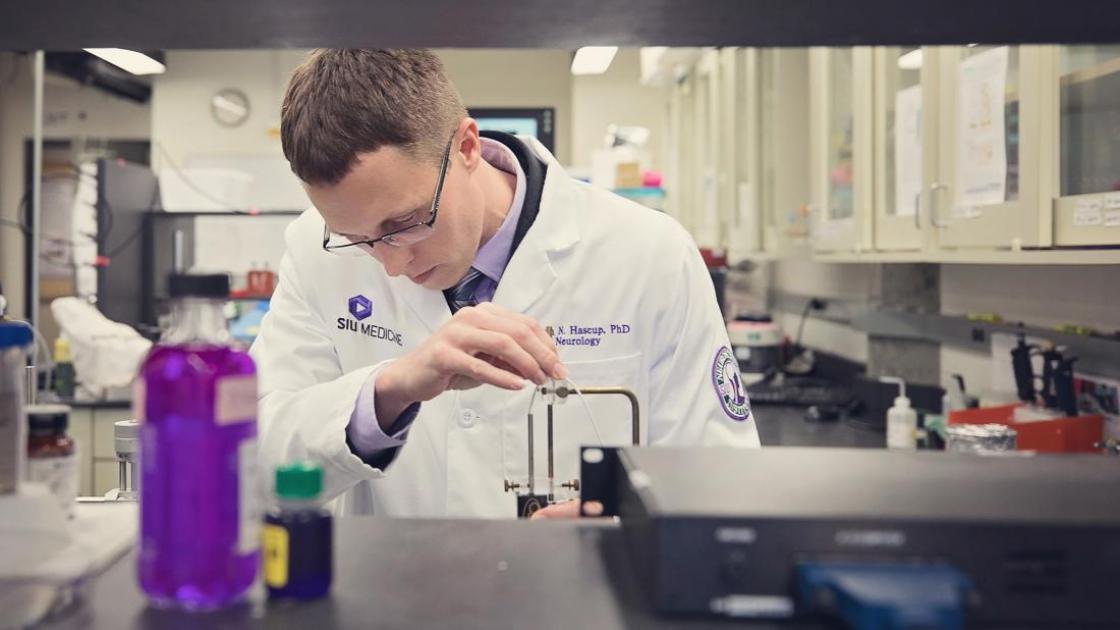 SIU Medicine Group to Study COVID's Potential Effects on Alzheimer's
Medical researchers at SIU School of Medicine's Neuroscience Institute are studying how the novel coronavirus may accelerate the progression of Alzheimer's disease. Their data could help identify patients that are more susceptible to the disease's cognitive and physical decline.
Erin Hascup, PhD, director of the Center for Alzheimer's Disease and Related Disorders and associate professor in the Departments of Neurology and Pharmacology at Southern Illinois University (SIU) School of Medicine and Kevin Hascup, PhD, assistant professor in the Department of Neurology, Neuroscience Institute, are leading the laboratory team. Previously, the group had been awarded $6.7 million in grants from the National Institute on Aging (NIA) of the National Institutes of Health (NIH) to study how glutamate dysregulation, inflammation and cellular senescence within the brain affects the cognitive decline of Alzheimer's disease patients. The research may produce useful early biomarkers and therapeutic targets for fighting the disease.
Drs. Erin Hascup and Kevin Hascup teamed up with Michael Olson, PhD, assistant professor in the Department of Medical Microbiology, Immunology and Cell Biology (MMICB), to conduct this COVID-19 research together. Andrew Wilber, PhD, associate professor in MMICB, and his lab staff are providing virological expertise for the project. A $368,750 supplementary NIA grant will support the team's work.
"The COVID-19 pandemic has created an unparalleled health crisis. We want to help provide answers to how this new disease impacts Alzheimer's," said Dr. Kevin Hascup. "COVID-19-positive patients have acute respiratory infection, but there is also evidence of inflammation in the brain that may accelerate brain aging and increase the risk of developing Alzheimer's. We hope that this research will help determine the effects of COVID-19 on the Alzheimer's population, as well as if COVID-19 changes your susceptibility to, or progression, of the disease."
"With 5.7 million Americans currently living with Alzheimer's, our research could be groundbreaking for this segment of our population," said Dr. Erin Hascup.
By 2050, this number is projected to rise to nearly 14 million. Early and accurate diagnosis and timely intervention could save up to $7.9 trillion in medical and care costs, according to the Alzheimer's Association.
SIU School of Medicine operates the Center for Alzheimer's Disease and Related Disorders, which provides clinical care, research and community programs. Since 1987, its employees have diagnosed, treated and educated Illinois residents with Alzheimer's and other dementia-related issues. In the past year, the center, along with its Memory and Aging Network, has served more than 4,000 patients and their families. Learn more at siumed.edu/neuro/alz.
The mission of SIU School of Medicine is to optimize the health of the people of central and southern Illinois through education, patient care, research and service to the community. SIU Medicine, the health care practice of the school of medicine, includes clinics and offices with more than 300 providers caring for patients throughout the region.