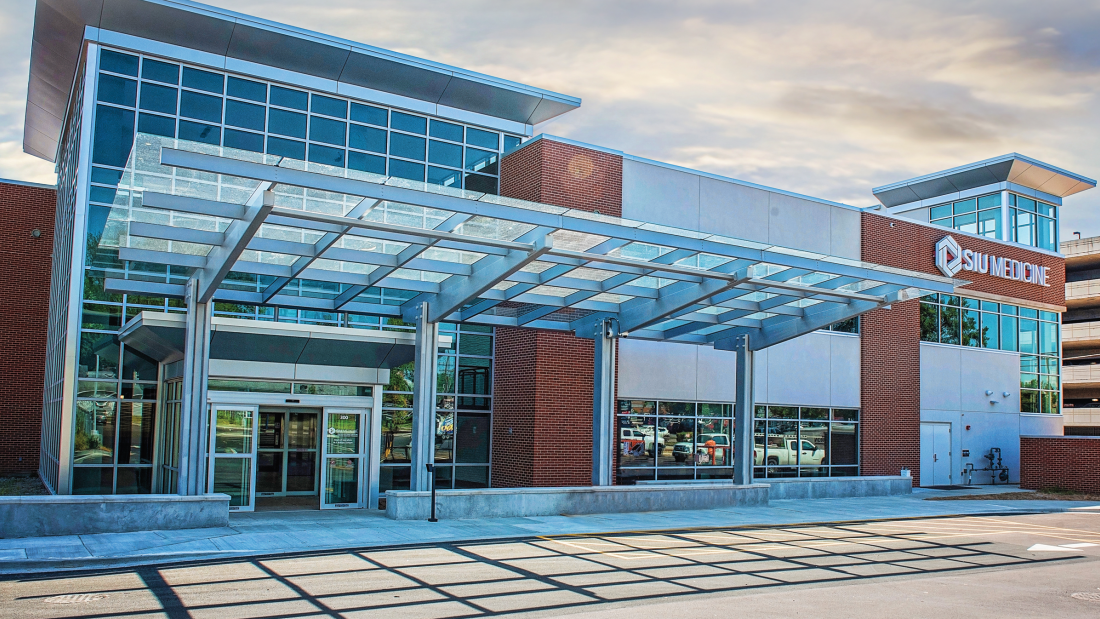 New Center for Family Medicine Opens
CARBONDALE, IL - SIU Medicine is welcoming patients, residents and students to a new state-of-the-art clinic and teaching facility at 300 W. Oak Street. The 40,000-square-foot space will be the home to SIU Center for FamilyMedicine–Carbondale and SIU Medicine's Physician Assistant Program.
Southern Illinois Healthcare (SIH) funded the new facility and is leasing the building to SIU Medicine. The construction plan was developed as SIU's family medicine clinic began to outgrow its space in the professional office building connected to SIH Memorial Hospital of Carbondale. The Physician Assistant Program, currently housed on the SIU Carbondale campus, will also move into the new facility.
"SIH is thrilled to assist SIU with this modern, new facility. Training residents and physician assistants in the same location will lead to more opportunities for cross-training and collaboration among the SIU teams and the medical staff at SIH Memorial Hospital of Carbondale just across the street," said SIH President and CEO Rex Budde. "SIH is proud of its association with SIU School of Medicine and we're honored to help them achieve their mission."
"The SIU School of Medicine is a community-based medical school, and we are dependent on our community partners," said Dean and Provost Jerry Kruse, MD, MSPH. "Our partnership with SIH and the Carbondale community means better health care education and better health care for the people in our southern Illinois region."
Health care professionals at SIU Center for Family Medicine provide care for the entire family, from newborns to seniors. The center is also home to an accredited family medicine residency program, which provides learners with comprehensive training in diverse medical fields, including pediatrics, behavioral health, surgery and geriatrics. The program also offers advanced training in sports medicine through its fellowship program.
"From preventative visits to treatment for acute and chronic conditions, patient care is shaped by forward-thinking family medicine providers and backed by the latest research and discoveries in medical education," said Center for Family Medicine–Carbondale Director Quincy Scott, DO. "This facility gives a new home to our health care providers, residents and students who are continually studying the latest evidence-based medical care."
SIU Center for Family Medicine also administers the Physician Assistant Program. Like the medical school, the program uses problem-based learning, a unique format aided by simulated patients and small group discussions. SIU Medicine pioneered the approach that is now widely used by medical schools and physician assistant programs throughout the world. The Physician Assistant Program graduates 40 new physician assistants each year.
"Our mission is to continually educate the next generation of providers and to elevate the entire field of primary care," said Physician Assistant Program Director Don Diemer, DHSc, PA-C. "Being able to offer this training in a new, high-tech learning space makes the program more attractive and anchors future providers to the region."