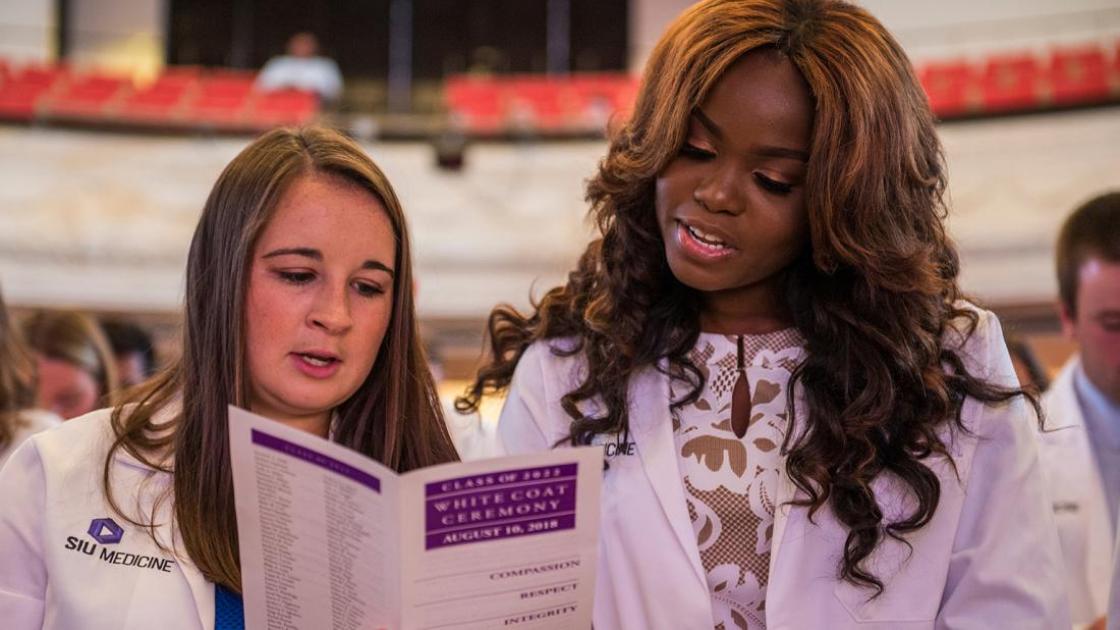 SIU Medicine Welcomes Class of 2022 with White Coat Ceremony
CARBONDALE, ILLINOIS, — Seventy-five medical students began their medical training last week at Southern Illinois University School of Medicine in Carbondale. The students participated in a White Coat Ceremony on Friday, August 10, in Shryock Auditorium.
(Editor's note: See list below for a list of students from your hometown.)
SIU Medicine Dean and Provost Jerry Kruse, MD, MSPH, and Associate Dean for Student Affairs & Admissions Erik Constance, MD, welcomed the students. Wendi Wills El-Amin, MD, associate dean for equity, diversity and inclusion, and Matthew Winkleman, MD, Class of 2002 and vice president of the school's Alumni Society Board of Governors, presented them with white coats on behalf of the Alumni Society.
Debra Klamen, MD, MHPE, senior associate dean for education and curriculum and chair of the Department of Medical Education at SIU Medicine, welcomed the students and read the Physician's Pledge.
SIU Medicine Assistant Professor of Surgery Sabha Ganai, MD, PhD, presented the keynote address. Ganai received the school's 2017 Humanism in Medicine Award.
The White Coat Ceremony is designed to establish a "psychological contract for professionalism and empathy" in medicine and is held at most US medical schools each fall.
Established in 1970, SIU School of Medicine is based in Springfield and Carbondale and focused on the health care needs of downstate Illinois. It educates physicians to practice in Illinois communities and has graduated more than 2,800 physicians since the first class in 1975.
Class of 2022 students, parents and hometowns:
Central:
Dominic Aiello, son of Joseph and Mary Aiello of Springfield
Adam Doedtman, son of Jim and Missy Doedtman of Rochester
Carlos Garcia, spouse of Kaitlyn Garcia and son of Juan Garcia and Silvia Ayala, all of Beardstown
Matt Hazelrigg, son of Dr. Steven and Sharon Hazelrigg of Springfield
Jared Hendren, son of Rusty and Lynnette Hendren of Le Roy
Sierra Higginson, daughter of Greg Higginson of Weldon Spring, Missouri, and Terry and Debbie Grider of Oreana
Rachel Karras, daughter of Peter and Victoria Karras of Sherman
Emilie Lohman Irwin, spouse of Owen Irwin of Pleasant Plains and daughter of Michael and Deanna Lohman of Springfield
Gregory Lukach, son of Donald and Michelle Lukach of Clinton
Matthew Mannion, son of Michael and Michele Mannion of Springfield
Stephanie Menezes, daughter of Brad and Jill Menezes of Rochester
Jeffrey Nie, son of Daotai Nie and Aiming Wang of Springfield
Mason Plater, son of Robert and Michele Plater of Havana
Cole Pliura, son of Tom and Pam Pliura of Le Roy
Danielle Reece, daughter of Aaron Augustine of Dallas, Texas, and Tina Phoenix of Peoria
Khloe Sandercock, daughter of David and Kelle Sandercock of Springfield
Anthony Sleiman, son of George and Mireille Sleiman of Peoria
Harvey Stephens, son of Harvey and Mary Beth Stephens of Springfield
Elek Wellman, son of Dan and Kris Wellman of Sherman
West Central:
William Giesing, son of Michael and Kelley Giesing of Quincy
Catherine Greene, daughter of Beatrice Greene of Houston
East Central:
Erica Forbes, daughter of Scott and Jodi Forbes of Bourbonnais
Alaa Mansour, spouse of Nasredin Ibrahim of Danville and daughter of Eltigani Mansour and Hawa Ahmed, also of Danville
Braidy Megeff, daughter of Randall and Johnna Megeff of Champaign
Navoda Mirihagalle, son of Lalith Mirihagalle and Devika Bowathura of Savoy
Vamsikrishna Naidu, son of G.A. and Aparna Naidu of Champaign
Haley Plattner, daughter of Darren and Sue Plattner of Champaign
Northern:
Zachary Andersen, son of Curt Andersen and Angie DiCiro of Pembroke, Georgia, and Chris and Mary Kieffer of Princeton
Jasmine Davila, daughter of Jose and Eva Davila of Moline
Ryan Dembosky, son of Stephen Dembrosky of East Moline
Lauren Hall, daughter of George and Patti Hall of LaSalle
John Kaschke, son of Michael and Kimberly Kaschke of Streator
Tyler Maggio, son of Tom and Dana Maggio of Rockford
Alyssa Ray, daughter of Dr. Steve and Stephanie Ray of Moline
Elizabeth Wieland, daughter of Steven Wieland and Katherine Montford, both of Rock Island
Greater Chicago:
Treshawn Anthony, spouse of Brian Davis of Flossmoor and daughter of Tremayne and Michelle Anthony of Lansing
Maryam Bakare, daughter of Fatai Bakare of Chicago and Linda Carre of Sauk Village
Komal Chaudhry, daughter of Anup and Mukesh Chaudhry of Vernon Hills
Luis Rubio, son of Ventura and Amparo Rubio of West Chicago
Marna Rudd, daughter of Michael Rudd of Richten Park and the late Marcia Rudd
Joshua Shaw, son of Tony and Adrianne Shaw of Crystal Lake
Bukky Tabiti, daughter of Katerine Tabiti of Chicago
Matthew Woodbury, fiancé of Megan Sieg of Rochelle and son of John and Wendy Woodbury of Oswego
Belleville/Metro East
Samantha Bibee, daughter of Gayle Bibee of Belleville
Paul Cacioppo, son of Christopher and Hong Cacioppo of Collinsville
Nicholas Fiore, son of Peter Fiore and Madelyn Lamb of Belleville
Jacob Franke, son of Jeffrey and Kimberly Franke of Maeystown
Paige Kannall, daughter of Robert Kannall of Highland and Bryan and Hilary Chasteen, also of Highland
Samuel Keck-Flory, spouse of Brittany Keck-Flory of Mt. Zion and son of Donald Flory and Pamela Keck of Edwardsville
Aaron Peach, son of Terry and Diane Peach of Granite City
Nicolas Revelt, son of John and Sonia Revelt of Edwardsville
Matt Turner, son of Willard and Denise Turner of Troy
Frank Verdu, son of Frank and Patricia Verdu of Edwardsville
Southern:
Cody Bailey, son of George and Cary Bailey of Du Quoin
Brandon Blewett, son of William and Kelly Blewett of Carbondale
Amanda Brown, daughter of Malcolm Brown of Springfield and Heidi Hoffee of Fairfield
Blake Cain, spouse of Heather Cain of Marion and son of Thomas and Rebecca Cain of Pittsburg, Illinois
Madison Frerker, fiancé of Donovan Holle of Hoyleton and daughter of Chris and Amber Frerker of Nashville, Illinois
Jordyn Huston, daughter of Michael and Lisa Huston of Newton
Sasha Mozelewski, daughter of Gary Mozelewski of Nashville, Illinois, and Ruth Sims of Du Quoin
Jacob Trammel, fiancé of Erin Cotter of Murphysboro and son of Jason Trammel of Carbondale and Holly Wright of DeSoto
Jordan Wills, daughter of Tim and Kelly Wills of Benton
Katlyn Woolford, daughter of Alan and Donna Ford of Salem
Out of State:
Kamaria Coleman, daughter of Gregory and Valerie Coleman of Memphis, Tennessee
David Edelstein, son of Mark and Amy Edelstein of Colorado Springs, Colorado
Blake Gray, daughter of Troy Gray of New Orleans and Judith Gray of Glenn Heights, Texas
Logan Grubb, daughter of David and Bonnie Grubb of Panama City Beach, Florida
Juanita Gyamera, daughter of Clifford Gyamera and Gladys Gyamera, both of Bronx, New York
Ihuoma Igbokwe, daughter of John Igbokwe and Lucky Igbokwe, both of Brockton, Massachusetts
Barra Madden, daughter of Barry Madden of Leighton, Alabama, and Pamela Brown of Rochester, New York
Felicia Olawuni, daughter of Timothy, Sr. and Florence Olawuni of Takoma Park, Maryland
John Rego, son of Francisco Rego of Key West, Florida, and Jana Heins of Lexington, South Carolina
Kimberly Woudenberg, spouse of Brandon Woudenberg of Pinetop, Arizona, and daughter of Larry and Ren Lybbert of San Tan Valley, Arizona
Jasmine James, daughter of Jo Ann Matory of Carmel, Indiana
Manish Mandava, son of Venkateswara Mandava and Manasi Krishna of Seattle, Washington