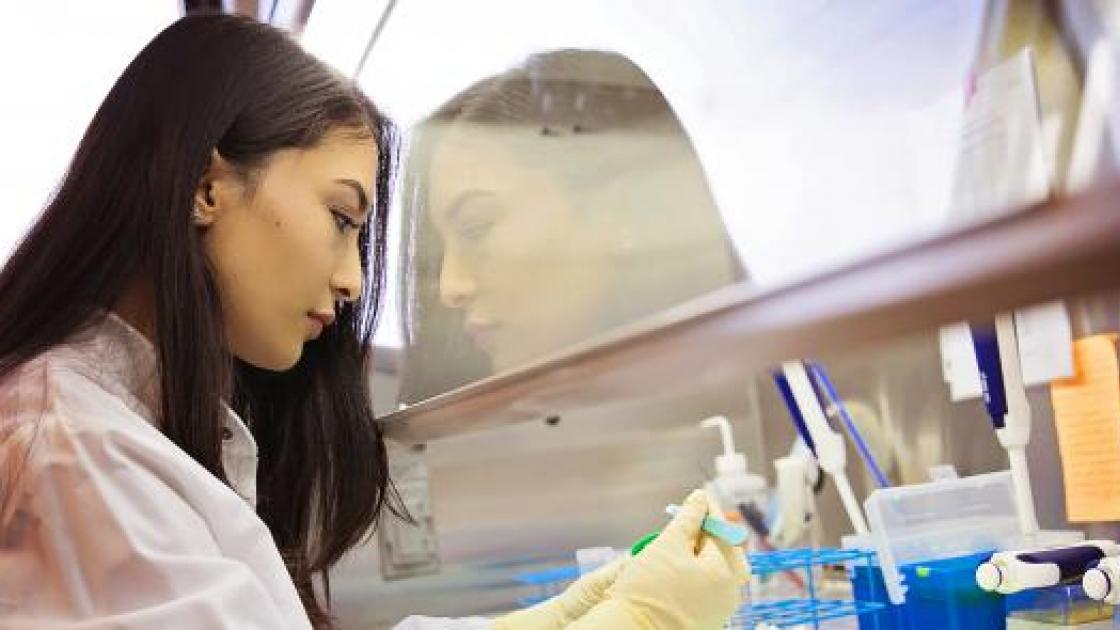 The Molecular Biology, Microbiology and Biochemistry Graduate Program (MBMB) is an interdisciplinary graduate program providing training leading to either the Doctor of Philosophy (PhD) or Master of Science (MS) degrees in Molecular Biology, Microbiology and Biochemistry.
The program offers advanced training in biochemistry, biophysics, bacteriology, genetics, immunology, microbial physiology, virology, mycology, cancer biology, molecular biology, cell biology, developmental biology, and structural biology. The participating departments have modern, well-equipped research laboratories and supporting facilities for confocal and electron microscopy, imaging, and flow cytometry.
JOB OUTLOOK
Students with graduate degrees in molecular biology, microbiology, and biochemistry are in demand in several occupational areas. Many graduates are employed by pharmaceutical or biotechnology firms. PhD graduates have options to be employed by pharmaceutical, chemical, biochemical, or biotechnology firms or continue for advanced academic training as postdoctoral fellows (see the list of the recent graduates under Alumni). Many of our PhD graduates are successful faculty members at colleges and universities throughout the United States. Others went on to medical school or post-doctoral fellowships at prestigious universities like Johns Hopkins. Learn more about our alumni.
ABOUT THE CURRICULUM
The program offers challenging advanced education and research training in diverse research fields to prepare successful graduates for the next step in their career. Our graduates have gone on to have careers as faculty members and researchers at colleges and universities, as researchers in the pharmaceutical and biotechnology arenas, and some have chosen to continue their education in medical and dental schools and public health programs throughout the nation.
Modern laboratories and state of the art instrumentation enables students to perform innovative research into clinically significant fields such as: mechanisms promoting tumor growth and metastasis, viral and bacterial pathogenesis, microbiome and human physiology, gene therapy approaches, and the role of the immune system in infections, cancer and reproduction.
Students in the MBMB program have a variety of opportunities to augment their education and training to be competitive at the next level.
Students hone their presentation skills during weekly student journal club and during graduate student oral and poster presentations at an Annual SIU Trainee Research symposium. The program hosts two scientific seminar series. The MBMB seminar series provides weekly seminars covering cutting edge advances in microbiology, immunology, biochemistry and cell biology. The Simmons Cancer Institute research seminar series provides monthly seminars by nationally renowned experts in cancer biology and therapy. Students can have lunch with the speakers, which provides a unique opportunity to network with some of the best scientists in the nation. Seminar series are also available in the clinical departments on the School of Medicine campus and students are eligible for school, departmental, and program-based travel awards to attend national scientific meetings.
Collectively, these opportunities provide richness and depth to the training that MBMB students can experience at SIU School of Medicine Springfield campus as they become the next generation of scientists, physicians and scholars.
For more detailed curriculum and course descriptions, please find the Molecular Biology, Microbiology and Biochemistry program section of the latest SIU graduate school catalog, found here.
Faculty includes members of these departments:
For more information about the MBMB Ph.D. and Master degree program, please email mbmb@siu.edu or call Denise Kauffman at (217) 545-2220
REQUIREMENTS (via Southern Illinois University):
HOW TO APPLY
Applications are completed through Southern Illinois University. 
Create an account.