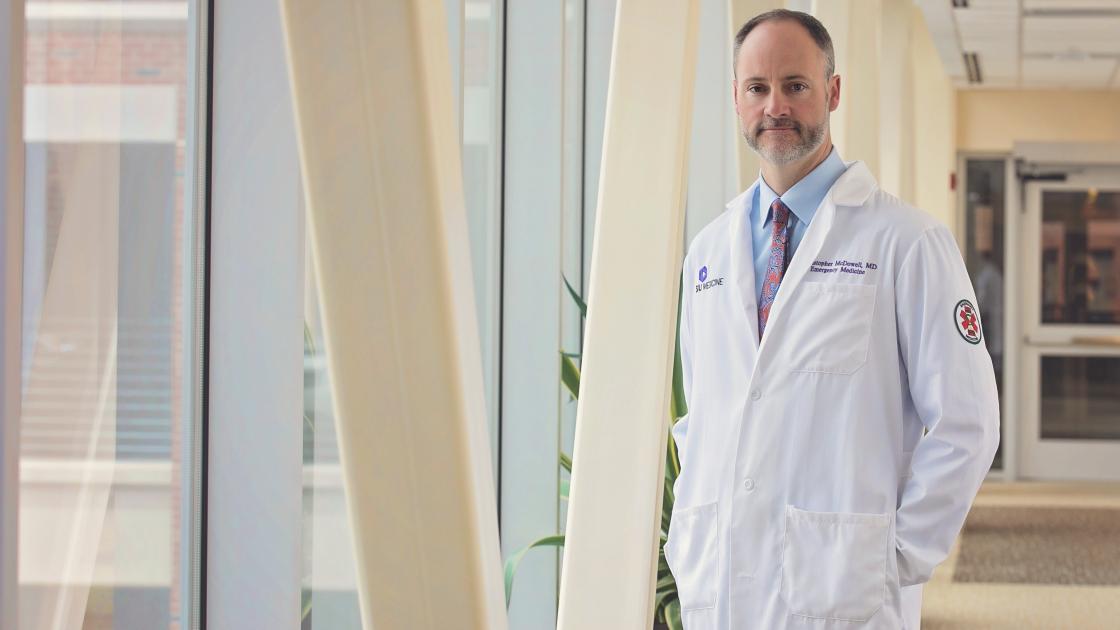 Chris McDowell named Executive Associate Dean of SIU Medicine
As part of an institutional leadership reorganization, the Office of the Executive Associate Dean (EAD) has been re-established at SIU School of Medicine. 
Dr. Christopher McDowell has been named the new EAD. He is an alumnus of SIU School of Medicine (Class of 2005), chair of Emergency Medicine, an associate professor, and the medical director for the Memorial Learning Center. In addition to his other leadership functions, McDowell has oversight of the Office of Correctional Medicine, the educational function of the Office of Telehealth, the Office of Rural Health and Social Service Development, the Office of Community Care, and the development of the SIU System's Institute for Rural Health. 
"Chris McDowell knows SIU Medicine and our region very well. His years in Emergency Medicine have given him the versatility and problem-solving skills to handle whatever challenges may emerge," said Jerry Kruse, MD, dean and provost of SIU Medicine. 
McDowell received his Master of Education in Health Profession Education at University of Illinois Urbana Champaign in 2010. He was awarded his Physician Assistant degree from the Finch University of Health Sciences/The Chicago Medical School in 1998. McDowell was part of the team that developed a new Emergency Medicine Residency Program in 2009. He served as assistant program director 2009-11, then was named to program director from 2011 to 2017. He was promoted to Vice Chair of Emergency Medicine in 2017 and went on to complete his MBA from the Kelley School of Business at Indiana University in May 2019. In April of 2019 he was named the inaugural recipient of the newly endowed David L. Griffen Chair of Emergency Medicine. He is also co-director of the Leadership and Excellence Pillar at the Center for Human and Organizational Potential. 

Dr. McDowell received a 2013 National Junior Faculty Teaching Award from the American College of Emergency Physicians. In 2019 he received the Leonard Tow Humanism in Medicine Award at SIU School of Medicine, and he was selected to hood the SOM class of 2021 at their graduation.