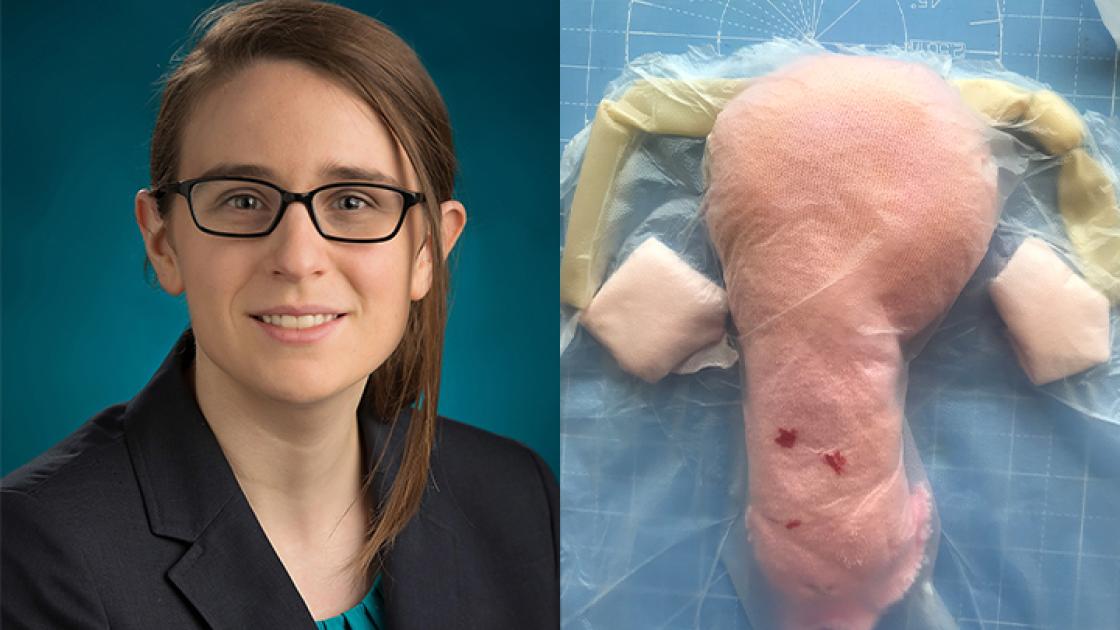 Group wins international sim training contest
"If you build it, they will learn."
Under-resourced medical centers in foreign countries will sometimes receive donated medical equipment, but with no one to train the physicians, it will sit idle. A group of international physicians saw this as a missed opportunity and set out to improve care. 
The group, dubbed ALL-SAFE, was named the grand prize winner of the Intuitive Foundation's Global Surgical Training Challenge in January 2023.
The team of clinicians with members from the United States, Ethiopia, Kenya and Cameroon, won the $700,000 competition to design low-cost simulation surgical training. Melanie Barnard, MD, medical director for The Breast Center at SIU, was one of ALL-SAFE's original five team members. The ALL-SAFE team leader recruited Barnard to be the simulation coordinator for the project because of SIU School of Medicine's international reputation for surgical education innovation. Her group bested 50 other teams. 
ALL-SAFE's goal was to develop an open-source laparoscopic surgery curriculum so surgeons in lower-resource countries would have access to skills training without the need for high-tech simulation equipment. 
Dr. Barnard designed four models. The first was for learning minimally invasive laparoscopic intervention for ectopic pregnancy (pictured). Ectopic pregnancies are a leading cause of maternal death, and a significant contributor to infertility in women. In particular, women in sub-Saharan Africa have an increased risk of ectopic pregnancy, but most intervention is done with open surgery. This leads to a higher risk of post-surgical complications, future infertility and maternal death. Barnard's challenge was to build a simulation model out of materials that were widely available in any country, inexpensive and realistic enough to provide effective training. 
Initially, team members at the University of Michigan created a box design that a learner could build from cardboard. It had slots for a cell phone and a tablet to simulate the screens used as part of a laparoscopic procedure. Then it was up to Barnard to get creative and engineer the anatomical model. A sock and homemade Play-doh were put to use. Synthetic food coloring is not widely available in many lower-resource countries, so instant Nescafe was substituted. 
Barnard also built models for appendicitis, small bowel Meckel's diverticulum and diaphragm injury. "Simulating intestines was hard!" Barnard says. She eventually settled on rolled-up fabric from bed sheets. "It doesn't necessarily have to look like a real intestine, it just has to behave like a real one during the simulation."
The group designed its modules to teach laparoscopic skills to surgeons who had experience with open procedures. Learners must complete each element successfully before moving on to the next. Surgeons who know the techniques from the open perspective have been using ALL-SAFE to learn from the laparoscopic perspective. The learners build the models themselves following the instructions in the module, watch videos on technique and then record themselves practicing the technique on the model they built. Their videos are reviewed by other surgeons participating in the modules. "Peer review and self-assessment are very important," Barnard says. "It's a way for all of us to learn together, even when in-person instruction is not an option." 
ALL-SAFE will use the prize winnings to scale up their project to the global level. They plan to partner with universities, hospitals and medical centers to deploy the modules. Barnard is developing other parts of the project, including building a simulation model for port placement and researching how artificial intelligence can help review learners' videos for instant feedback. 
Barnard spent her childhood in Uganda and saw the project as a natural fit for her passion for improving health outcomes in sub-Saharan Africa. "This project also aligns with SIU's vision of better health for all and the Department of Surgery's goal to make surgical education more accessible," she says. 
---