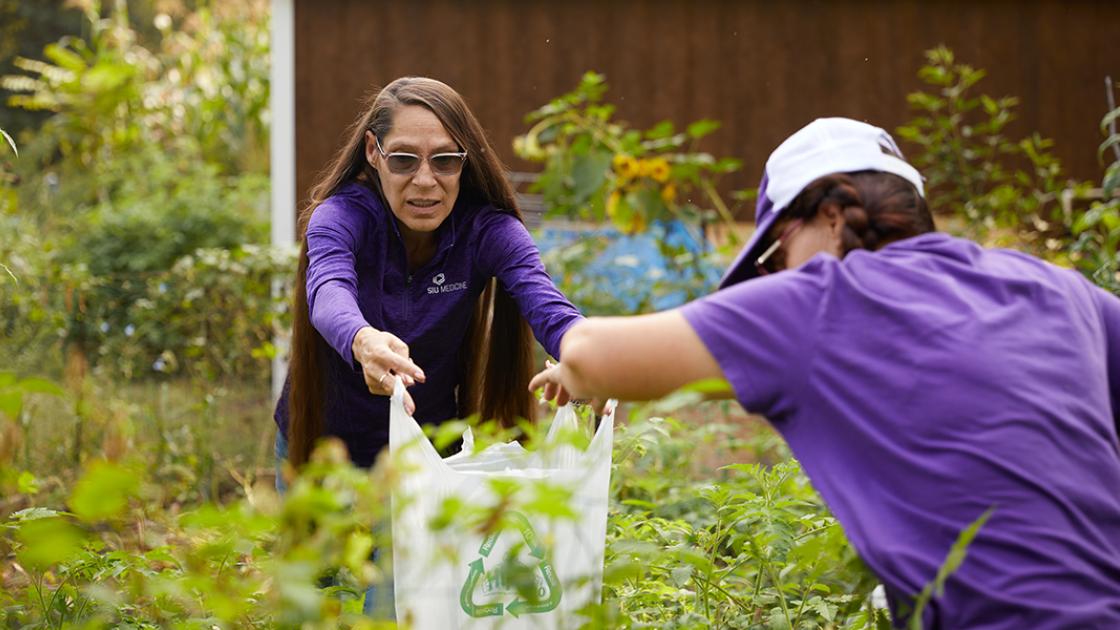 New Community Gardens program yielding a healthy harvest
It's harvest time at the city of Springfield's community gardens, and a new SIU Medicine program has produced some robust results.
SIU's Office of Community Care (OCC) launched 'Operation Taproot' earlier this summer to provide fresh vegetables and herbs for residents in neighborhoods around the Mid-Illinois Medical District, while offering new routes for communication and access to care.
Community health worker Kaye Barnes designed and spearheaded the project to raise awareness of nutrition and health services available within Springfield. As the crops matured, she and teammates have been distributing them across multiple neighborhoods, sharing with residents at their doorsteps or during street encounters.
Most importantly, new relationships are being cultivated, Barnes said.
"Whenever we're here, someone will stop by and ask about the garden and what else we're doing in their community. It's a chance for people to get to know us."
While the interview was being conducted at the Motherland Gardens, 815 S. 15th St., two women arrived as if on cue, one in search of basil, the other tomatoes. Sandy, a retiree living on Social Security, has noticed the price of fresh vegetables increasing. She heard about the gardens as an option on the north end of Springfield. Irena, a teacher, is a repeat visitor. "They've had very good herbs this year," she said. Barnes and colleague Nicol Moore fill bags for each, adding some bonus beans and peppers.
At midsummer, the SIU-administered gardens at the Motherlands and in Enos Park expanded to include a third location, in the Pillsbury Mills neighborhood. OCC staff connected with Polly Poskin and Chris Richmond at Moving Pillsbury Forward, and the groups quickly partnered to create the Pillsbury Neighborhood Garden at 1525 E. Phillips Ave. in Springfield.
The plot consists of 10 raised beds on a paved pad beside the former flour processing plant that gave the neighborhood its name.
"They were eager to invest the funds needed to get a small garden off the ground in a very short amount of time," said OCC Director Elise Albers. "The common denominator is that the Office of Community Care and Moving Pillsbury Forward both care about Pillsbury Mills residents. We wanted to provide them a garden to have access to fresh fruits and vegetables, our community health worker services and an outdoor communal space."
Because Pillsbury is primarily comprised of renters, it can be harder to make connections, Barnes believes. "There isn't as much greenspace or a park where people can gather. But as soon as we put in the garden, people started coming by and asking questions."
Within the first week of operation, a member of the Moving Pillsbury Forward organization told her about a resident who needed health services. "Now I'm seeing that they're getting the care that they need, making it to their doctor's appointments, and Tanya [Bakamba], the Pillsbury Mills community health worker, is happy with his progress. He's going to have a surgery that he desperately needs, and she's taking amazing care of him," Barnes said.
Future plans should help Operation Taproot flourish. In the spring of 2024, a dedicated waterline will be installed at the Pillsbury site, the result of a Land of Lincoln Community Foundation grant. Barnes and team members have been transporting water to the beds in gallon jugs, and using the contents of two rain barrels whenever possible.
The next year will also bring a mural and landscaping around the gardens so the area will be more vibrant and visible to walkers along 16th Street.
As the season closes, Barnes was happy with the program's growth. "We're being recognized in the neighborhoods now, and community members are asking about us, the gardens and SIU. There are new avenues of connection with the neighbors and area organizations. We are getting our roots established."
Read more about Operation Taproot and the Office of Community Care's programs at siumed.edu/aspects.