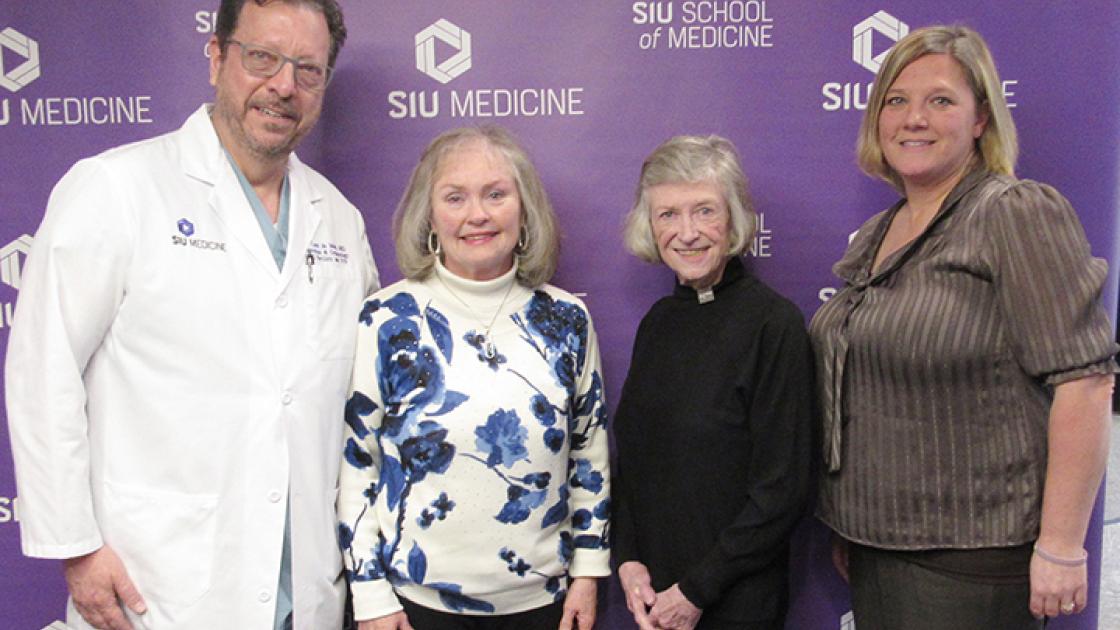 New gifts to help SIU OB-GYN research and students
The family of the late John (Jack) Navins, MD, bestowed a pair of $100,000 gifts to Southern Illinois University School of Medicine on March 1. Navins was a former SIU associate professor and OB-GYN physician who passed away suddenly in July 2022 while traveling in France. Dr. Navins' sisters, Mary Pat Wlazik and Katherine Warner, wanted to honor him and knew of his dedication to the school.

The family is donating $100,000 to create the John Navins, MD Endowed Scholarship for a fourth-year medical student who is pursuing a residency in obstetrics and gynecology. In addition, SIU immunologist Andrea Braundmeier-Fleming, PhD, MMICB, received a matching financial gift to put toward her research. Braundmeier-Fleming's studies focus on the identification of inflammation associated with reproductive pathologies such as endometriosis, ovarian cancer, endometrial cancer and preterm birth. 

SIU Dean and Provost Jerry Kruse, MD, MSPH, said, "We are so grateful for the Navins' support. These fantastic gifts will bring a great return on investment, helping both our students and Dr. Braundmeier's ongoing research in women's health for years to come."

Shelley Tischkau, PhD, chair of the departments of Pharmacology and Medical Microbiology, Immunology and Cell Biology; Ricardo Loret de Mola, MD, chair of the Department of OB-GYN; and Haneme Idrizi, MD, associate dean of student affairs, also attended the gift presentation in the Bohn-Nielsen Lobby at SIU School of Medicine. They each expressed appreciation for the family's generosity.

Navins was born in St. Paul, Minn. on October 31, 1948, and attended St. Mary's College in Winona, Minn., graduating with a BA in Natural Science and Classical Languages. He earned his MD at the University of Minnesota in Minneapolis ('74), and completed an OB-GYN residency at the Naval Regional Medical Center in Oakland, Ca. He served in the U.S. Navy 1970-1992, retiring as a captain. He moved to Springfield in 1997 and began seeing patients at Springfield Clinic and teaching at SIU School of Medicine. He retired from patient care in 2003, focusing exclusively on academic medicine. Dr. Navins received numerous Teacher of the Year awards during his career at SIU and enjoyed a second longtime role as a volunteer at the Abraham Lincoln Presidential Library and Museum.