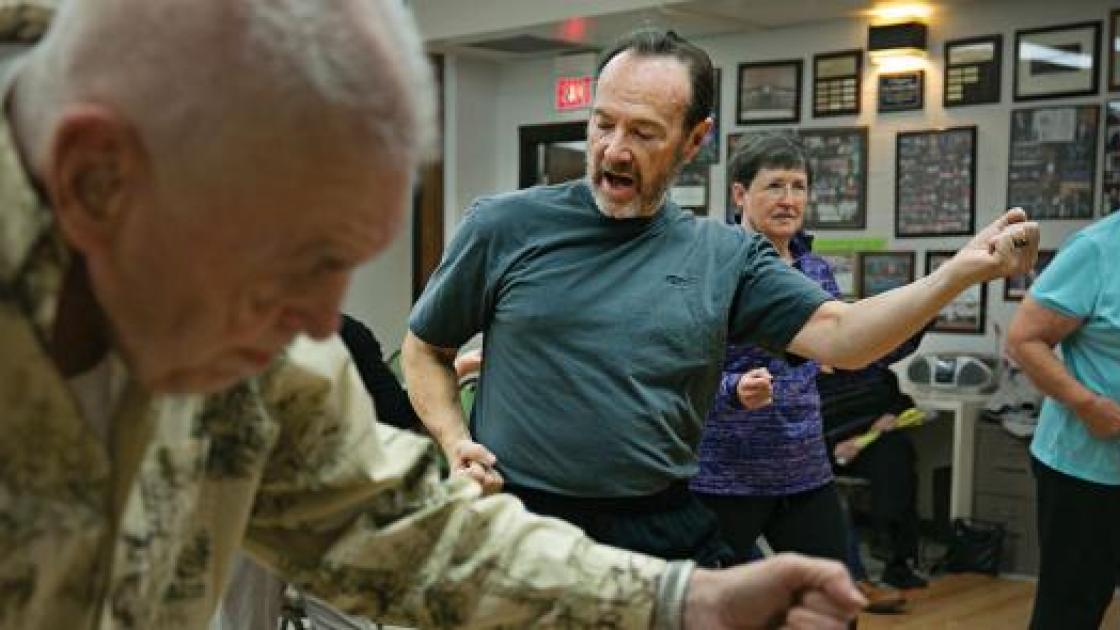 Glen Aylward's work shapes the minds of all ages
By Rebecca Budde | Photos by Jason Johnson 
​published in Aspects Magazine, 40-1, Winter 2017
A small group of martial arts students follow Glen Aylward's lead, counting out steps, punches and blocks. The average age in the room is close to 70, and, to an outsider, their martial arts technique may not seem very intimidating or precise. But the encouragement and reinforcement from Dr. Aylward is indication that technical precision isn't what this class is about. It's about helping people with Parkinson's disease for whom movement is difficult. 
Exercise has long been touted as a means to improve the tremors, rigidity and slow movements that characterize Parkinson's disease. Martial arts focuses on methodical and repetitive movement, which, in the case of Parkinson's disease, helps improve balance, flexibility, muscle tone, reflexes, mobility, muscle memory, speed, coordination and mental focus.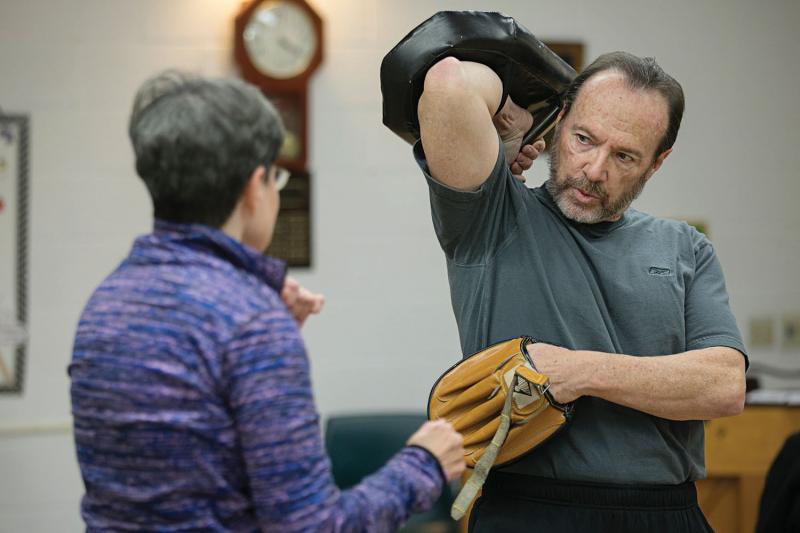 "We tap into neuroplasticity where we hope to assist in recruiting other brain circuits and essentially 'reprogram' the brain," Dr. Aylward explains. 
The martial arts world opened up to Dr. Aylward in his undergraduate years at Rutgers, first becoming a part of the Rutgers judo team and then becoming involved in tae kwon do during graduate school. Though life got hectic for the father of four, grandfather of five and professor emeritus in the SIU Departments of Pediatrics and Psychiatry, he continued to stay in shape through various forms of marital arts. His tenacity earned him a black belt in shito-ryu, a style of karate; a black belt in goju shorei; and a brown belt in tae kwon do.
Despite multiple back surgeries and a neck surgery, he's continued the discipline of martial arts, teaching classes to adults and children through the years, mostly on a voluntary basis. This past summer Dr. Aylward began the martial arts for people with PD at the Senior Center of Central Illinois. 
"I have a variety of folks in this class who are at different levels – seated, using a chair for support and very self-sufficient – so we modify moves based on the individual. It involves team work; if someone is a little unsteady and throws a punch, there's someone behind to catch. It's good team building." 
Eight people are regulars, but a few others pop in and out as their schedules allow. His desire is to have the class grow as physicians and other area providers become familiar with the health benefits the class provides. He's received great support from the physical therapists at Hospital Sisters Health Systems who helped him gain recruits for the class through their work with a PD support group. "This class is really an extension of SIU and its partnerships caring for our patients."
He's proud of the strides his students have made. "One of the more involved individuals, Don Post, has made great progress. Two of the class members who have known Don for a decade said they've never seen him doing better. His balance has improved, there is less rigidity and his enthusiasm and motivation are amazing." Indeed, despite his physical limitations, "Don happily tells visitors that he enjoys the class." 
After approximately four months of teaching the moves, Dr. Aylward presented his students with yellow belts, a sign of their accomplishments. Their smiles as they learn how to properly tie their belts suggest that they, too, are proud of themselves. "Four months ago, we would've been tripping over tables," Dr. Aylward jokes with the group. "Everyone here is doing a great job, and that's important to me." 
Regular attendee Sharon Mourning was diagnosed with PD three years ago. She maintains an active lifestyle and participates in a dance class and yoga in addition to the martial arts class. "My doctor says that I'm pretty limber, and I think it's because of the yoga and staying active in classes like this." Staying limber will become more important as her PD progresses. As Dr. Aylward approaches her with the punching pads, she gives it her all, proving she's not going to let PD get her down without a fight. 
"Many believe that life is what you make it, but sometimes it is what it is. I emphasize the PD does not have to be ALL that life is. I think people need a spokesperson to dispel the stereotype of a person who has PD and is stumbling around. You CAN have PD and be productive." He knows this all too well: Dr. Aylward was diagnosed with Parkinson's in 2012 (see page 28). 
"I think the discipline has helped me, so I thought, 'these folks need to do this, too' " Dr. Aylward explains. "They need ways to help their self-esteem and dignity, and learning martial arts can help."
Dr. Aylward has been more than productive since he joined SIU School of Medicine in 1979. Like martial arts helps adults with PD, Aylward has spent his career helping infants develop their psychological and behavioral health. 
The School of Medicine was coming of age, and the Department of Pediatrics was under the chairmanship of Joe Garfunkel, MD. Dr.  Aylward left his work in Atlanta at Georgia State University and as a clinical psychologist at Emory University and Grady Memorial Hospital. 
His institutional and professional knowledge have been invaluable locally and nationwide as the go-to resource for high-risk assessment and follow-up of infants, work he began early in his career. He's also authored numerous professional articles and has been an associate editor of the Journal of Developmental and Behavioral Pediatrics since 2003.
Dr. Aylward broke ground at Georgia State University in 1978 when he became their first clinical child psychologist graduate. While there, he followed pre-term infants and tested them using the Bayley Scales of Infant and Toddler Development. Known as the "gold standard" for infant assessment since 1969, the Bayley Scales measures the development of children aged one to 42 months. Using developmental tasks, the assessment scores cognitive, language and motor development. A parental report shows social-emotional development and adaptive behavior. Though this wasn't the type of research he initially aspired to, it laid the foundation for what has turned out to be the capstone of his career. 
His work at SIU also expanded beyond the NICU, giving him the chance to help infants, toddlers and adolescents and their families. "I really like to get feedback years later from parents or the grown children that my work with them was successful. I know that just because I say it will work doesn't mean it will be successful, but I like to think that I've helped kids in terms of their overall life.
"I stayed here because we are innovative. If I would have gone to a bigger place, I would've been stuck in a mold, unable to pursue new ideas. I've been here through all the deans and pediatric chairmen, and they've all encouraged me to pursue what I'm good at." Dr. Aylward even jokes that he's taught many of the physicians who now work at SIU, including the current pediatrics chairman, Douglas Carlson, MD. 
His other reason for staying is a common one for those with children: "Sometimes when offers came, they were just at critical times for one of the kids, and I didn't want to uproot the family," he says. Deborah Aylward dedicated her career to raising the four Aylward children. "She gave them advice that they still follow today — 'don't act like your father!'" Dr. Aylward jokes.  
However, the proverbial apples didn't fall too far from the tree. Shawn Aylward, MD, is a 2005 SIU SOM graduate. He works at Nationwide Children's Hospital in Ohio as a pediatric neurologist. Brandon Aylward, PhD, is an assistant professor of pediatrics at Emory University/Children's Healthcare of Atlanta. Megan Kircher is a teacher's aide and substitute teacher in the Sherman/Williamsville school district and "does a great job with children who have developmental disabilities," according to her proud father. Mason Aylward will graduate from SIU-E this spring with a degree in information systems management/computer science.  
But it was the work he began early on that has come full circle for him and made waves in the world of developmental child psychology. He is the first outside author to rewrite the Bayley Scales of Infant and Toddler Development, the most widely used infant developmental test in the world. Dr. Aylward's rewrite, Bayley Scales – 4, thus far has involved nearly three years of intense collaboration with professionals in Canada, Australia, Great Britain, France, the Netherlands and the United States. 
HIs work has involved changing the scoring system and administering on the iPad while still using the physical play tools for assessment. In 2016, Dr. Aylward was selected as a Sangamon County Medical Innovator for this work. "It's been really an interesting ride," Dr. Aylward says with a smile. "There have been so many crossroads, and somehow, luckily, I always picked the right road. Sometimes it was fortuitous – the right place at the right time. Other times I think it was that determination and motivation that paid off. I think the final chapter in my professional career will be the Bayley Scales. It's a hell of a way to go out."