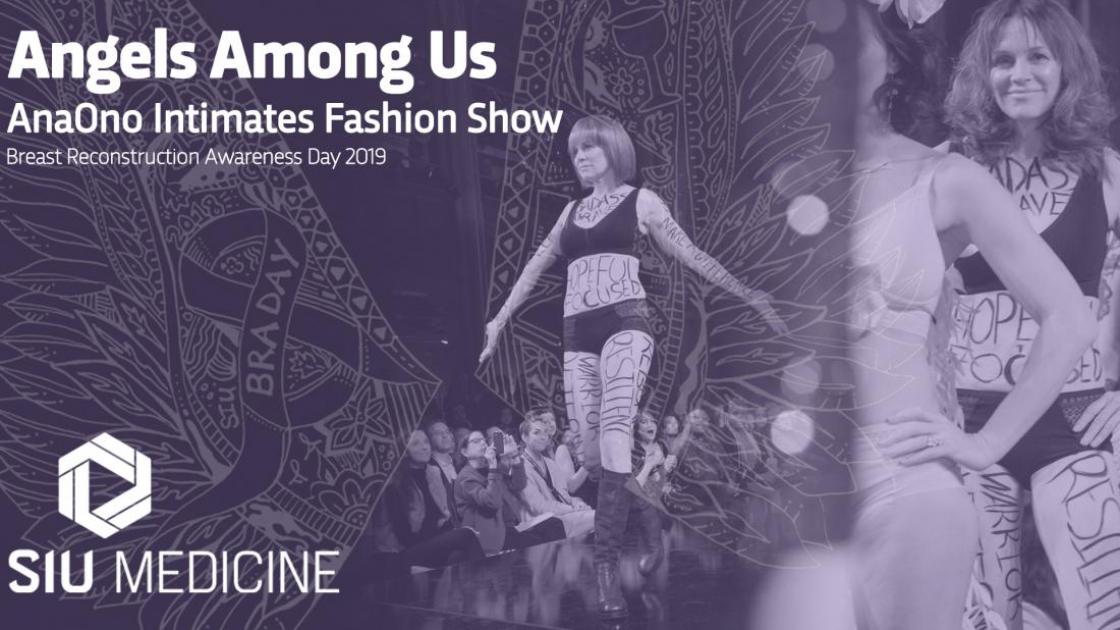 Cancer survivors, local businesses advocate for breast reconstruction awareness in Sept. 28 fashion show
SIU Medicine is bringing the New York City catwalk to the cornfields of New Berlin.
The Institute for Plastic Surgery at SIU Medicine is teaming up with area businesses to educate women about their breast reconstruction options. Danenberger Family Vineyards will host "Angels Among Us," a fashion show featuring local cancer survivors, with the help of AnaOno, an international intimates clothing line for women who have or are undergoing breast cancer treatment, and Eye Candy, a boutique, salon and spa located in Springfield. The show begins at 1 p.m. on Saturday, Sept. 28, at Danenberger Family Vineyards, 12341 Irish Rd., New Berlin. Tickets start at $10.
The event is modeled after AnaOno designer Dana Donofree's New York Fashion Week runway shows. Since 2017, Donofree's shows have raised more than $250,000 for metastatic breast cancer research. In February 2019, Danenberger Family Vineyards winemaker Susan Danenberger was one of 24 models, all of whom are living with or in remission from stage IV, metastatic breast cancer, to walk the New York Fashion Show runway.
The fashion show is part of the Plastic Surgery Foundation's seventh annual Breast Reconstruction Awareness (BRA) Day, which aims to raise awareness and educate women about their post-mastectomy breast cancer care options.
"BRA Day inspires women to know that life beyond breast cancer can be very fulfilling," said Nicole Sommer, MD, a plastic surgeon at SIU Medicine who specializes in breast reconstruction. "Many women aren't told and don't know that breast reconstruction is an option, or that insurance must cover at least part of the cost."
Breast reconstruction surgery after breast cancer is considered a reconstructive procedure and should be covered by health insurance, regardless of when a woman chooses to undergo reconstructive surgery.  
"Together, we must spread the word to breast cancer patients about their breast reconstruction options," said Danenberger, who underwent a double mastectomy after being diagnosed with metastatic breast cancer in 2016. "Informing women of their reconstruction options before or at the time of diagnosis is critically important to improving life after breast cancer."
BRA Day is a collaboration between the American Society of Plastic Surgeons, the Plastic Surgery Foundation, breast centers, nurse navigators, corporate partners and breast cancer support groups.
Meet the models
Katie Bertsche, Bloomington
Kimberly Brogdon, Jacksonville
Raesean Brown, Bloomington
Cara Burns, Bloomington
Lori Carroll, Rochester
Brenda Cawley, Springfield
Julie Dailey, Springfield
Susan Danenberger, New Berlin
Deana Doty, Williamsville
Andrea French, Mill Shoals
Autumn Kasch, Taylorville
Lisa Meador, Decatur
Karen Miller, Quincy
Judy Mowder, Pleasant Plains
Catherine Reber, Bloomington
Tami Russell, Springfield
About the Institute for Plastic Surgery at SIU Medicine

The Institute for Plastic Surgery is home to five fellowship-trained plastic surgeons who specialize in breast, burn and cancer reconstructive surgery, hand surgery, microsurgery, cleft lip and palate repair, facial reanimation, extremity reconstruction and cosmetic surgery. Reconstructive plastic surgery strives to restore appearance and function for patients with defects resulting from trauma, infection, tumors, burns, birth defects or disease. Cosmetic or aesthetic plastic surgery is aimed at improving a patient's appearance.
Created at SIU School of Medicine in 1973, the Springfield-based institute has grown to include more than two dozen providers, competitive residency and fellowship programs, a hand surgery and therapy center, and two cosmetic surgery locations. The institute is known nationally and internationally for its work in many areas including microsurgery, hand surgery and therapy, reconstructive surgery, aesthetic surgery, and specialized care in the treatment of burns and problematic wounds.
About the American Society of Plastic Surgeons and Plastic Surgery Foundation
The American Society of Plastic Surgeons (ASPS) is the largest plastic surgery specialty organization globally. Founded in 1931, the society is composed of board-certified plastic surgeons that perform cosmetic and reconstructive surgery.
The mission of ASPS is to advance quality care to plastic surgery patients by encouraging high standards of training, ethics, physician practice and research in plastic surgery. The society advocates for patient safety, such as requiring its members to operate in accredited surgical facilities that have passed rigorous external review of equipment and staffing.
ASPS works in concert with the Plastic Surgery Foundation, founded in 1948, which supports research, international volunteer programs and visiting professor programs. The foundation's mission is to improve the quality of life of patients through research and development by providing invaluable support to the research of plastic surgery sciences through a variety of grant programs.

Breast cancer survivors are invited to attend the AnaOno Trunk Show, 11 a.m.-5 p.m., Sept. 27, at Eye Candy, 3001 W. White Oaks Dr., Suite B, Springfield. Breast cancer survivors will be treated to a personalized fitting with lingerie designer Dana Donofree. Donofree's line is designed for post-radiation skin, women who've undergone a single or double mastectomy and for women following breast reconstruction.
 
Contact the Office of Marketing & Communications at
pr@siumed.edu
with any questions.