Injury prevention education spans two generations
Aspects 38 No. 1

Written by Rebecca Budde • Photography by Jason Johnson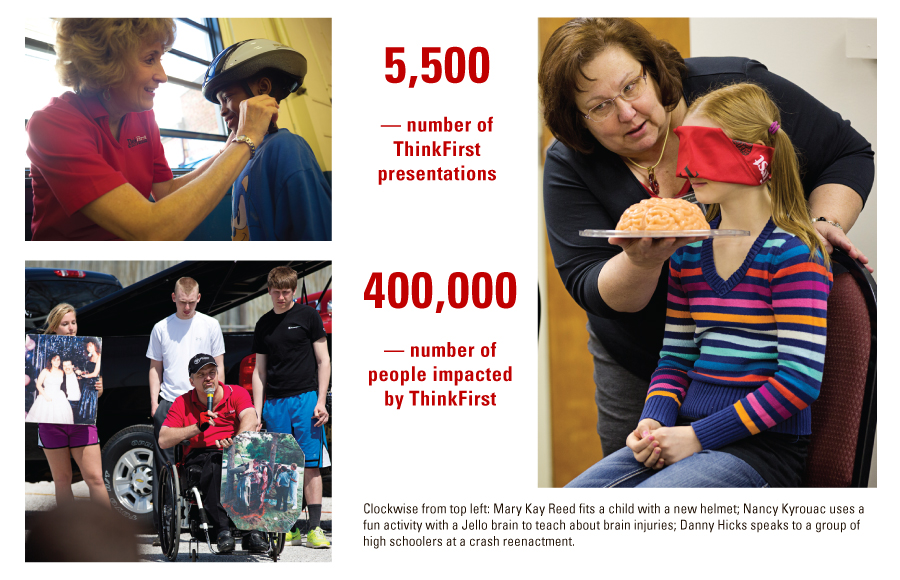 Traumatic injuries are the leading cause of death for teenagers in the United States, and for survivors of these injuries, life can become one filled with hardships and challenges. For the last 25 years, ThinkFirst's mission has been to provide injury prevention education, research and advocacy on behalf of SIU School of Medicine.
The group, originally called Risky Business, began in 1989 with a small grant for a slide projector. Mary Kay Reed, first director of the program, saw a need to educate people to help avoid unnecessary injuries. For 24 years of ThinkFirst's quarter century, Reed was instrumental in finding new ways to reach the community.
Traumatic injuries can occur for a variety of reasons, and ThinkFirst has continued to meet the challenge of addressing these reasons as they have changed over time. "Twenty-five years ago, very few people used cell phones and no one texted. Kids rode in whatever seat of the car their parents put them in since carseats and wearing seatbelts wasn't a law. Most of the kids riding their bikes didn't wear helmets either," says Nancy Kyrouac, who took over as director of ThinkFirst when Reed retired in 2013. "I'd like to think that we've had an impact in changing these things."
And make an impact, they have. "I think our greatest influence has been on the teens in the drivers' education classes," Kyrouac says. "Students often tell us how moved they were hearing Danny Hicks speak about his injuries, and our research has shown that people are changing their habits after our programs." Hicks is a voice for injury prevention speaking and has been a speaker with SIU's ThinkFirst program since 1991.
ThinkFirst has made more than 5,500 presentations in its history, helping more than 400,000 people from newborns to the elderly. Nearly 220,000 of those participating in ThinkFirst's interactive presentations have been teenagers in driver's education classes, assemblies or crash reenactments. SIU program officials have checked 7,419 child passenger safety seats, trained 356 new car seat technicians and donated and fitted 2,442 bike helmets on kids. And, they did it all through grant funding - more than $4.1 million in the past 12 years.