Dr. Tracey Smith finds happiness in teaching others how to be healthy
Aspects Volume 39 No. 2
Written by Rebecca Budde • Photography by Jason Johnson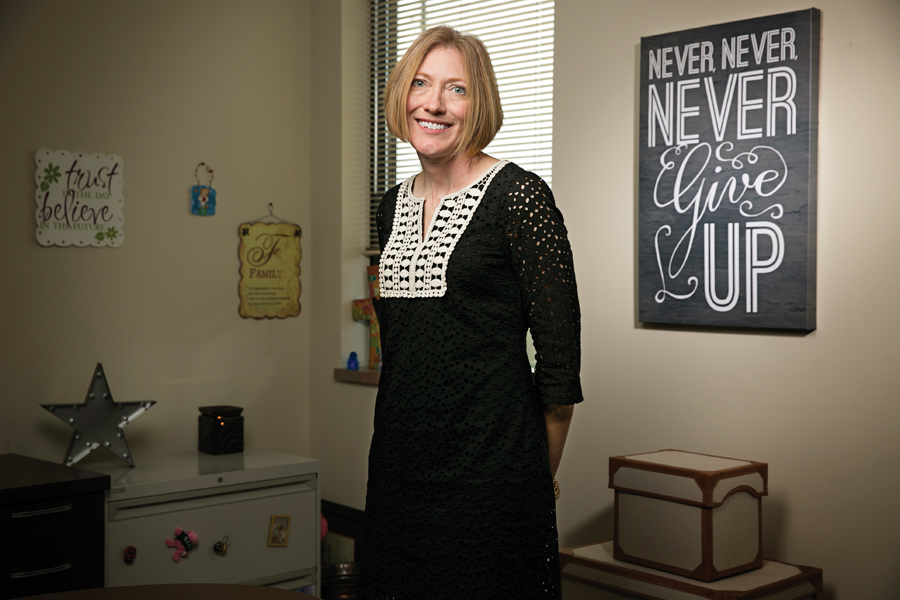 NEVER, NEVER, NEVER GIVE UP
It's hard to be unhappy sitting in Tracey Smith's office at SIU's Center for Family and Community Medicine. Her walls, window sills, shelves and desk display a sea of brightly colored plaques, mugs and picture frames bearing inspirational thoughts and stories. The canvas displaying the message above is the most prominent in the room, just as its meaning is in Tracey's life.
"So many things that we're doing at SIU would be so easy to give up because we are so focused on the big wins," she says as she looks at the newest canvas on her office wall. "I think this sign really embraces where I'm at now."
Where Tracey Smith, DNP, PHCNS-BC, MS.RNC, is at now seems to be everywhere. Dr. Smith, known to the SIU community as Tracey and her patients as Dr. Tracey, serves as assistant professor in SIU's Department of Family and Community Medicine (FCM). She is also director of medical student education and community outreach and director of the student-run free clinic for FCM. Adding her responsibilities related to the more than 23 SIU and community committees, subcommittees and boards she's involved in, it would be easy for Tracey to give things up. But that's just not her style.
TRUST IN THE DAY, BELIEVE IN THE FUTURE
Tracey fell in love with public health when she began working for the Macoupin County Public Health Department in Carlinville after completing her nursing degree. Pressured to get the "hospital experience," she applied for a job at HSHS St. John's Hospital where she worked for two years in the mother and baby unit as a charge nurse and instructor. She taught parenthood, childbirth and lactation classes to parents and resident physicians. She also dabbled in research.
The resident physicians found Tracey to be a natural educator and researcher and encouraged her to apply for an OB-GYN research teaching position at SIU School of Medicine in 1997. "I interviewed with Dr. Mary McAsey; she was the first person here who really believed in me," Tracey says of the late researcher. "Mary took a huge leap of faith by hiring me, and she was a great mentor." Tracey's career path continued at SIU in the Office of Medical Education before her current role began with FCM.
Tracey still maintains a public health focus at FCM. She is a member of multiple committees like the community health policy, the task force for public health curriculum and initiatives like the hotspotting grant (see page 9). Her two most recent ventures are the Enos Park Access to Care Collaborative (see page 16) and a program that will give training and construction jobs to recently released convicts. "I'm excited for this," she beams after learning of the possibility. "People need jobs. I love finding solutions like this."
"Tracey looks beyond the current ways of doing things and thinks in solutions; what would work better, what would work differently if things change," says Helping Hands of Springfield Executive Director Rod Lane, who has known Tracey for more than five years. Joining the Helping Hands board this year has allowed Tracey to make connections with community resources to help the shelter's clients.
Described by medical student Kasia Plachta, MSIV, as the "glue that sticks community resources together," Tracey acts on behalf of the community much like she speaks: quickly and with purpose. While her responsibilities with various boards and committees can mean many meetings, she's more often on the go. She makes frequent visits to patients' homes to see that they have their basic needs covered, to count their dozens of medications into pre-sorted pill boxes or to pick them up for a jaunt to the grocery store to learn which foods are best for their health. "We need to look at all the factors that went into a person's situation and meet them where they're at," Tracey says.
Forever the multi-tasker, Tracey talks about her students' current projects while checking her email for a requested document. Though it's after noon, her insulated lunch bag sits untouched with the food her oldest daughter helped to pack. Her cell phone rings: It's a distressed patient. Tracey stops her tasks, listens and talks him down. She is calm, kind and acts the part of a friend giving good advice. She admits this happens frequently. "They don't have anyone else to call or if they do, they're not necessarily the ones who will help them make the best choices," she says. They need Dr. Tracey because she won't give up on them.
She admits that it's often hard to explain to people why she takes all of this on. "People are looking for those large wins," she says. "I'm a very small-wins person. Because if you never, never, never give up, you'll get to the large wins."
"It's a big win for this patient to call me to tell me he over-ate." He suffers from diabetes and gastroparesis, which have both been poorly controlled until now. "Before, he would've checked into the emergency department with stomach pains and wouldn't have recognized how his behavior had affected his conditions. That call is a big win to me."
LIVE, LOVE, TEACH 
Those with experience in public health know that education is key to successful outcomes. While Tracey works to educate her patients, she's also training a new generation of medical leaders to fulfill SIU's mission of serving the underserved.
Medical students find her energy and passion quite contagious. "She's so passionate about everything we do," says Allen Ghareeb, MSII, who worked with Tracey on a research project in public health. Like most good teachers, Tracey knows that she must let her students do the work to truly learn. "Tracey's got a way of motivating students to take the lead. She gives us the tools we need, but she doesn't hold our hands."
"The running joke is that you can rely on Tracey to know pretty much everybody and every resource in Springfield," says Phil Knouse, MSIV. "Mentioning her name to nearly anyone involved in this kind of work opens doors."
Tracey's name also opens hearts. Knouse recalls a patient, tearful, yelling and clearly agitated and angry "It was an uncomfortable situation, and I was honestly a bit intimidated when I met him the first time," says Knouse. "He was in pain and believed the care team was being rude to him by refusing him medicine. He noticeably calmed when I mentioned that I was part of Tracey's team. It was immediately clear that, despite his obvious mistrust of the rest of the care team, he trusted Tracey."
Students who work with Tracey see the compassion and passion she holds for helping a vulnerable population. She's directed the student-run free clinic since 2010, helping students to learn the nuances of caring for the underserved. "My whole goal in starting the free clinic was that someday we wouldn't need a free clinic," Tracey says. Formerly held twice a year, the free clinic is a community success story and has been scaled back to once a year. "Now we want to make sure we work with community resources to find people who need to get signed up through the Affordable Care Act and to a primary care provider through our navigator system."
Right Image Caption: Tracey and younger daughter, Kaci, play around at home before heading to Kaci's soccer game.
As she listens to each person's story, she shows the students how caring about people and their lives makes better physicians. "I don't think you can fake caring; I really do care about people," Tracey says. "I love listening to their stories: what is that thing that made a person who they are? I always start that way with my patients."
Sessions with her students often begin this way too, asking the students to share something on their mind at that moment. "I learn so many things from my students," Tracey says. The medical students are faced by hierarchical settings all the time: med school, hospital. With me it's a flat hierarchy. They know my expertise and ask for my help. I know their expertise and ask for theirs. It's a mutually beneficial relationship."
Tracey is emphatic that the successes of the FCM programs reflect the supportive environment established by Jerry Kruse, MD, MSPH, former chair of FCM and now dean and provost, and Harald Lausen, DO, chief medical officer for SIU HealthCare. "Dr. Kruse set up an environment in FCM that helped us succeed," Tracey says of one of her mentors. That environment also helped Tracey succeed in earning her Doctorate of Nursing Practice in 2013 while working at SIU. "What a great thing to know that your employer supports you in something like this."
DON'T COUNT THE DAYS, MAKE THEM COUNT
Upon first meeting this poised, outgoing woman, it's hard to believe she was once a shy and introverted "farm girl." "People don't believe it now because all I do is talk; but I was so shy, I wouldn't make eye contact. I didn't have much self-confidence; I could never get up in front of people and talk," she admits.
Growing up on a dairy farm in Gillespie, Tracey learned the value of hard work and making her days count. "I blame my father for my work ethic," she laughs. "Life was work: milking from 5 a.m. to 7 p.m. I remember sitting on the floor of the milk parlor to play Yahtzee. My father never really left his career. I think it's the same philosophy I have in my career."
A small town person at heart, Tracey's stayed close to her roots. She and her husband, Larry, have been together since high school, and they have two daughters, Emma, 15, and Kaci, 9. Tracey's father, Art Stoecker, also lives nearby and enjoys attending the girls' sporting events and spending time with the family.
Like many working parents, Tracey relishes time with her family. "I do feel guilty that I don't spend enough time with them. When younger Kaci asks, 'Are you working again tonight, Mommy?' it gets me."
Though her daughters are now more self-reliant, younger daughter Kaci required extra time and attention when she was younger due to developmental delays associated with autism. "It's hard to believe when you see her running now that Kaci couldn't walk until age 2 and she couldn't jump until she was 4," Tracey says as Kaci sprints across the lawn kicking a soccer ball. "I think because of the struggles she's had, it makes me more aware of how our patients are struggling."
Approximately two years ago, Tracey and Larry decided they needed a change to help the family's schedule. Larry was working as a quality manager for HSHS Medical Group. The couple's busy schedule combined with the girls' school and extracurricular activities wasn't working. "When they told me one of them needed to quit, I knew Tracey would never be happy quitting her job," Art says. The couple agreed: Larry would stay home to help with the family's busy schedule.
Tracey makes her days with her family count by staying involved in her children's activities and the community programs that can help them. When she's not coaching Kaci's soccer team, working with her family's church or contributing to the Carlinville Area Hospital board meeting, she's actively including her children in helping others. "I like to involve my kids in the things I do," she explains. "If I'm going to have a meal with a patient or to drop off some food, I bring them along. I hope that by showing my kids that they have opportunities that others don't have, they can gain perspective into what happiness is by helping others."
Tracey has that perspective and says she's truly happy with her life. She's seen those wins in her own life and in the lives of her patients, students and family members. "People can easily lose sight of what reality is for others, and then their reality seems to be worse than what it really is," Tracey reflects. "I think we lose that capability sometimes when we become isolated as we surround ourselves with those who are the same as us and who we are comfortable with."