Welcome from the Chair of Otolaryngology-Head and Neck Surgery
As the Chair of SIU Otolaryngology-Head and Neck Surgery, I am honored to be part of a Department so deeply committed to furthering our mission to provide equitable care for the patients of our region while developing an inclusive and welcoming culture.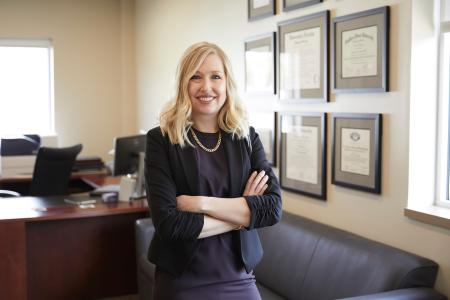 The Department is comprised of world-class surgeons, APPs, audiologists, and speech therapists who are committed to providing the highest level of patient care. All of our surgeons are fellowship-trained in specific areas within the field of Otolaryngology, providing enhanced expertise and improved patient outcomes. I am constantly impressed by the skill level of my partners who are able to impact so many lives; whether it be through the restoration of hearing or voice, correcting airway issues in infants, reconstructing defects of the head and neck, or curing cancer. The level of expertise held by the surgeons in the Department of Otolaryngology-Head and Neck Surgery is unmatched in the region, yet easily accessible right here in Springfield!
Our innovative curriculum design allows our residents to graduate from our program as well-rounded physicians and surgeons who are ready to hit the ground running. We utilize a unique mentorship model, in which residents are typically paired with a surgeon one-on-one for extended periods of time, allowing for more rapid acquisition of surgical skills with early mastery. Residents and faculty alike appreciate the increased familiarity amongst team members as well as the steepened learning curve that this approach has achieved. It is our goal to train and enable the future leaders of Otolaryngology-Head and Neck Surgery. Whether a resident's goal is to provide the highest quality care to rural, underserved regions or to become a leader at an academic institution, we will support them to the fullest. One of the most fulfilling parts of my job is to be able to witness the careers of our graduates unfold.
SIU Otolaryngology-Head and Neck Surgery is committed to participating in impactful and novel research in order to continue to advance our field. We have numerous PhD-level research faculty embedded within the department and a storied history of world-renowned otologic research. In addition, through a partnership with the SIU Center for Clinic Research (CCR), we are highly productive in clinical research. Through this partnership, we have the support of a research coordinator, statistician, and clinical research faculty. This relationship has served to streamline our projects and increase our productivity. Our faculty are enthusiastic about pursuing research projects with residents, and medical students. We have bi-weekly research meetings with the CCR for active projects and quarterly research meetings for resident education.  
One of the main tenants of this Department is to continue to advance equity and inclusivity in our approaches to patient care and recruitment of faculty and residents. I am incredibly proud of the world-class team that we have developed and I am truly excited about the future of this program. We have multiple opportunities for growth that will be coming soon. 
-    Our clinic space is expanding to allow us to serve more patients and accommodate our growing team.
-    We are looking forward to numerous outreach opportunities in order to meet the needs of a number of underserved communities.
-    We plan to continue to grow our faculty team over the coming years with a number of key hires. 
-    We will continue to expand the services offered by our Department in areas of allergy and sleep. 
This is an exhilarating and dynamic time for the SIU Otolaryngology-Head and Neck Surgery team. I am so proud of the world-class patient care, education, and research that is offered by this Department, and am humbled to have the opportunity to serve as Chair. 
Dana Crosby MD, MPH, FARS, FAAOA
Department Chair | Program Director | Associate Professor