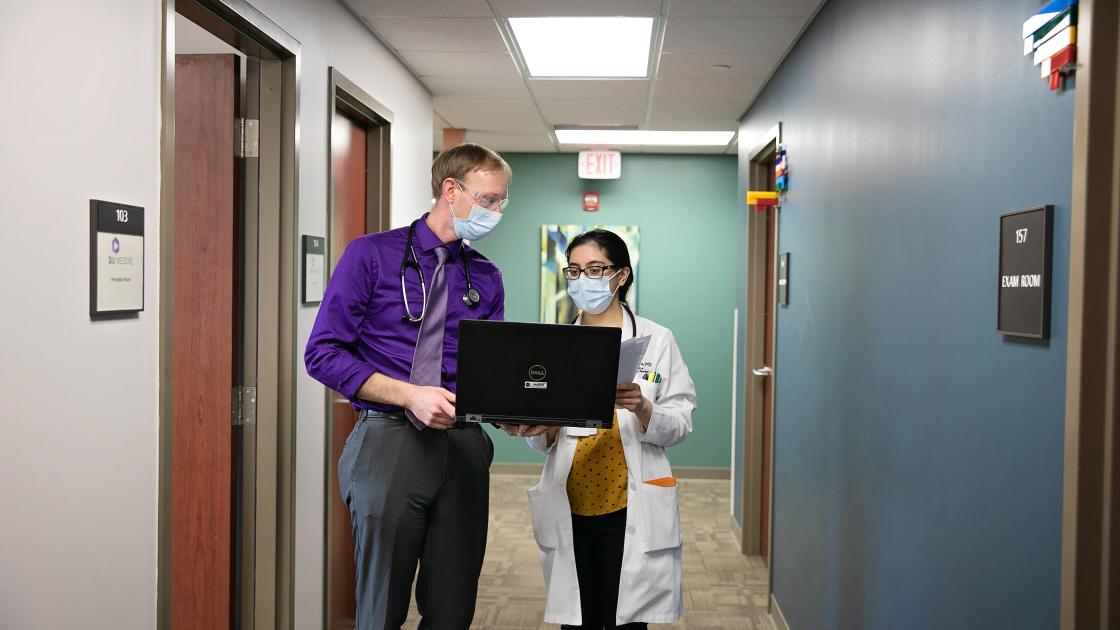 Student education
At the SIU Family Medicine Residency Program Decatur, we have opportunities for medical students to learn family medicine directly from family physicians.
Students will work with both faculty & residents at the SIU Center for Family Medicine daily and will be a part of the management of patients in the outpatient setting at our Federally Qualified Health Center (FQHC) with our inpatient care teams at Decatur Memorial Hospital (DMH). They will experience full-spectrum family medicine, including pediatric & obstetrical care. As we only take two medical students to our site, we can provide a high-quality educational experience in family medicine.
Medical Student Clerkship objectives:
During their rotation in Decatur, the student will:

1. Experience and provide continuity of care to patients in multiple settings (i.e. inpatient & outpatient, emergency room)
2. Improve their clinical reasoning, diagnostic and management skills, utilizing active learning techniques such as simulation & interactive discussions.
3. Develop skills in outpatient Family Medicine procedures; point of care ultrasound, joint injections, and lesion removals.
4. Medical Students will develop skills to address social determinants, not only with patients but also with the local community.
Summary of rotational experiences and benefits

Get to know our program, residents, and faculty on a personal basis
Hands-on patient care experience in office and hospital
Be a valued member of our medical decision-making teams
Individualized weekly educational time discussing medical topics on an interval basis.
Hands-On Point of Care Ultrasound Training for the Family Medicine Physician
Inpatient Pediatrics & Inpatient Obstetrical and Procedure Experience, when available.
Receive on-the-fly feedback & and an individualized learning plan at the end of the rotation.
Application process and contact information
We offer both third-year core family medicine clerkship and fourth-year sub-internships to medical students from Southern Illinois University (SIU) School of Medicine and approved medical schools, with a limit of two medical students on-site at any time. US medical students from Osteopathic (DO) and Allopathic (MD) medical schools may apply for a sub-internship rotation with us through the AAMC Visiting Students Application Service. On-The-Fly in the moment feedback will be given to our third-year medical students, while fourth-year medical students will receive summative feedback at the end of their rotation.

Contact Donna Crawley or call 217.872.0850 for available time periods and further information.