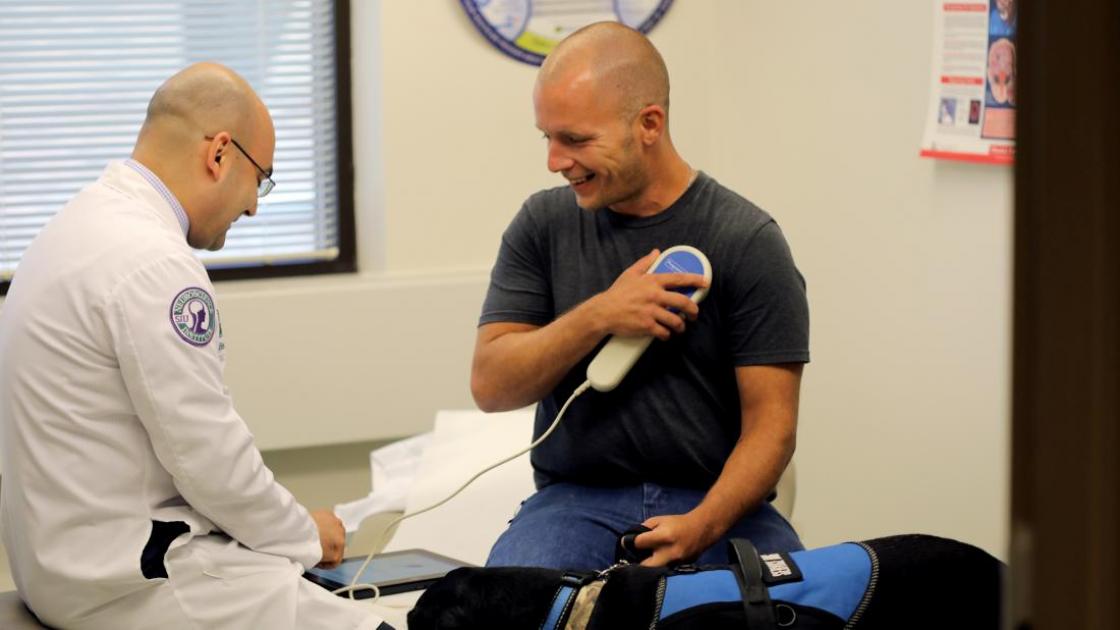 It's better, says patient, thanks to care from the SIU Epilepsy Center (and a furry friend)
"It's like broken glass moving in slow motion in the air." That's how John Ryan describes the seconds before he suffers an epileptic seizure. John has severe epilepsy, causing seizures that make him lose consciousness and suffer violent muscle convulsions lasting several minutes. Once his seizures were so bad that to calm his brain doctors placed him in a medically induced coma for four days. He eventually recovered, but the seizures were still frequent and severe.
As a youngster, John loved to race motorcycles,  and he continued to race despite multiple injuries. When he was 15, he fractured his skull and the epileptic attacks started soon after.
For years, John, now 35, used to have seizures just about every day. Three years ago, his family physician referred him to the SIU Epilepsy Center. With the help of SIU Medicine neurologist Najib Murr, MD, and the team at SIU Medicine, John received a vagus nerve stimulator (VNS), an electrical device implanted under the skin that sends control signals to the brain to stop and prevent seizures.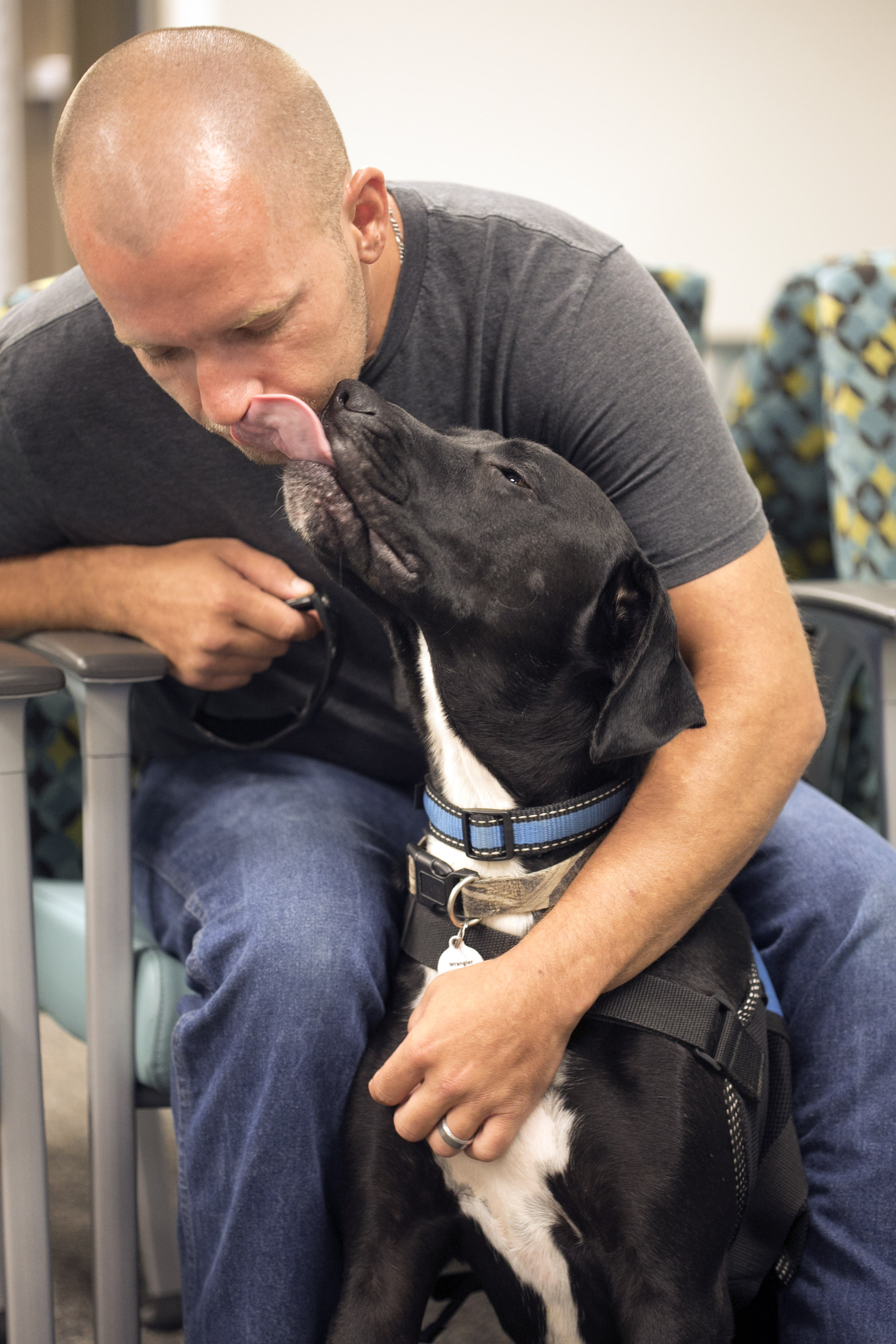 What is Epilepsy?
An estimated 2.2 million people in the U.S. have been diagnosed with epilepsy, a neurological disorder associated with abnormal electrical activity in the brain. It's marked by sudden and repeated episodes of sensory-motor disturbances, loss of consciousness and convulsions. In Illinois, nearly 140,000 people live with this chronic and often disabling condition. Early intervention is key to successful treatment, says Dr. Murr, who is co-director of the SIU Neuroscience Institute's Epilepsy Center and director of the EEG (electroencephalogram) Lab at Memorial Medical Center in Springfield.
The SIU Epilepsy Center is a level 3 accredited center providing expertise and state-of-the-art care for patients with complex epilepsy. The comprehensive care includes diagnosis, treatments including surgery and behavioral health support, and follow-up care. The team includes neurologists, neurosurgeons and psychiatrists at SIU and radiologists, neuropsychologists and interventional radiologists from Memorial Medical Center.
John's seizures now occur less frequently, about once or twice a week. "They're still bad but definitely better," he says. Despite the improvement, John is not healthy enough to work. He and his wife and childhood sweetheart, Tashia, don't go out much because of the fear of John having a seizure in public. People point and stare when John's body reacts to a seizure. "He has what he calls an 'aura.' He makes funny noises, his face makes odd expressions and turns to the side," Tashia says. "We in his family know the signs, but people don't understand what happens and the feelings people with epilepsy have. If John has a seizure in the grocery store, some people just about run him over with their carts or take videos with their phones. It's awful."
Team of Support
The Ryans, who live in Pleasant Plains, say SIU Medicine has been a blessing in their lives. "Dr. Murr has been amazing," John says. "We are a lot better than where we were. The VNS has changed our lives. We can get out more to go to the store or get ice cream."
"Mr. Ryan has done quite well with the VNS, but his epilepsy is still severe, and he cannot work," Dr. Murr says. "Still, his quality of life is much improved. It is rewarding to see small steps of improvement and see our most complex patients enjoy a better quality of life. Our team at the SIU Neuroscience Institute makes this possible, and we can care for people close to their homes."
John's team of support includes his family, the staff at the SIU Epilepsy Center and Wrangler, his 2-year-old black Labrador mix. The Ryans trained Wrangler to be John's service dog. He alerts the family when John is about to have a seizure by yipping and shielding John from falling.     
Epilepsy will always be part of John's life. But with the support of his loving wife, stepchildren and friends -- both canine and human -- along with the excellent care from the SIU Epilepsy Center, his quality of life is better than it's ever been, Ryan says. "This center is the best. I'm grateful I didn't have to go to a big city to get help. I always tell Dr. Murr he saved my life."
The Epilepsy Center helps patients with moderate to severe epilepsy, providing advanced treatments and services in a supportive environment. To make an appointment, call 217-545-8000.