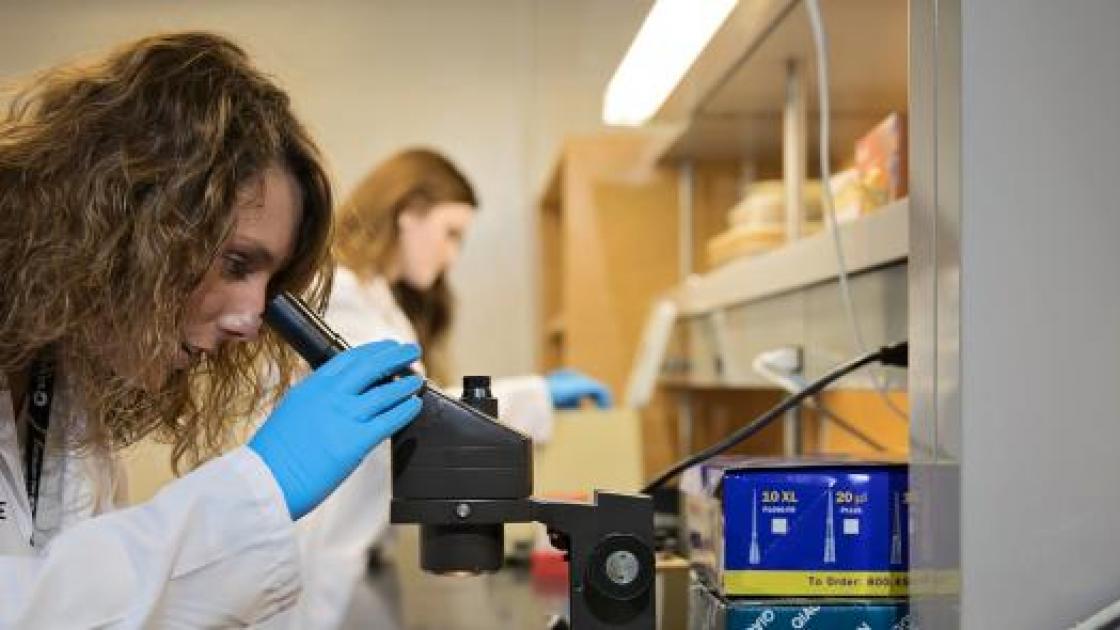 Public Health Laboratory Sciences Program

Learn More:
Background
In the wake of the terrorist attacks of September 11, 2001, letters laced with anthrax were delivered to US news media and legislators. This national crisis, along with numerous emerging infectious diseases, renewed interest in a strong public health infrastructure that is needed now more than ever before. While public health laboratory work has evolved in recent years, there remains a shortage of trained scientists in the state public health laboratories to identify biologic agents. 
Master's Degree Program
To help address the shortage, the Illinois Department of Public Health (IDPH) and Southern Illinois University School of Medicine (SIU-SOM) developed a novel master's degree program for public health: the Public Health Laboratory Sciences (PHLS) program. The two-year, fully immersive program consists of graduate level classroom instruction plus extensive hands-on public health laboratory training. Students complete the program with a master's in Molecular Biology, Microbiology and Biochemistry (MBMB) as well as the experience to lead a modern public health laboratory.
By the end of the program, students will have attained many of the following skills (with slight differences depending upon personal preferences):
CLIA Personnel Assessments in the following areas: GC/Chlamydia; biological waste management; blood lead by GFAAS; parasitology; enterics;
FDA provisional/full certification for: plating PAC and HSCC Petrifilm procedures; Delvo 5 Pack inhibitor test;
Technical mastery and/or in-house validation for: bioterrorism agent sample receipt, preparation and analysis via bacteriological and molecular methods; coliform analysis; RT-PCR, viral cell culture and Western blot; TRF for bioterrorism agents; other milk program methods such as antibiotic and phosphatase level detection; water analysis for NO2/NO3
Students are also involved in method development, such as analyses for HIV-2 and serotyping.
The PHLS program benefits not only students but public health laboratories and public health infrastructure as a whole. State and local laboratory directors are encouraged to emulate this program or seek similar collaborations.
Degree: Master's in Molecular Biology, Microbiology and Biochemistry (MBMB)
Benefits: 
Full tuition waiver
Yearly stipend: $20,796
On-the-job training
Program: Year 1
The majority of the required academic credit hours are scheduled for year one. Courses are identical to the Microbiology, Biochemistry and Molecular Biology graduate curriculum in the SIU Graduate School, and include such topics as microbiology, immunology, biochemistry and environmental chemistry. These are augmented by program-specific courses such as Introduction to the Public Health System and Public Health Laboratory Disciplines. The training consists of 15 hours of work weekly in the public health laboratory where students rotate through testing sections such as diagnostic microbiology, environmental microbiology, blood lead, HIV/serology and molecular diagnostics.
Interim Summer - Students work approximately 25 hours per week during the summer focusing on applying skills to support routine laboratory work. Students also can participate in field work with local health department staff. Activities include animal control, family case management, food sanitation, immunization clinics and senior home visits. This experience exposes them to the wider practices of public health.
Program: Year 2
Students work approximately 30 hours per week and are assigned to one section for an entire semester (or longer). This second year of the program is largely devoted to further refining and expanding the student's practical skill set. Academic requirements include seminars and other courses totaling approximately 5 hours.
Requirements (via Southern Illinois University):
Contact:
Contact Andrew Wilber, Ph.D.  awilber@siumed.edu with any questions you may have or to request additional information.
 217.545.8098
Monday-Friday, 8 a.m. - 4:30 p.m.