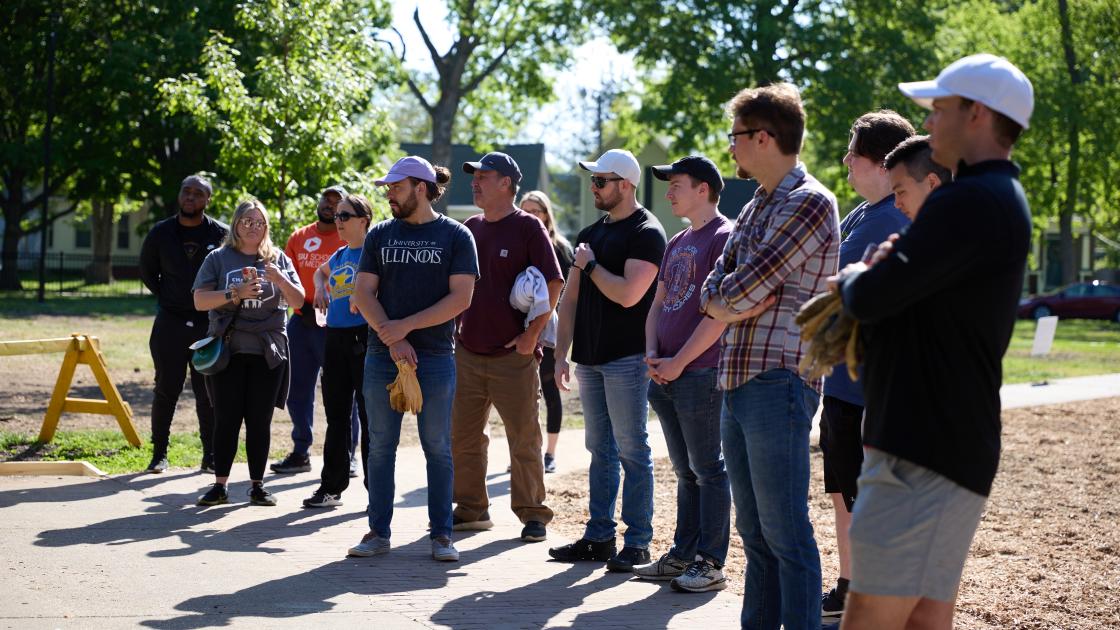 Cleaning, bonding, role modeling: Students serving in the community
For more than 10 years, SIU medical students have organized and volunteered for a "spring cleaning" day in the Enos Park and Pillsbury Mills neighborhoods. It's fast becoming one of the more popular student-led traditions at SIU School of Medicine. 
It is also one of the more visible ways that the medical school has concentrated its effort to improve the local environment where it was founded. As roughly 100 students, faculty and staff fanned out across the Enos Park and Pillsbury Mills neighborhoods on May 1, 2023, they addressed external factors that contribute to healthier lives within the medical district. Projects typically include alley cleanups, park landscaping, garden preparations, smoke detector installations, radon test kit setups, large item collections and health education.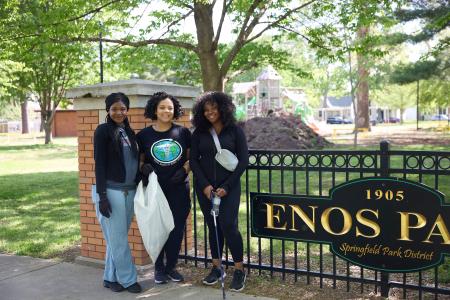 The Student Day of Service emphasizes the importance of community service among the student body. Polly Poskin, vice president of the Moving Pillsbury Forward civic organization, appreciates the volunteers' can-do spirit.
"SIU School of Medicine commitment has been very beneficial. First of all, it puts a spotlight on people's lives that matter. And it puts a light on community effort and on collaboration." 
Poskin believes it has a residual effect on the students, too. "They're meeting the folks face to face who they're going to have to respond to when they're practicing physicians. The more you know about people, where they live, their environment, the more you'll understand about them and be empathetic." 
At mid-morning during the 2023 SIU Student Day of Service, community outreach coordinator Dawn Mobley was working alongside a group of student volunteers weeding, raking and watering at McClernand Elementary School, District 186's other nearby school on the east side of the Enos neighborhood. A local resident, Mobley had worked at McClernand for six years before starting at SIU as a community health worker in 2017. "So all of my worlds collide today," she said. 
During the previous decade, Mobley and the Enos Park Neighborhood Improvement Association partnered with the school to install perennials and native plants to brighten the school's landscaping. While the selected species require minimal upkeep, "you still have to show them some love, especially when it's been dry," Mobley says. The annual student spring cleaning day provides an ideal time to refresh appearances.
On a break from clearing brush at the Enos Sculpture Park, third-year medical student Tyler Seal mentions how community service can become habit-forming. "I want to do what I can to give back whenever I can. This is the third thing I've  done this year and this one's great; we're outdoors, and gardening comes naturally to me." 
Summer Lawrence also appreciates the timing and exercise aspects. "We just finished our Year 2 exams. It's a nice way to decompress and get some fresh air," says the third-year student.
Throughout the school year, several other student groups are active in the Enos Park area. They organize and staff an autumn health fair at Enos Elementary School; host the Enos Birthday Club and Enos Park Community Garden events; present health and nutrition education at McClernand Elementary; and coordinate the Shoes That Fit and Tar Wars national programs.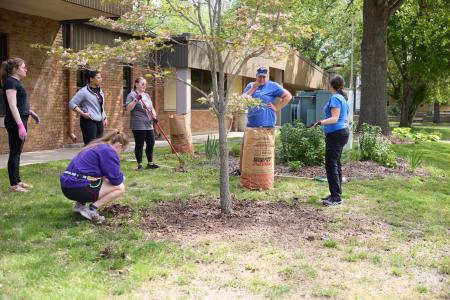 SIU employees are involved too. Since 1985, a group of volunteers has supported Enos Elementary School through the district's Partners in Education program. The Enos Committee holds seasonal item drives for school supplies and books, organizes mentor and reader activities with the students and sponsors field trips. 
Enos Principal Claudia Johnson prizes the interactions with her SIU neighbors. "It does take a village to raise a child, and SIU is definitely a part of our village." 
The mentorship program offers the young students a wider range of career aspirations, especially in the medical field. "They have someone to rely on, someone who assists them throughout their elementary years, but also they can look forward to their future. They can strive for a career working in the medical field or working with SIU," she says.
"We've had some students who were really going through some trying times, but the one thing that brought a smile to their face is when their mentor showed up. No matter what was going on in their life, they were able to talk to someone and build a bond," Johnson says. 
The spring calendar offers a bounty of opportunities for neighborhood residents to meet and talk to the SIU staff. In the week following the student service day, the Office of Community Care hosted a community outreach spring cookout at Hope Springs, its community facility on North Ninth Street and a gathering at the Enos community garden where individuals could learn about beekeeping. 
The collective efforts are strengthening bonds between SIU Medicine and diverse, sometimes hard-to-reach populations, says Pillsbury Mills' Poskins, so they want to leave the welcome mat out. 
"You are not just helping to improve curb appeal. You are contributing to our residents' health, both physically and mentally. We're grateful for it."
View photos from SIU School of Medicine's Student Day of Service. 
More stories from Aspects
Image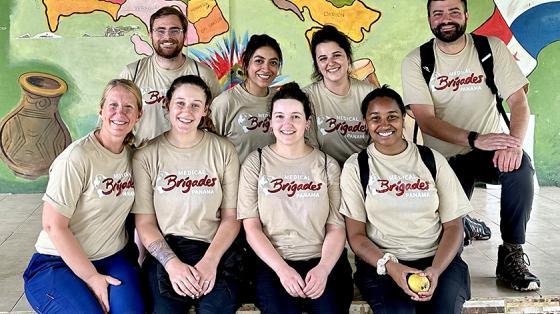 Global Brigades is an international nonprofit organization that started in 2004. Its mission revolves around the holistic empowerment of under-resourced communities in Ghana, Greece, Guatemala, Honduras, Nicaragua and Panama.
Image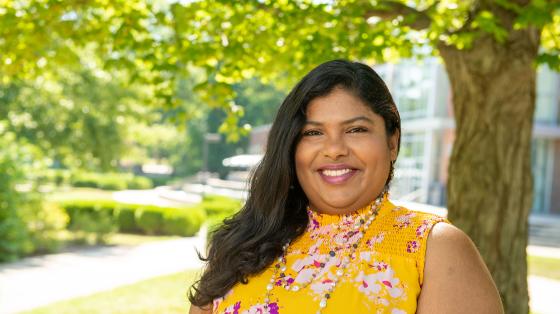 I was inspired to become a Physician Assistant thanks to two wonderful SIU PA graduates, Martha Curtin, and Lindsay Blakley.
Image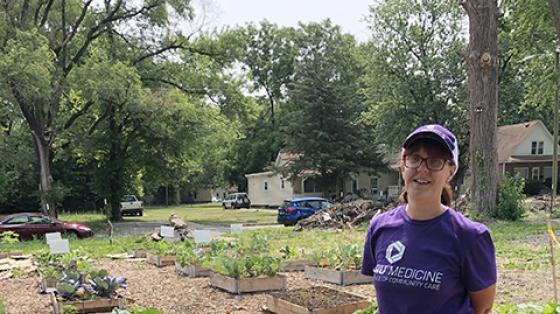 Community health worker Kaye Barnes sports a purple SIU Medicine T-shirt to complement her green thumb as she works in Springfield's community gardens.