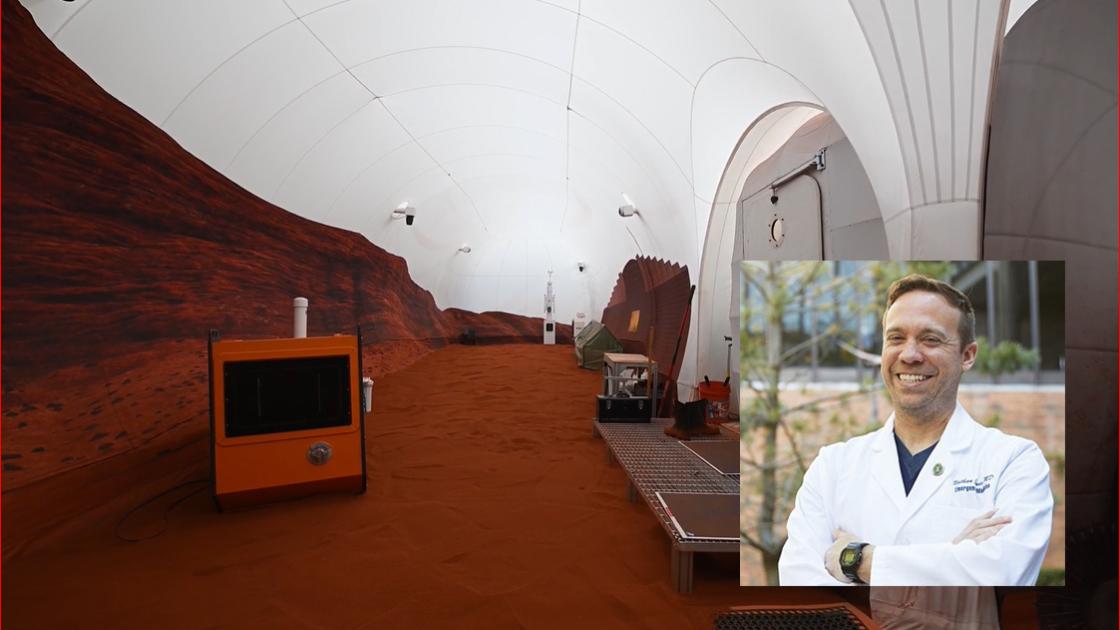 SIU Medicine alum begins NASA Mars mission
On June 25, Springfield emergency medicine physician and SIU School of Medicine alumnus Dr. Nathan Jones will begin a NASA mission that simulates living on Mars.    

Jones is the medical officer for CHAPEA, or Crew Health and Performance Exploration Analog, a ground-based mission set at the agency's Johnson Space Center in Houston. He is one of four crew members who will live and work in a 1,700-square-foot habitat for a year.    

The mission is the first of three planned Mars surface simulations that will test a team's ability to problem-solve, adapt and work together. The 3D-printed dwelling is similar to what astronauts might use as a home on a real Mars mission.
In addition to testing the group's skills and abilities, the mission will also serve as a learning opportunity for NASA, as they continue to study the challenges and potential solutions for long-term space exploration.    

Jones, 40, feels specifically suited for the mission, thanks to his penchant for problem-solving. "I've always liked to take things apart and fix things around the house," he said.
As a boy growing up in Effingham, Nate Jones accompanied his father, a local optometrist, on international medical mission trips to remote areas of Central America. There, he fell in love with medicine and felt drawn to pursue it as a career. He completed a bachelor's degree in molecular and cellular biology from the University of Illinois at Urbana-Champaign in 2005. Jones was attracted to SIU School of Medicine because of its reputation for problem-based curricula. He earned his medical degree here in 2009.
As an emergency medicine resident in Peoria, he flew on Life Flight helicopters to care for crash victims. He then served as the medical director for a Jacksonville ambulance service, which eventually combined with Memorial Health. In addition to his EM work at Springfield Memorial Hospital, he trains medical students and residents as an adjunct assistant professor for SIU School of Medicine.
Already a fan of the space program—the Jones' family vacation included a visit to the Kennedy Space Center in 2020—his curiosity was piqued one night during a late shift in the ER. "I saw an ad online that said, 'Do you want to go to Mars?' I clicked it and went down the rabbit hole." The idea of the earthbound NASA mission intrigued him.
"The deeper I got into the application, the more I thought, 'It's like the job was made for me,'" he said.
Working in emergency medicine, he's sometimes in a trauma bay with people he may not know, as the group focuses to help someone. Communication in these situations is crucial. "I think that translated well to what NASA wanted," he said.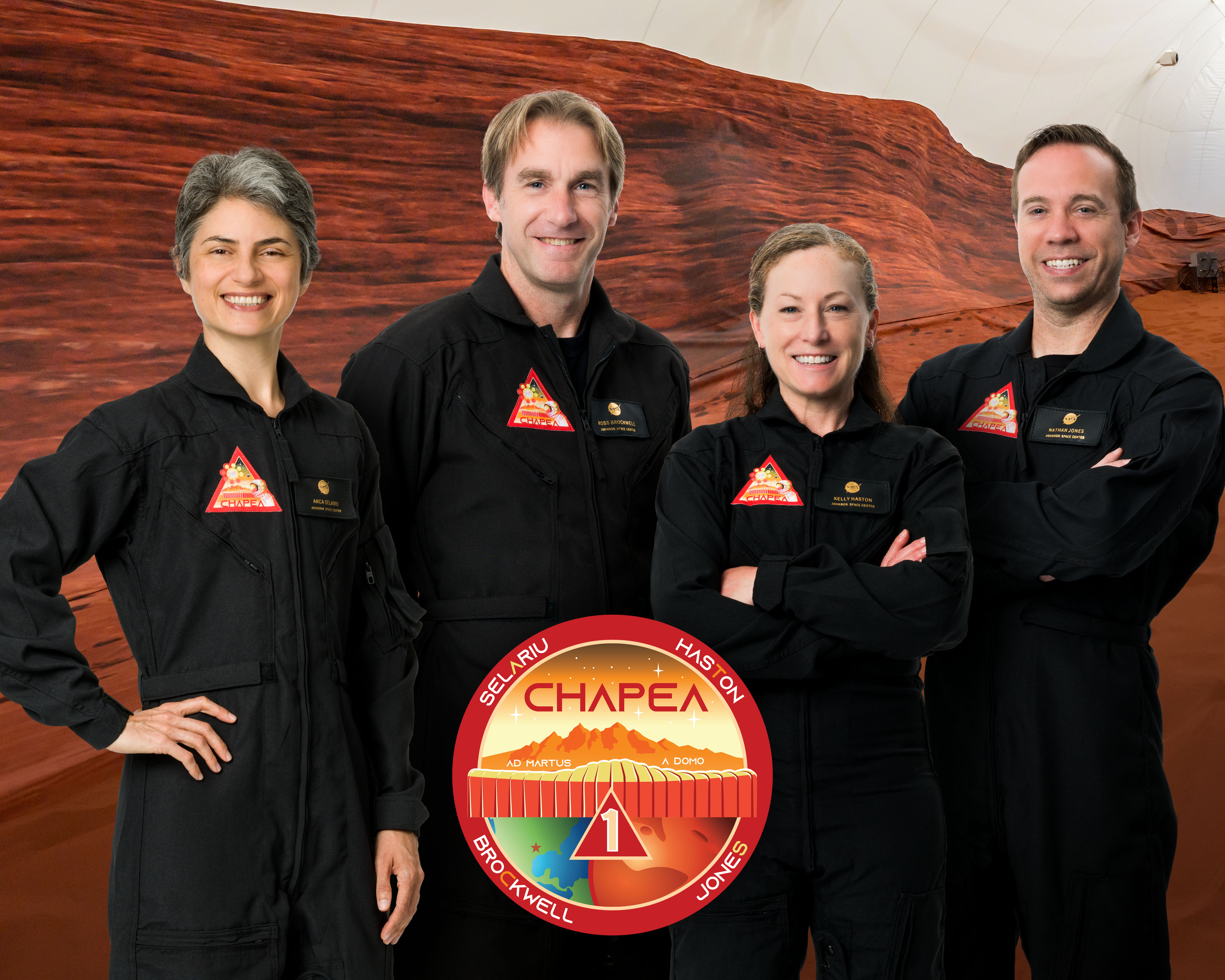 The goal of the CHAPEA missions is to assess human health and performance in relation to the resource limitations in isolation on Mars. The crew will participate in various activities, including scientific experiments and habitat maintenance, while exposed to environmental stressors.
Once or twice a week, team members will go on EVAs, or extra-vehicular activities, to complete missions. These will take place inside a 1,200-square-foot enclosure dubbed "the Sandbox." The crew will don customized spacesuits, sometimes fitted with virtual reality goggles to simulate the Martian landscape, and walk on treadmills.
The crew will be provided with a year's supply of "space food," MREs (meals ready to eat) and a variety of freeze-dried and dehydrated items. They will also grow crops during the mission, for mental stimulation as much as nutrition. Jones expects the crew to burn a lot of calories exercising to replace the muscle and bone loss associated with lower gravity environments.
A trip to Mars would take about 7 months, covering roughly 300 million miles. Time lags in communication will mirror the reality of interplanetary positions, with messages delayed by up to 22 minutes.
The mission offers an opportunity for both personal growth and the chance to contribute to a greater understanding of space exploration. Team members will need to rely on their resilience and the support of their colleagues to successfully navigate the challenges they will face during the simulation.    

Jones is practiced at remaining calm in high-pressure settings. "The skills we use for emergency medicine and the training I got in problem-solving at SIU absolutely gave me an edge," he said. "The nurses would say I'm probably one of the calmest people in tough situations."    

One doesn't have to be in the ER for the attribute to come in handy. Jones earned his pilot's license earlier this year. On his very first night flight, the plane lost power. He treated it like another test.
"I know a plane has built-in safeguards; it's got a battery backup. But we were going to lose our instruments, so we would just have to fly the plane without it," he said. "I remained calm, I found other ways to get the information that we needed and landed the plane."
"Those are the things NASA looks for," he said. "That, and maybe a good sense of humor."
Jones acknowledges the challenges this mission will pose for his wife, Kacie, and their three boys, ages 9, 11 and 13. "I think my wife goes from feelings of elation and excitement for me and what this opportunity means, to feelings of sheer terror at having to spend a year without someone to rely on," he said.
The 378-day assignment to a remote location is somewhat comparable to what military families experience, with mandated separations and uncertainties. But a NASA Mars mission garners more publicity than the average US Army deployment.
Late on the day the news of the mission first went public, Jones was in the ER waiting room. A patient got his attention and asked if he was "the doctor going to Mars." Two days later, dining at Pizza Ranch with his family, it happened again. The public is interested.
Jones understands. He's excited too.
"My favorite thing about this whole adventure is the way the community has latched onto it," he said. "It's like with me going, the whole community gets to go, and that's a win."  
More stories from Aspects
Image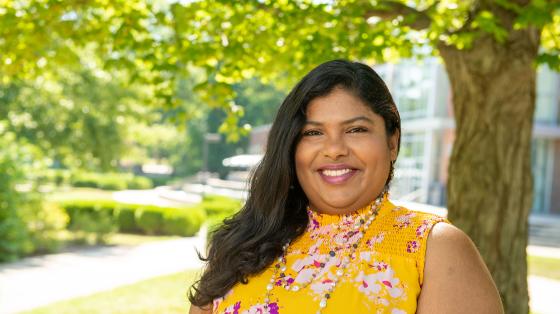 I was inspired to become a Physician Assistant thanks to two wonderful SIU PA graduates, Martha Curtin, and Lindsay Blakley.
Image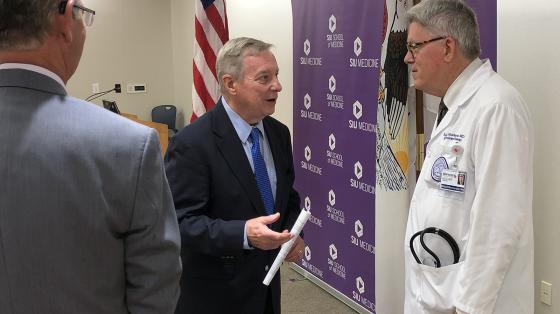 U.S. Senator Dick Durbin urged the Food and Drug Administration (FDA) to use the Agency's authority to immediately address the ongoing shortage as it threatens the lives of patients nationwide.
Image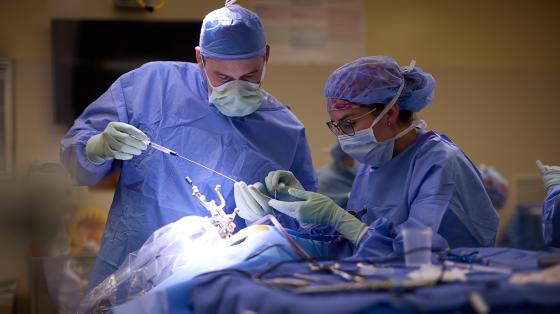 When neurosurgeon Dr. Breck Jones of SIU Medicine performed a brain biopsy on a local patient earlier this month at Springfield Memorial Hospital, he had a new assistant helping guide him to the location of the suspected tumor – a robot.