Model Patients, Model Medical School
SIU marks 35 years of using Standardized Patients in medical education
Written by Lauren Murphy • Photography by Jason Johnson
Aspects, 39-3 Summer 2016
Lisa Jones sits in the exam room clutching an oversized sweatshirt at her waist. Her tiny frame is swallowed by a baggy, brown T-shirt and shapeless, gray sweatpants. Her forearm is wrapped in a white bandage. She drops her head, letting her tangled blonde hair fall over her tear-stained face. Her husband takes a seat next to her. He looks as sad as he is frustrated.
"You've got to tell her," he pleads with his wife. "She can't help you if you don't talk to her."
The young doctor reaches from her stool and gently touches Lisa's knee. "I'm so sorry you're feeling this way," she says. "Can you tell me, are you taking any medication?"
"That's the other thing," her husband interjects. "She quit taking her meds." Lisa mumbles that the antidepressant wasn't working. "What's the point?" she asks. "There's no reason for me to be here anymore."
The conversation continues, and several minutes later a knock at the door signals the end of the appointment. Just as the doctor steps out of the room, the actor playing Lisa whips her head up, throws back her hair to reveal a grin and begins to sing, "Grey skies are gonna clear up!" "That was so draining!" she confesses.
Cindy Heady is one of more than 150 actors, known as standardized patients (SPs), at SIU School of Medicine. First- through fourth-year medical students, who must pass 14 clinical practice exams in their senior year of training, step into the role of the physician.
Since 1981, the School of Medicine has used hundreds of SPs to facilitate medical training and improve students' bedside skills. Under the direction of the late Howard Barrows, MD, the School was one of the first in the country to use SPs.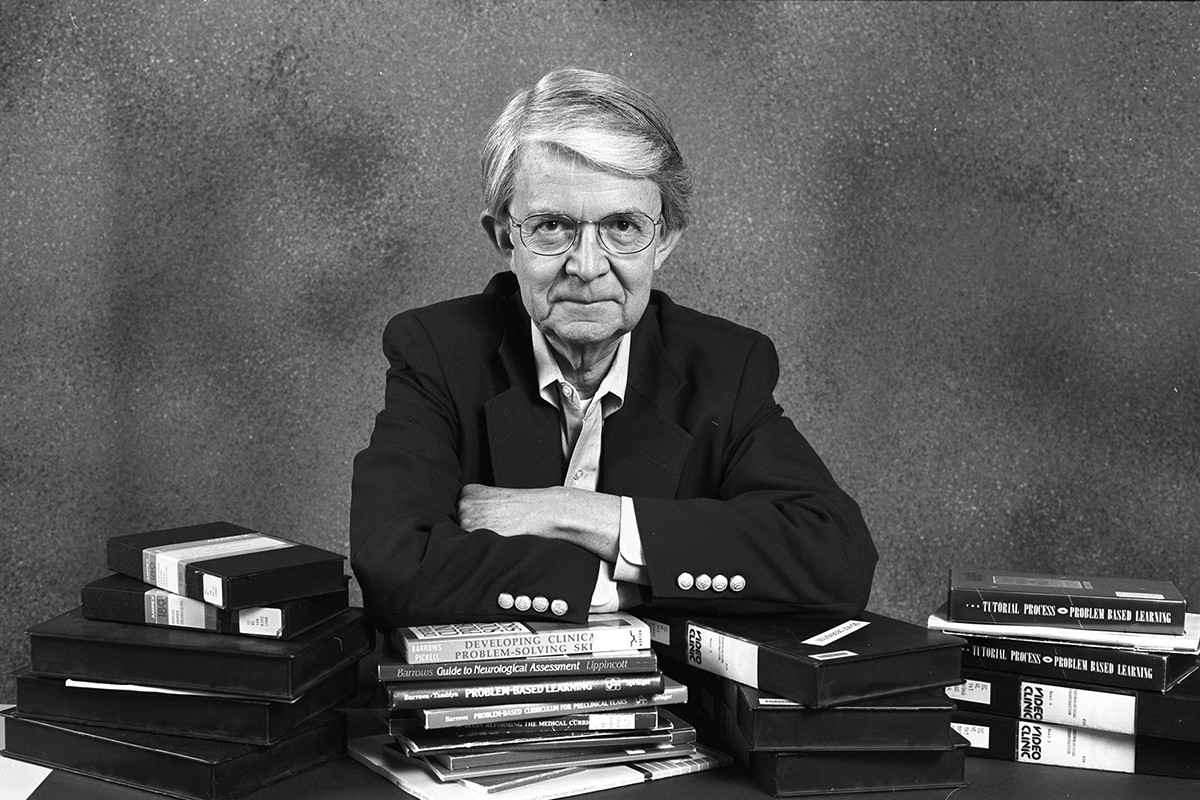 In April 2016, the School celebrated 35 years of using SPs with its annual SP training workshop. Attracting participants from around the world, the five-day workshop not only teaches guests from other medical schools, but also provides modeling for police officers, judges, chaplains, EMTs, nurses, social workers, athletic trainers and veterinary school instructors.
"We teach participants how to use standardized patients to teach and evaluate the clinical performance, communication and interpersonal skills of medical students and others who work in the health care field," explains Mary Aiello, coordinator of the Standardized Patient Program and assessment director of the clinical competency exam. Since the first workshop, more than 600 people from around the world have been trained at SIU School of Medicine. SPs are now common among nearly all medical schools in the U.S.
SPs simulate real-life medical encounters students may one day face as physicians. "Our students learn how to do head-to-toe exams, but they also learn communication and cultural competencies," says Aiello. "Our goal is to build our students' confidence in interacting with patients, allow them to practice time management skills and try something with no risk of harm before they're in a situation with real-life consequences." By the time SIU School of Medicine students graduate, they will have participated in more than 50 SPs encounters.
HISTORY
Neurologist and medical educator Howard S. Barrows, MD, (pictured right) first began using standardized patients in 1963 while teaching at the University of Southern California. After recognizing that he could simulate cases he encountered in the exam room, Dr. Barrows was inspired to create his first "simulated patient," or standardized patient. Based on a patient he treated at Los Angeles County Hospital, the SP played the role of a paraplegic woman with multiple sclerosis whom Dr. Barrows dubbed Patty Dugger.
"She was coached to have a paraplegia, bilateral Babinskis, dissociated sensory loss and a blind eye. She learned to present with the anxiety and concern of the real patient she was modeled," Dr. Barrows recalled in a 1993 journal article. "The feedback I was able to provide students was powerful and was received very positively by them."
Meanwhile, SIU School of Medicine was informally using SPs. The SIU Center for Family Medicine began using simulated patients in the late 1970s to train residents, says Aiello.
It wasn't until 1981 that Dr. Barrows joined SIU School of Medicine as the associate dean for education. Here, his focus on the use of SPs expanded from a teaching and assessment methodology to a tool to develop medical education programs and curriculum.
In partnership with the Josiah Macy Jr. Foundation, SIU hosted an invitational conference on medical school curriculum reform and the use of standardized patients in 1984. This conference introduced SPs to medical schools throughout the country, thereby revolutionizing medical training.
To illustrate the usefulness of SPs and in an effort to persuade an audience of skeptical naysayers, Dr. Barrows designed a "Professional Development Laboratory (PDL)," the first fully equipped, dedicated simulated clinic in the country, in the School's main instructional building, where it is still used today. Conference attendees were invited to the lab for a hands-on, multiple station SP demonstration. This PDL became the model for other medical schools as SP programs grew and the need for dedicated simulated clinic space became a reality.
The evolution of medical education and the growth of the use of SPs, created the need for another PDL. Now, the Memorial Center for Learning and Innovation houses a second PDL for budding and seasoned health care professionals.
In 1986, the School of Medicine introduced its first comprehensive, performance-based examination using standardized patients to assess clinical skills. By 1998, approximately 95 percent of all U.S. medical schools used SPs for undergraduate instruction, according to the Association of American Medical Colleges.

Caption:
Mary Aiello demonstrates how to create a blister using Vaseline, tissue paper and red ink.  Medical student Jared Henrichs, '15, works with standardized patient, Bill Ledbetter, in the PDL.  
A DAY IN THE LIFE OF AN SP
What does it take to be an SP? Often, a desire to help. And, of course, some good acting chops.
"Standardized patients need to be accurate, realistic, consistent, reliable and natural," explains Aiello who has been director of the PDL at SIU since 2000.
SPs also must have "a desire to ham it up!" 93-year-old Bebe McKean adds. McKean began perfecting her acting skills 35 years ago as one of the School's first SPs. McKean still recalls her first experience as an SP.
"I thought, 'Oh, I'll be really good at this!' so I memorized everything. The first student I had, I told him everything I knew," she laughs. "I blurted out everything, and I thought I was doing such a good job!"
SPs are given cases for each simulation. While SPs do not receive scripts, they may be given an opening statement to use. SPs are also given character names, demeanors and facts about their medical history and illness, such as when the illness began and how long they have experienced symptoms.
"My favorite case to play was an old lady who had a drinking problem and was in denial," describes McKean, who continues to work as an SP for the School of Medicine. "I was supposed to be real' crabby and uncooperative, and I'm not normally one of those people at all."
Each case consists of five components: history of the chief complaint, past medical history, a review of family history, a review of the systems and a physical exam.
"A large number of our standardized patients prepare and study – they want to do a good job, and it shows," reports Aiello, who says medical students and SPs must buy in to the process for the training to be successful.
Following the case, SPs are trained to provide constructive feedback by reinforcing things that students did well and suggesting how students could improve upon their interpersonal skills.
"The SPs are critical to our learning, and I always find the feedback surprising," explains fourth-year medical student Rachel Segal. "With bedside manner comes personality, and the ability to work with standardized patients allows us to learn about our own personality – what works or what doesn't work, the nuances of different encounters, phrasing, tone or body language, and it even gives us a safe space to be able to try new techniques and receive feedback."
SPs understand the importance of that feedback as medical students prepare to become physicians. "We're always on the students' side," says McKean. "We want them to succeed. They are learning, and you want to do whatever it takes to give just a little bit of a boost or a little bit of an understanding that they might not have gotten from the text book."
Since becoming an SP 35 years ago, McKean says she has learned a thing or two about medicine. "I'm planning on putting my own shingle out any day now!" she jokes. "My kids call me Dr. Mom, and no matter what is going on with someone, I've got it all figured out."
Working as an SP also has some unexpected benefits, says Aiello. "SPs' experiences with med students empower them to ask questions of their real-life doctors," Aiello explains, recalling one SP who realized he was having a heart attack after recognizing his symptoms were similar to that of a patient he once played.
Though medical education is rapidly evolving, Aiello says the human interaction between SPs and medical students remains key to students' learning. "That exchange between a standardized patient and a student is inimitable and irreplaceable," Aiello stresses. "When a student has to tell an SP that he has cancer or that his wife isn't going to make it, you can't replicate that with a patient simulator or a computer program."
Medical students agree. "You never know what is important to someone, and working with the SPs allows us to have insight into how patients perceive us and what we can do to improve," says Segal. "We are always evolving throughout our medical career, and it's unique to have feedback as we continue to grow and our skill sets advance."