Super-utilizers: A Sore Spot in Health Care
Written by Lauren Murphy | Photography by Jason Johnson
Published in Aspects Magazine, Spring 2016 | Vol. 39 No. 2
Fifty-one-year-old Roy Bellamy was in and out of the emergency department more than 89 times in 2014, amassing upward of $330,000 in hospital charges. His costly pattern led him to Tracey Smith, DNP, and the team of hotspotters, a multidisciplinary group dedicated to identifying and helping hospital super-utilizers like Bellamy.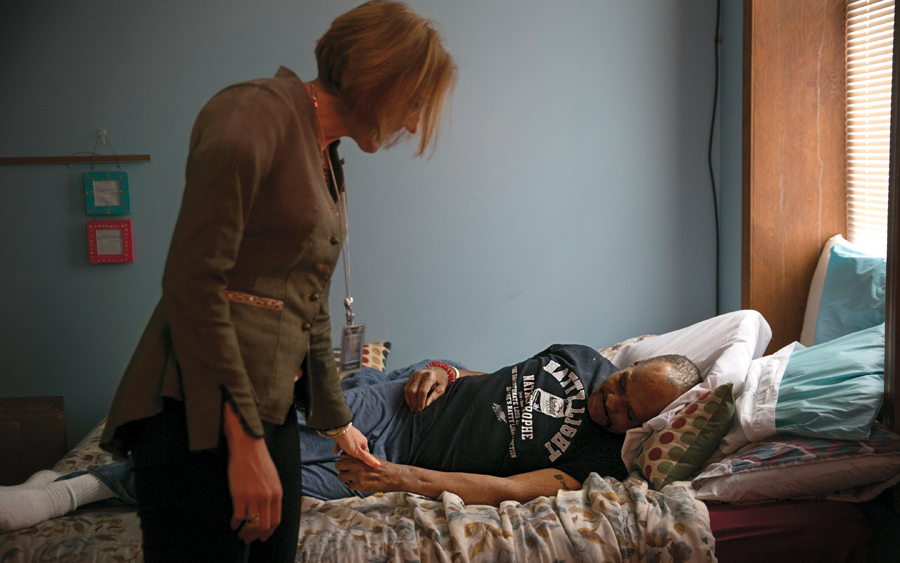 Photo Caption:
Dr. Tracey Smith visits Roy Bellamy while he's not feeling well.  
In central Illinois, it's a problem Dr. Smith, community workers and other health care providers have seen countless times. In the summer of 2015, she learned about the Student Hotspotting Mini-Grant, a project of the Association of American Medical Colleges, Camden Coalition of Healthcare Providers and Primary Care Progress. In a week's time, Dr. Smith recruited a group of more than a dozen students and mentors from SIU School of Medicine, SIUE School of Pharmacy, University of Illinois at Springfield, University of Illinois at Urbana-Champaign and St. John's School of Nursing.
"Our hotspotting team started on a whim and a prayer," says a smiling Dr. Smith, who led the team. In August 2015, the multidisciplinary team received the six-month grant and gathered in Camden, N. J., with 19 other teams from universities across the nation. Together, they learned more about this innovative model of health care coordination. Hotspotting is a term coined by Camden family physician Jeffrey Brenner, MD.
Hotspotting uses data to identify hospital super-utilizers and promote ways to give them better, more cost-effective medical care. Dr. Brenner's health care model gained national attention in 2011 when it was featured in the New Yorker.
"It made a lot of sense to me – let's find the people who are in and out of the hospital the most and figure out why that is and how to change it," says fourth-year medical student Kasia Plachta. These patients, known as super-utilizers, often have three or more chronic illnesses and experience a complex array of social issues, including homelessness, mental illness, substance abuse, poor nutrition, a frayed family network and joblessness.
With the help of local community agencies, the hotspotting team identified five clients who visited the ER, on average, more than 50 times in the last year.
Super-utilizers typically have:

• three or more chronic conditions.

• no home.

• mental illness.

• substance abuse problems.

• poor nutrition.

• a frayed family network.

• no job.
Reflecting a national issue
"Our health care system lends itself to super-utilizers," Dr. Smith explains. ERs never close, hospitals may not require a copay and can't refuse care. Patients may also receive a limited, but free, supply of medicine at an ER visit. It creates what Dr. Smith calls "an endless cycle." Primary care doctors and clinics have hours that make it difficult to schedule and keep appointments if the patient doesn't have that flexibility at work. The Centers for Disease Control and Prevention determined that 19 percent of adults aged 18-64 visited the ER because their doctor's office wasn't open or they didn't have access to other providers. Other times, it's a learned behavior from childhood or confusion over insurance and coverage.
For Bellamy, heading to the ER was a desire to receive care as quickly as possible. "I wanted to get healed real quick," he says.
Patterns like this cost the U.S. millions of dollars. According to the Association of American Medical Colleges, super-utilizers represent one percent of patients, yet account for up to 30 percent of health care costs.
Despite the best efforts of people like Dr. Smith and Helping Hands of Springfield Executive Director Rod Lane, who helped identify Bellamy as a super-utilizer, clients are getting missed. "The system is failing when it comes to treating those who may not always have the executive functioning to ask the right questions, pursue the right treatment and go to the right places," Lane says.
SIU School of Medicine emergency medicine physician Christopher McDowell, MD, MEd, and resident physician Jeff Austen, MD, say managing super-utilizers is an ongoing challenge in the emergency department. "There's crowding, and we're applying limited resources to an unlimited community need," Dr. Austen says. "At the same time, it's important to avoid getting jaded, because our ultimate goal is to do what's best for the patient."
Dr. McDowell agrees, adding that about 80 percent of patients do use the emergency department appropriately. "The ER has evolved into the diagnostic hub of the health care system," says Dr. McDowell. "But the role of the ER physician remains the same: to provide care for symptoms, help triage needs and point the patient towards appropriate follow-up. What happens after I see them is actually as important as what I did in the emergency department."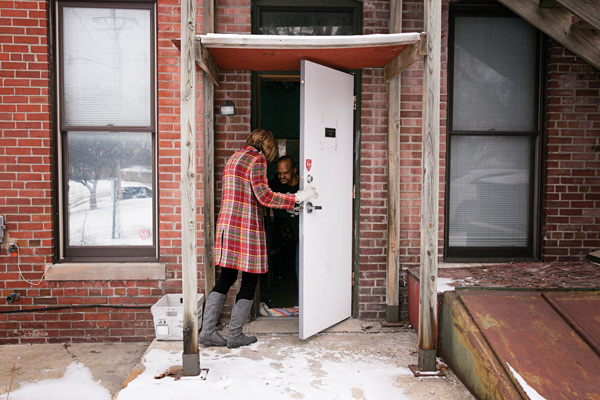 Coordinating Care
Changing super-utilizers' behavior following an emergency visit was the ultimate goal for the hotspotting team. From home visits and medication reconciliations to grocery shopping and arranging transportation to and from doctors' appointments, the SIU hotspotting team coordinated the care of some of the community's most vulnerable patients. When not interacting directly with clients, the team connected with local shelters and service agencies, learned about community and state resources and sought advice and support from other team members.
Fourth-year medical student Phil Knouse first met Bellamy in August 2015. Bellamy was being admitted to the hospital; he had dangerously high blood sugar, was recovering from hip surgery and had been experiencing recurrent nausea and vomiting.
"Roy was in tears and was angrily refusing to cooperate with the care team. Many of his providers were clearly put off and were themselves angry. It was an uncomfortable situation, and I was honestly a bit intimidated when I met him the first time," Knouse admits.
According to past health records, Bellamy was suffering from a range of chronic illnesses: diabetes, kidney disease, pancreatitis, seizures, depression, anxiety and alcoholism. The Cairo, Ill., native was only 10 years old when he dropped out of school and began selling drugs. The team estimates he reads at less than a third grade level. "He was a chronically homeless alcoholic who was in and out of jail and had terrible mood swings that would get him banned from places frequently," Lane describes. "He would seek treatment at the ER constantly."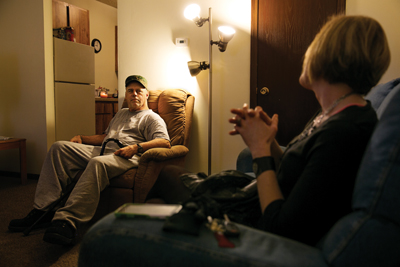 Like Bellamy, the second client the team identified was an alcoholic who struggled with homelessness. Fifty-nine-year-old Jim Schwartz from Springfield was involved in a car accident in the 1980s, which left him with a traumatic brain injury that causes slurred speech, recurring dizziness and frequent falls. One of these falls severely injured Schwartz's foot, requiring metal rods to be placed in his foot and ankle. But after several missed physical therapy appointments, Schwartz's foot and ankle healed incorrectly, leaving him even more vulnerable to falls.
After more than eight tumbles and trips to the ER in a period of one month, Schwartz met the hotspotting team, who sought rehabilitation care for him.
"Jim kept falling and we were worried he would hit his head again, so we began to look at the underlying causes of his dizziness," Dr. Smith explains. "We discovered he had normal pressure hydrocephalus (too much fluid on the brain)." With that realization, Jim agreed to follow his doctor's orders and get a cerebral shunt.
In the case of Bellamy, physicians attributed his frequent bouts of vomiting and nausea to his chronic marijuana use. Dr. Smith suspected his uncontrolled diabetes was also causing gastroparesis, which can present similar symptoms. "The focus had become his marijuana use, and an intervention about his diet was being missed," Dr. Smith explains. Bellamy also had an unclear past diagnosis of seizures, which are consistent with diabetic hypoglycemia. The care team, including SIUE School of Pharmacy's Janice Frueh, PharmD, clinical assistant professor, and student Laura Wilcox, with input from Bellamy's physicians, safely reduced Bellamy from three to one anti-seizure medication.
In addition to unclear diagnoses, providers often gave Bellamy conflicting recommendations: Some providers wanted him to stop certain medications, while others wanted him to continue. Communication was infrequent and disjointed. "Though many of the doctors he saw would thoroughly track his symptoms and take detailed histories, they missed the bigger picture," Plachta explains, citing one example in which a physician recommended a new drug that had yet to be approved by the Food and Drug Administration. "The doctor had told Roy to buy the new med online, without assessing his level of comprehension or asking about his access to a credit card or computer."
Bellamy was often left confused and upset. Like many super-utilizers, he didn't adhere to doctors' recommendations, lacked follow-through and didn't take his medications as prescribed. In an effort to help Bellamy, the team met with him to generate a list of questions to ask his doctor. Then at least one team member would accompany Bellamy to the appointment to remind him of his questions, provide an extra set of ears to hold him accountable during follow-up and answer any questions he may have forgotten to ask during the appointment.
The team also educated Bellamy about his medical conditions and the importance of taking his medications as prescribed. "Pill packs are useful to us because we can easily see whether he's taking all of his medication each day, and they keep him more organized," Dr. Smith explains.
To continue to simplify Bellamy's medication regimen, the team stressed the importance of healthy eating in managing his diabetes and other health conditions. Through trips to the grocery store with Bellamy, the team taught him about proper nutrition as well as foods that would worsen his diabetes and stomach issues. Bellamy confesses his past diet mostly consisted of things like cake, chitterlings, chili and Ramen noodles. With guidance from the team, Bellamy made small changes, like buying sugar-free cookies instead of regular cookies.
Making appointments, knowing what to buy at the store and having medication available is one thing, getting to the store or clinic is another. Patients like Schwartz and Bellamy depend on public transportation, support from friends and non-emergency medical transportation. Until Schwartz can rebuild the strength in his injured foot, he is dependent on a cane or walker. On winter days when sidewalks are slick or covered with snow, he relies on the good nature of others, especially members of the hotspotting team, to do tasks as simple as grabbing his mail.
Housing is also a common challenge for super-utilizers. Before August 2015, Bellamy and Schwartz struggled to maintain stable housing. With the help of the hotspotting team and Helping Hands, Bellamy has been able to stay in rent-free housing through Helping Hands of Springfield. According to Dr. Smith, the primary goal for Bellamy now is to secure a stable source of income, whether it be through employment or disability.
Schwartz was also able to achieve permanent housing with the help of the care coordinators. Once his medical concerns were under control, Schwartz determined the housing and treatments he could afford with help from the College of Business at the University of Illinois at Springfield. Brittany Carls, a master's of business administration student, and Jorge Villegas, PhD, associate professor of business administration, spoke with the super-utilizers about strategies to manage their limited incomes. Bellamy also met with a lawyer to discuss disability hearings.
Above Left Photo Caption: 
Jim Schwartz and Dr. Tracey Smith discuss Jim's goals for the future, including therapy to help improve mobility in his foot.
Above Right Photo Caption:
Dr. Tracey Smith with Roy Bellamy at his home.  
Rising to the challenge
Since meeting the hotspotting team, Bellamy has reduced his nicotine intake, improved his anger management skills and fully placed his trust in the care team. "He's willing to call and check in with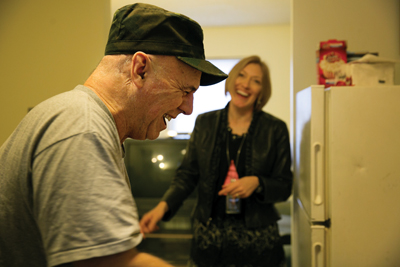 the team if he's not feeling well, and most of the time, we're able to talk to him out of unnecessarily going to the emergency room," Knouse says. Bellamy now has regularly scheduled appointments with his newly established primary care physician, Nichole Mirocha, DO, at SIU Family and Community Medicine.
That's not to say Bellamy hasn't revisited the ER. Between August and January, Bellamy succeeded in staying out of the ER, but with the new year came new challenges. Since January 2016, Bellamy has used the ER 11 times, proving old habits die hard.
"Roy still struggles at times, but he has a lifetime of dangerous coping methods and is trying to learn new ones now in his later years that don't always come naturally," says Lane, who has known Bellamy since 2013. "Roy is attempting to do this, however, and he is attempting to be honest along the way. I feel he's in a better place than he has been in a long time."
Bellamy agrees. With three screws in his hip, he still struggles with pain. "Before I met Dr. Tracey, I would have gone to the ER for my hip pain and taken some strong pain meds. Now, I take Tylenol and ice my hip."
As Bellamy and Schwartz adopt new, healthier habits, social support remains key. They attend Alcoholics Anonymous meetings with the help of their churches and friends. "I'm tryin' to get my life back on track, and by the grace of God, I will," Bellamy declares.
Schwartz has been sober for 26 years. "It's not easy – you can't be on your own out there," Schwartz admits. "You have to have some kind of outside support. I'm very grateful for Tracey."
Above Right Photo Caption:
Dr. Smith and Jim Schwartz enjoy a little inside joke.  
Looking to the future
The work isn't over for super-utilizers, nor is it over for the hotspotting team. Though the mini-grant expired in January 2016, many of the hotspotters will continue their efforts as part of the Student Healthcare Outreach Program (SHOP). Fourth-year medical students can also enroll in a care facilitation elective to receive course credit for work related to SHOP. "The goal is to train student leaders who will branch out and begin similar initiatives at other schools and health care organizations," Dr. Smith explains.
Knouse, a member of SHOP, believes the first step to building better relationships between health care providers and super-utilizers is for doctors to recognize that many patients still go without basic necessities. "Oftentimes, patients who are 'non-compliant' don't follow medical advice because they lack the resources to do so, not because they are intentionally disregarding their care team's instructions. Knowing this is a good buffer against burnout, helps focus resources and fosters a better rapport with so-called 'difficult' patients."
Dr. Smith agrees and stresses the importance of health care providers building relationships with super-utilizers. "When the typical super-utilizer does go to a primary care doctor, it is an overwhelming visit for not only the patient but the provider — there is so much need. Though these patients may need that doctor-patient relationship the most, they are the least likely to secure it. This is why having a team trained in how to engage individuals who are super-utilizers is key."
With a better handle on his diabetes, Bellamy is setting his sights on better managing the side effects of his gastroparesis and pancreatitis. The team hopes to further simplify his list of medications and work with him to achieve greater independence.
Schwartz is also looking forward to what the future holds for him. "Jim started with a long list of goals, one of which was to have his own place without roommates," Smith says as she warmly smiles at Schwartz. "Now, he has three goals. He wants to have physical therapy, be able to afford laser therapy for his ankle and become a member of FitClub, where he can rebuild strength in his foot."
Schwartz proudly adds, "I was once 220 pounds of lean muscle – no fat – in my younger years. Now I'd just like to walk okay again."
It's important to celebrate small accomplishments, Dr. Smith and Schwartz agree. "Each small win will hopefully lead them to the bigger goals," says Smith. "I always tell them, 'You didn't get this way in a day, and we're not going to fix you in a day, but we will walk beside you down the long road to health.'"
Medical-legal partnership adds new dimension of care
Much like the hotspotting team helps patients with life skills to guide them on the path to better health, a new partnership is helping patients with legal assistance.
For example, a low-income family living in rental property discovers a potential health risk: peeling lead paint. Many families don't know how to get help for either their medical problems or legal questions. Medical-legal partnerships allow doctors to "prescribe" a lawyer to help vulnerable citizens navigate the legal system and improve health outcomes. In this case, a lawyer could encourage the landlord to comply with housing laws before irreversible damage occurs.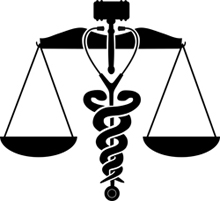 SIU's Center for Family Medicine and the Land of Lincoln Legal Assistance Foundation have formed a new medical-legal partnership to help citizens in similar circumstances.
"This tag-team approach will strengthen the health of our patients and our county," said Janet Albers, MD, professor and chair of the Department of Family and Community Medicine. "We expect to see improvements in the health of children, the elderly and our patients with chronic illnesses through this program offered at our federally qualified health center in Springfield."
Medical providers identify the potential "upstream" health problems, and lawyers help steer around them, providing legal care, counsel and, when necessary, representation before the problems become a crisis.
Many social conditions can be traced to laws that are unfairly applied or under-enforced often leading to the improper denial of services and benefits that are designed to help vulnerable people. For example, people who are wrongfully denied nutritional supports and health insurance coverage lack critical resources that are necessary to meet their daily needs. People who live in housing with mold or rodents, in clear violation of sanitary codes, are in a physical environment that leads to illness or exacerbates existing health conditions. Seniors who are wrongfully denied benefits, such as access to supportive services or long term care, are prevented from getting the healthcare they need. These social determinants of health all constitute health-harming legal needs and they cannot be treated effectively without some level of legal care.
The SIU Medical-Legal Partnership is supported by a grant from the U.S. Department of Health and Human Services' Health Resources and Services Administration. Training for the medical providers is ongoing, and the SIU Medical-Legal Partnership offers assistance at no cost to eligible FQHC patients.