Access to Care collaborative keeps Enos Park residents from falling through the health care cracks

Written by Steve Sandstrom • Photography by Jason Johnson  • Published in Aspects Magazine, 39-2 Spring 2016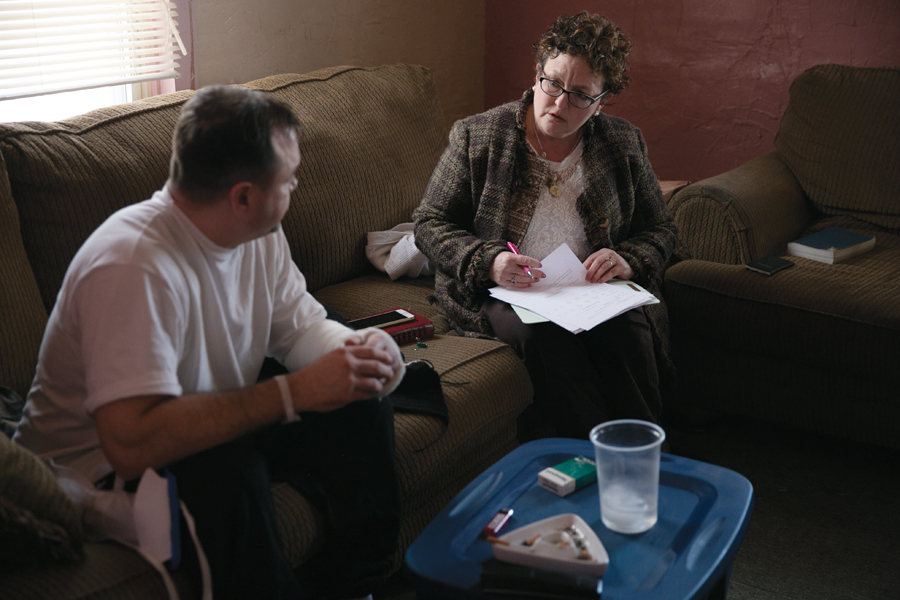 "Today's kind of a spur-of-the-moment day," says Shelly Weatherholt as she pilots her car down Eighth Street in Springfield.
Weatherholt has a lot of spur-of-the-moment days. Shelly Weatherholt and Shirley Thompson are the new community health workers currently tasked with improving the health and living conditions of residents in the Enos Park neighborhood adjacent to SIU School of Medicine in the growing Mid-Illinois Medical District.
This morning, Shelly is juggling tasks for two clients who have recently been released from prison, helping them to set up their households and prioritize. She also has a counseling session scheduled for later in the morning at Third Presbyterian Church with a couple preparing for a judicial hearing over custody of their daughter.
Launched in October 2015, the Enos Park Access to Care Collaborative provides neighborhood outreach for the underserved. It is designed to help people who have difficulty navigating the complicated routes of the health care systems. HSHS St. John's Hospital and Memorial Medical Center are funding the three-year program, collaborating with SIU's Center for Family Medicine.
The program grew out of the Sangamon County Health Needs Assessment, in which area residents shared input at five public forums and through online surveys to identify the region's top health priorities. The two Springfield hospitals allocated $500,000 to support the Enos Park collaborative. SIU Program Director Tracey Smith, DNP, hired Weatherholt and Thompson to focus their combined skills on the most vulnerable members of the community. The goal is to improve conditions for those who are becoming marginalized within the neighborhood and offer a model for improving the health of impoverished communities.
SIU administrators are measuring more than 50 areas to gauge the program's success. The key metrics include connection to primary care providers, enrollment in insurance programs, ability to schedule and cancel one's own appointments and achievement of basic needs (food, housing and income). "There aren't enough hours in the day," says Shelly's co-worker, Shirley Thompson. Shirley is also at work, running through her to-do list. She has client meetings scheduled hourly. "Yesterday, we went to the furniture store to find mattresses, and I took someone to Social Security. One client had several needs, so we spent more time helping him move in and got the lights turned on and stocked the cupboard."
Thompson, 54, began a career in social work at Helping Hands homeless shelter and joined in activities through her church's ministry. She is completing her bachelor's degree in psychology at Benedictine University in Springfield. The community workers also see clients one day a week at an office within the neighborhood church. Third Presbyterian Church is centered in the Enos Park neighborhood and aligned with the women's mission work. As they describe it, they're in the business of "trust building."
"We're creating relationships," says Weatherholt. "Building trust is key to getting our clients to let us into their lives, to let us help them."
Foundations
According to the most recent census, the Enos Park neighborhood contains approximately 2,160 residents, 40 percent of whom live below the poverty level. Additionally, 70 percent are single-parent households and 62 percent of its children live in poverty. Moving around is challenging to a quarter of the population; 28 percent of Enos residents don't own a car.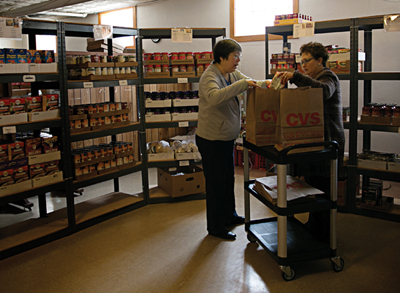 The collaborative's 60+ clients are referrals from McClernand Elementary School, the hospitals, the church, social service providers and House of the Rainbow for transitional living. And a few months into the program, there's another key ingredient that's increasing volume: word of mouth.
"We don't force ourselves on anyone," says Shelly. "It's been a gradual process. When there's resistance, I leave my card and tell them if you change your mind, give us a call."
The need for assistance is pronounced, and the Enos Park Neighborhood Improvement Association (EPNIA) invited the team to join them at its neighborhood meetings and out on the frontlines. Michelle Higginbotham, president of the EPNIA, says, "It's exciting to see SIU take a holistic approach to working in the neighborhood."
"While having health insurance and a primary care provider are certainly important components of health care, having decent, affordable housing and living in a safe environment are every bit as important to a person's well-being," she says
Right Picture Caption:
Shelly Weatherholt picks up groceries at the food pantry to stock a new resident's home.  
"While having health insurance and a primary care provider are certainly important components of health care, having decent, affordable housing and living in a safe environment are every bit as important to a person's well-being," she says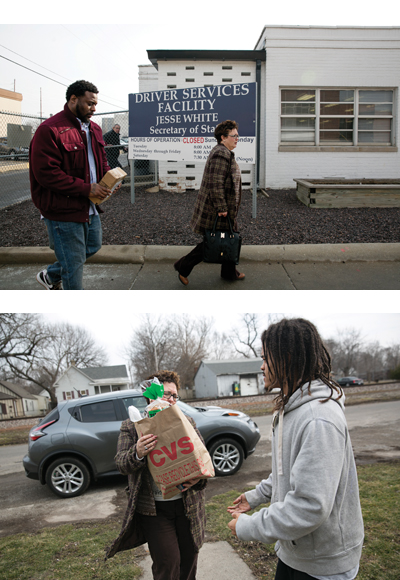 Shirley agrees. "We're all interested in the same thing: healthy living, healthy lifestyles, making healthy families. Healthy neighborhoods make a community stronger."
"We're not trying to take anything away from what the other social service agencies are doing," says Shelly. "We're trying to fill in the gaps." As each barrier to good health is removed, the outcomes improve one family at a time.
Home visits are important. In some residences, the women have encountered children who are sleeping on pallets, and they have found beds for them. "It's a root-cause problem," says Shirley. "Without a good night's sleep, the kids' schoolwork suffers." Bed bugs have afflicted other households, and the women have provided treatment options. As family budgets run low at the end of the month, the women tell parents of resources available at nearby food pantries. And they emphasize that a scheduled visit to a family physician or dentist for a regular checkup can be covered by insurance and is much more affordable – and less stressful – than a trip to the emergency room. They will arrange medical care for any interested resident through SIU's federally qualified health center at Fourth and Carpenter Streets or the Central Counties Health Center on Cook Street.
They will even accompany a client to a doctor's appointment, if invited. "Medical terminology can sometimes go over people's heads, and we're right there in the middle to help explain it more clearly," says Shelly. "And it works both ways: Sometimes what the client might have told us, they have trouble remembering to tell the doctor. We can sit in with them and relay these issues to make sure they're addressed."
Other clients include recently incarcerated men. If the men intend to stay in the area and get established, Shelly and Shirley set them up with a doctor, a school or — when necessary — mental health services, and provide the parolees with information they would otherwise have to pull together on their own.
Shane Tatum, 23, and La'Shawn Wilson, 44, are scheduled to meet with Shelly on this brisk February day. Born in Memphis, Wilson "caught a case" in Decatur in 1995 and had just been released after 20 years behind bars. As a free man, he feels overwhelmed. "You can't believe all the things you're supposed to know that you don't know. [The Department of Corrections] doesn't give you anything; they just send you out," he says.
Above Picture Caption:
Weatherholt takes a client to the Secretary of State's licensing bureau and delivers groceries she picked up earlier to another client.
For Tatum, the day became more impromptu when it became 'moving day.' The tall, soft-spoken Chicago native was about to start two jobs and had spent the previous night in the Sangamon County Jail because, under terms of his parole, he hadn't established a permanent residence within 60 days of his release.
Tatum's predicament crossed Shelly's radar, and the care worker helped him secure housing. Shelly then called the parole officer to see if he would agree to have Tatum released.
One mission accomplished, the next task was furnishing Tatum's new home. A handyman arrived and furniture was soon unloaded. Then it was back into Weatherholt's car for a trip to the Capital Township Office to inquire about rental assistance, then to a check cashing service and a swing by the Secretary of State's licensing facility.
Weatherholt and Thompson use their own phones throughout the day to tackle chores for the men and maintain communication with other clients. They strive to give the men and women guidance they can use to bolster their independence. "The people I've helped are motivated to change, to get their lives back in order," Shirley says. "My knowledge of the systems takes some of the stress off them."
Tatum and Wilson expressed appreciation for the community workers' efforts. "Shelly has helped me get my doctor, my state ID and now my house," says Tatum. "She got me food and hygiene things like laundry detergent that I needed but I hadn't even thought of." He looks down at his phone and exhales. "It's huge."
Speed and Need
The community care workers' approach to the various tasks requires both compassion and professionalism. Weatherholt says, "No matter what situation they're in, everyone deserves good health care. They all deserve to be treated with dignity and respect. Some of these people haven't been treated nice for a very long time."
Smiling, she guides her car rapidly through Springfield traffic toward the next stop. "They've given me the nickname 'Speedy Grandma.' I tend to drive fast, and I guess I'm like a mother figure to them."
After dropping off the men at their residences, Shelly meets a church counselor at Third Presbyterian and the two sit down with a married couple. The counseling session runs for an hour and produces tears and some measures of acceptance. Weatherholt, 55, has a bachelor's degree in social work and served as a drug and alcohol counselor at Gateway and as a staffer at M.E.R.C.Y. Communities. She worked in billing and the Community Service Network in SIU Psychiatry before taking on the Enos Park duties in December.
Forward Progress
The collaborative is ambitious and has lots of moveable parts. A project of this magnitude will take time and focus, but Dr. Tracey Smith is relentlessly optimistic. "There are so many wonderful things going on in Enos right now," says Dr. Smith. "Adding community health workers to the neighborhood mix is something we've talked about for a long time and something I know works well."
Higginbotham agrees. "We've already seen a tremendous response from residents in just the first few months, and we know Shelly and Shirley are helping many individuals who might otherwise fall through the cracks."
"As the residential area of the medical district, Enos Park is a logical target for the Access to Care initiative," she says. "We hope that it is only a starting point and that once we demonstrate the success of this program, it can be replicated citywide."
This broader application serves the School's mission – and has a "boot straps" appeal as well. "The goal of our program is to create a community that takes on the responsibility of its own health, one that is strong enough to keep its members healthy," says Dr. Smith. "We want to help them develop the skills to obtain what they need.
"Every forward step we take builds empowerment. If we are going to continue to move Springfield toward a healthy place to live, we must work together as a community to achieve it."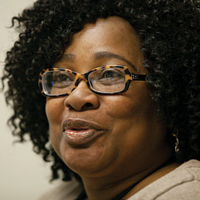 "Healthy neighborhoods make communities stronger."
-Shirley Thompson