THANK YOU FOR GIVING BACK
2022 Denim & Diamonds Gala
The 2022 Denim & Diamonds gala raised more than $315,000 for Simmons Cancer Institute at SIU on Saturday, October 8, 2022. Thank you to all those who are furthering local cancer research and improving cancer care. From our generous sponsors and guests to those who bid on auction items or purchased raffle tickets, we appreciate you.
Save the date - 2023
The 2023 Denim & Diamonds gala will take place on Saturday, October 14 at the Crowne Plaza Springfield.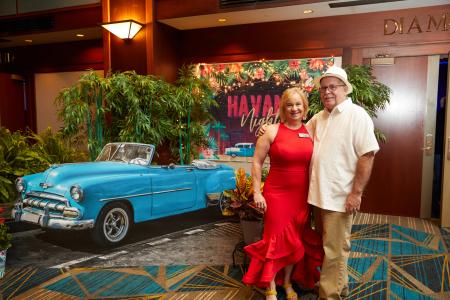 Denim & Diamonds Gala
Denim & Diamonds Gala provides the seed funds for local cancer research, patient programs that further address the growing needs of Simmons Cancer Institute's patient population. Patient programs offer a variety of complementary therapies, such as yoga and fitness classes designed to make patients' lives better.
Providers at Simmons Cancer Institute view the physical aspect of cancer treatment as only part of the approach to care. Simmons Cancer Institute's commitment to patients is to heal the whole person, not just treat the disease. 
If you were unable to attend the event, you can still join us in the fight against cancer by donating to cancer research or to our patient support fund.