Doctor of Medical Science – Excellence in Scholarship Award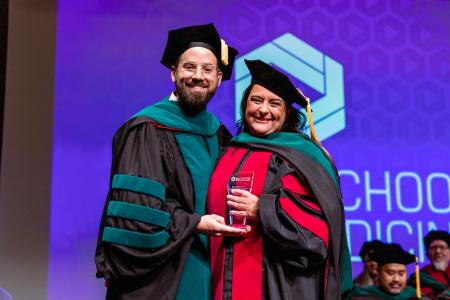 2022 Recipient: Dr. Angela Arnold
"In recognition of distinguished work "Case Report for De Novo Microdeletion of PRKAG2 and KCNH2 Genes of Chromosome 7", SIU Doctor of Medical Science presents Dr. Angela Arnold with the Excellence in Scholarship Award 2022"
Angela Arnold, DMSc, PA-C received a Bachelor's degree in Psychology from Northern Illinois University, a Master's degree in Physician Assistant Studies, and a Doctor of Medical Science degree from the Southern Illinois University Physician Assistant Program. Prior to completing her education, Dr. Arnold served in the United States Navy offering medical support and training for both Navy and Marine Corps personnel for 8 years.  During her active duty service, she received two Navy Achievement medals for outstanding leadership and dedication to service. Prior to joining the School of Medicine SIU PA program as a faculty member in August of 2022, she practiced as a surgical PA in Southern Illinois specializing in Neurology/Neurosurgery for 19 years. Angela has three beautiful children. Her oldest daughter is a Sophomore at the University of Illinois.  Her son is a Junior in High School, and her youngest daughter is in eighth grade and was the inspiration for her scholarly project that received the Excellence in Scholarship award. "I am honored and humbled to be the recipient of the Excellence in Scholarship Award.  I am grateful for the guidance of the faculty and my colleagues in helping me complete a project for which I was truly passionate.  I am also grateful to be the mother of a child that emanates pure joy and light daily. She encourages everyone to pause, look at the beauty the world has to offer, and live the life you were given with happiness and acceptance. She is a testament that all of our flaws are beautiful, and life is a gift."
Doctor of Medical Science – Excellence in PA Advocacy and Leadership Award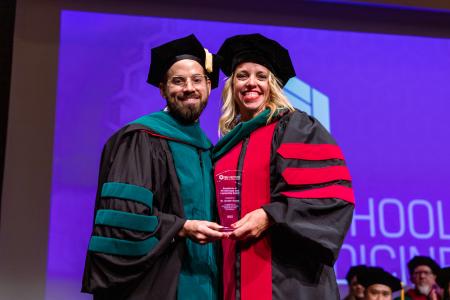 2022 Recipient: Dr. Jennifer Orozco
"In recognition of extraordinary and tireless contributions to the PA profession, SIU Doctor of Medical Science presents Dr. Jennifer Orozco with the Excellence in PA Advocacy and Leadership Award 2022"
Jennifer M. Orozco, DMSc, PA-C, DFAAPA is president and chair of the American Academy of PAs. Previously, she served two terms on AAPA's Board of Directors as Director-at-Large from 2017-2021 and four terms as a delegate in AAPA's House of Delegates, representing the Illinois Academy of PAs. She also served three years on AAPA's Commission on Government Relations and Practice Advancement (GRPA). In addition to her service in the House of Delegates, her leadership career also extends to multiple constituent organizations, where she served in multiple leadership roles, including president of the Illinois chapter and a member of the PA, Administrators, Managers, and Supervisors (PAAMS) Special Interest Group.  Much of Orozco's career has been dedicated to both the clinical and academic leadership teams at Rush University System for Health in Chicago, Illinois. Currently, she is the director of advanced practice providers across the hospital system and continues to practice vascular surgery. In addition, Orozco is a member of Rush University's faculty and an assistant professor in the Department of PA Studies.  Orozco is a strong advocate for health equity and improving patient's access to care through the advancement of the PA profession and a champion of advocacy efforts on both the state and federal levels. In addition to her work with GRPA, she served as legislative chair of the Illinois Academy of PAs, as a national-level advisor on the advanced practice provider workforce, and frequently lectures to PA, nursing, and physician audiences on current legislative initiatives impacting the medical team. Orozco earned a Bachelor of Science in exercise physiology from University of Illinois at Chicago, a Master of Medical Science in PA Studies from Midwestern University, and her Doctor of Medical Science (DMSc) from Southern Illinois University in Carbondale, Illinois. When not working to advance the profession on behalf of patients, Orozco spends most of her free time outdoors cycling and traveling with her three children,Maddux, Matias, and Belicia, in Bartlett, Illinois.
Doctor of Medical Science – Faculty of the Year Award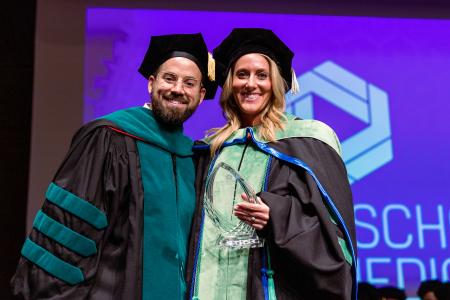 2022 Recipient: Dr. Rachel Terrill
"In recognition of outstanding contribution to student scholarship, professional advancement, and program development, SIU Doctor of Medical Science presents Dr. Rachel Terrill with the 2022 Faculty of the Year Award"
Rachel Terrill, DMS, PA-C has worked in family medicine since 2012, serving her hometown community of Southern Illinois. Dr. Terrill has experience in family medicine, geriatrics, pediatrics, women's health, urgent care, correctional medicine, aesthetics, and point-of-care ultrasound. She received her Bachelor of Science in Biological Sciences from SIUC in 2010, a Master of Science in Physician Assistant Studies from SIUC in 2012, and a Doctorate of Medical Science from Lincoln Memorial University in 2019. Her doctoral research centered on the prevention of pediatric obesity. Her medical expertise also encompasses the medication-assisted treatment of Opioid Use Disorder and she formerly served as a member of the Southern Illinois Healthcare Opioid Stewardship Committee. Dr. Terrill has taught the Scholarly Project Series at the SIUC Doctor of Medical Science Program since 2021 and has mentored SIUC's Physician Assistant students in family medicine since 2012.