Ag Professionals
Click Professional Resources button to find events and webinars for agriculture professionals.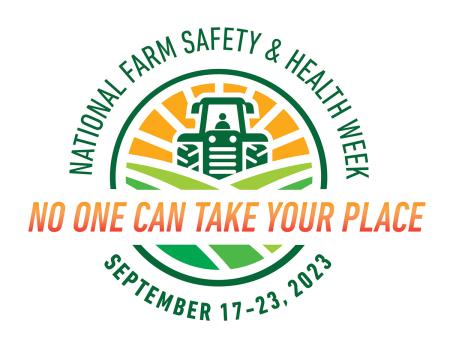 National Farm Safety and Health Week
The 2019 data for the U.S. Bureau of Labor Statistics indicates that the agricultural sector is still the most dangerous in America with 573 fatalities, or an equivalent of 23.1 deaths per 100,000 workers. Fall harvest time can be one of the busiest and most dangerous seasons of the year for the agriculture industry. For this reason, the third week of September has been recognized as National Farm Safety and Health Week.

Promoting mental health and well-being among farmers is crucial for their overall health and productivity. See below suggested farmer mental health activities related to each of the daily topics for National Farm Safety and Health Week 2023. #NFHSW2023
NFHSW2023 Daily Activities
Monday, September 18, 2023 - Equipment and Rural Roadway Safety
Activity: Mindful Equipment Check
Take a few moments before starting the day to focus attention on each piece of equipment you will be using. This practice can help reduce stress and anxiety by promoting safety awareness and attentiveness.
Tuesday, September 19, 2023 - Health and Wellness
Activity: Hydration Check-In
Make it a goal to drink a certain amount of water by specific times. Dehydration can impact mood, energy levels, and cognitive function. This activity emphasizes the importance of self-care and maintaining optimal physical and mental well-being.
Wednesday, September 20, 2023 - Priority Populations
Activity: Community Connection Circle
Organize a gathering where farmers from different backgrounds can come together to share their experiences, challenges, and successes. Creating a supportive community can help alleviate feelings of isolation and build a network of understanding and empathy.
Thursday, September 21, 2023 - Confined Spaces
Activity: Breathing Space Meditation
Take a couple of minutes to become aware and notice what your experiencing right now. Direct attention to the breath. Expand awareness beyond your breath to also notice sensations of the body.This simple mindfulness practice helps to become more aware of thoughts and feelings, allowing better manage stress and anxiety.
Friday, September 22, 2023 - Brain Health
Activity: Mental Stimulation Games
Before the day starts or in the evening or on the weekends, engage in brain-stimulating activities such as puzzles, crosswords, or riddles. These activities promote cognitive health and can be a fun way to unwind and keep the mind active.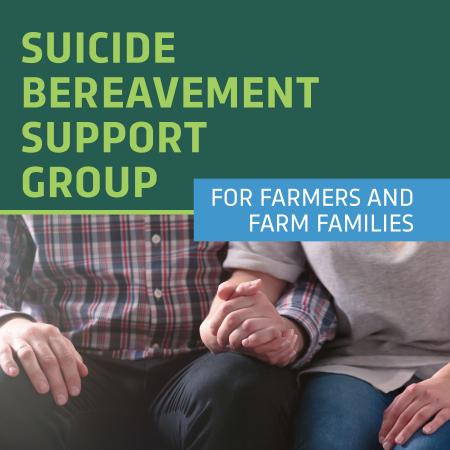 There is no charge to participate thanks to the generous financial support provided by Illinois Department of Human Services, Division of Mental Health and the Illinois Department of Agriculture in cooperation with USDA National Institute of Food and Agriculture
WEBINAR
Suicide Bereavement Support Group
Sessions will begin in January 2024 
With suicide on the rise within the agriculture community, the Farm Family Resource Initiative is launching an open support group for farmers and farm family members 18 years and older who have lost a loved one to suicide. The group will meet monthly and the meetings will be held virtually.
Survivors of suicide loss share a singular bond. While each situation is different, those who have lost a loved one to suicide tend to experience similar feelings and stages of grief, and have similar questions. Support groups provide an opportunity to meet others who understand and are willing to share. 
For more information, please call 618.713.0759 or email ffri@siumed.edu.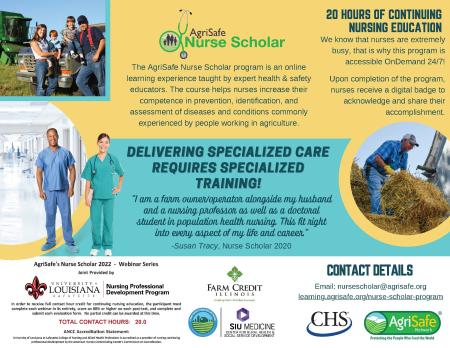 CONTINUING NURSING EDUCATION PROGRAM
AgriSafe Nurse Scholar Program
The AgriSafe Nurse Scholar program is a distance learning opportunity available to rural nurses. Education and training, provided by experienced health & safety educators, will enable rural nurses to increase their knowledge base in prevention, identification and assessment of diseases related to agricultural work exposures. Classes are in the form of webinars that can be viewed OnDemand.  Nurses who complete this course will be eligible for 20 hours of continuing nursing education.
Image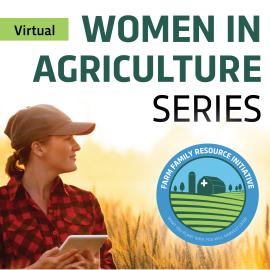 VIRTUAL WEBINAR
Women in Agriculture Series
As women in agriculture, we are faced with a multitude of challenges.  This webinar series focuses on strategies to confront these challenges head on through improving our sense of wellbeing, both as individuals and in our relationships.  All women who work in agriculture are invited to attend.  Come prepared to learn more about yourself and how you can move forward with renewed resilience!
12 - 1 pm | Virtual (Zoom)
Thursday, March 9
Learning to Love Ourselves 
Thursday, March 23
Building and Maintaining Healthy Relationships in Times of Stress 
Thursday, March 30
Bend Don't Break: Becoming Resilient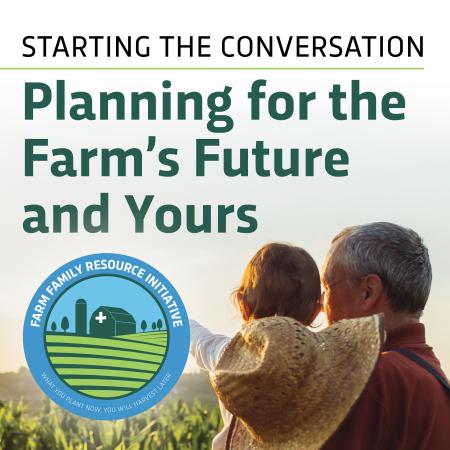 COMMUNITY FORUM
Planning for the Farm's Future and Yours
Considering farming for several more years? Stepping back? Or something in-between?
It is estimated more than 70% of the farmland in America will be transferred in the next 15 to 20 years. Planning for that succession is important to you, your family and your farm's future. Multiple family members/entities are encouraged to attend.

Tuesday, March 14
Farm Credit Building | 6:00 pm
410 Potomac Blvd | Mount Vernon
Wednesday, March 15
Sangamon County Farm Bureau | 6:30 pm
2631 Beechler Ct | Springfield 
Thursday, March 16
Spoon River College Conference Center | 6:30 pm
2500 E Jackson | Macomb

REFERENCE MATERIALS  FOR SUCCESSION PLANNING
Cultivating Your Farm's Future - University of Wisconsin -Madison
https://farms.extension.wisc.edu/programs/cultivating-your-farms-future
Ag Transitions
https://agtransitions.umn.edu/
Farm Succession and Estate Planning - University of Nebraska - Lincoln
https://cap.unl.edu/succession
Elaine Froese has written books on having tough conversations around farming and farm transitions.
https://elainefroese.com/farm-succession-planning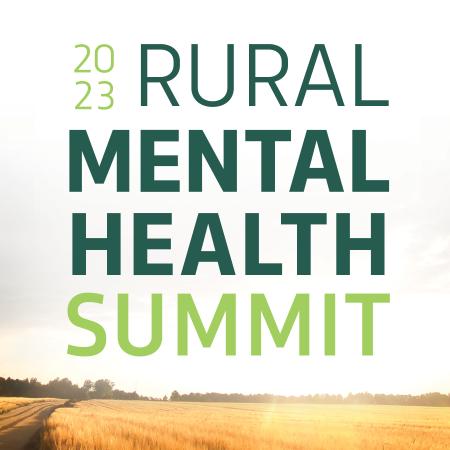 CME Credit Opportunity
2023 Rural Mental Health Summit
An opportunity for dialogue between Illinois agricultural leaders and health professionals to share, learn and develop relationships so we can better serve Illinois rural residents together.

Tuesday, March 28, 2023
Memorial Learning Center
228 W Miller St | Springfield, IL
Registration 9am | Summit 10am-2pm
Lunch provided
Registration $20 person
Please register by Tuesday, March 21st.