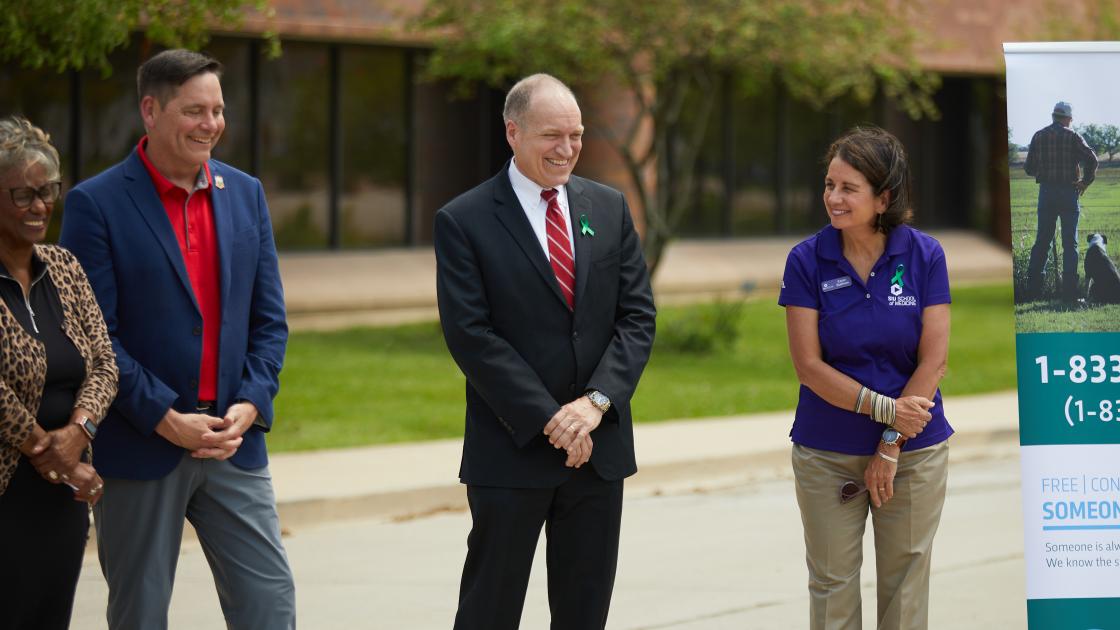 The FFRI Advisory Council is made up of Agriculture industry professionals from throughout the state who meet monthly to provide guidance and support. They also assist with the dissemination of FFRI materials and program information. The Council is led by Karen Stallman, Ag Resource Specialist.
 
State Senator Scott Bennett (D-Champaign) was a fifth-generation Central Illinoisan, representing Champaign and Vermilion counties. Prior to serving on the state legislature, Bennett was a Champaign County Assistant State's Attorney.  Bennett grew up in Gibson City, where five generations of his family worked on their family farm. He moved to Champaign-Urbana to attend law school at the University of Illinois after graduating from Illinois State University.  As State Senator of the 52nd district, Bennett's priorities remained focused on educational funding and economic development opportunities to strengthen communities throughout the state. Bennett serves as the Chairman of the Senate Higher Education Committee and Vice-Chairman of the Senate State Government Committee. He was also a member of the Agriculture, Executive Appointments, Judiciary, Labor, and Redistricting committees.
tmullin@senatedem.ilga.gov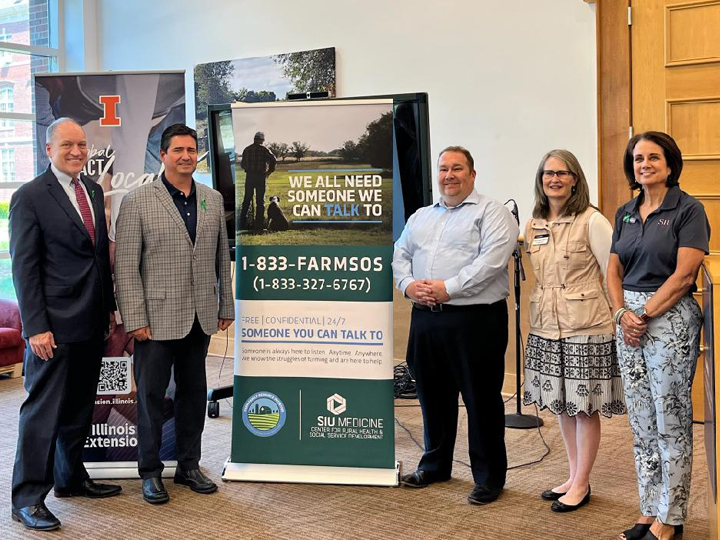 SIU School of Medicine is deeply saddened by the loss of Senator Scott Bennett, a legislative champion for central and southern Illinois. He had a deep understanding of rural health issues, and was committed to better health, healthcare and healthcare education. As we send our condolences to his family and friends, we join his colleagues in acknowledging all of the ways that he advocated for better communities and programs for rural families.
Initiated through the leadership of Senator Scott Bennett, the Farm Family Resource Initiative is a joint program of SIU School of Medicine, Illinois Department of Human Services, and the Illinois Department of Agriculture. The SIU School of Medicine's Center for Rural Health and Social Services Development is building a statewide network of support and resources for Illinois farm families because of Senator Bennett's advocacy and leadership. We recognize his exemplary service as we continue the work he began for the health and wellness of Illinois farm families

Adrienne DeSutter is part of her husband's fourth generation farm family in Midwest Illinois. They farm corn and soybeans, with a small herd of cattle and a small herd of children. With a Master's degree in Counseling (and a self-proclaimed Master's in Farm Family Chaos), Adrienne recognized a need for mental health advocacy in agriculture, and began partnering with Ag businesses and organizations to promote healthy minds and prevent farmer suicide. In addition to public speaking, she helps create and connect valuable ag mental health resources, writes a wellness column, and has been featured in articles, podcasts, and initiatives across the globe. She encourages a community approach to keeping farm families healthy and works to break down mental health barriers and empower farmers through her social media presence, @SowHopeGrowHope. 
adriennedesutter7@gmail.com

Amy Rademaker is the Rural Health and Farm Safety Program Coordinator from Carle Health.  She grew up on a family farm where she is still actively engaged.  Amy has worked at Carle for 20 years now doing outreach education on prevention, emergency response training, and work with residents and doctors on the unique challenges they may face related to agricultural injuries and/or illness.  Each year she oversees 3500 in various programs with many of them being youth.

Andrew Klein is the Principal Consultant for Agricultural Education at the Illinois State Board of Education. Andrew grew up in the rural farming community of Amboy, Illinois. He was active in youth agriculture programs, specifically the FFA at the local and state level. Andrew completed his degree in Agricultural Education at the University of Illinois at Urbana-Champaign before teaching Agriculture at MacArthur High School in Decatur, Illinois. Andrew transitioned from teaching to ISBE in 2020. Andrew administers the Agricultural Education Line Item in the State Board of Education's annual budget. Programs funded by the line item include teacher supports, grants for local schools and university programs, and statewide recruitment and retention initiatives for Agricultural Education teachers. 
aklein@isbe.net

Dr. Courtney Cuthbertson (they/them) is an Assistant Professor and Extension Specialist in the Department of Human Development and Family Studies at University of Illinois. After growing up in Adams County, Illinois, they earned their bachelor's degree in psychology and sociology, and masters and doctorate degrees in sociology, all from University of Illinois. At Michigan State University Extension, Dr. Cuthbertson was the lead content developer for two agricultural mental health literacy workshops which have now been attended by over 5,000 people across the US. Dr. Cuthbertson is a certified instructor for Mental Health First Aid, and has partnered with USDA Farm Service Agency, American Farm Bureau Federation, Farm Credit Council, and National Farmers Union to create and offer farm stress trainings. Dr. Cuthbertson conducts research about mental health, substance use, and behavioral health literacy, and co-directs the North Central Farm and Ranch Stress Assistance Center to develop and provide stress assistance resources to agricultural communities in the Midwest.
cuthbert@illinois.edu

Eric Brevik is the Dean of the College of Agricultural, Life, and Physical Sciences at Southern Illinois University, Carbondale. He obtained his bachelors and Master's degrees in geology from the University of North Dakota, worked as an environmental consultant, and then earned a Ph.D. in soil science from Iowa State University. His research interests include human impacts on the soil resource, soil science education, and links between soils and human health.
eric.brevik@siu.edu

James Birge is the Manager of the Sangamon County Farm Bureau.  He has held the position since June 1999.  In this position, Jim is responsible for the management of all Sangamon County Farm Bureau programs, activities, operations, facilities, and staff.  Prior to joining Sangamon County Farm Bureau, Jim held the position of Manager of Wayne & White County Farm Bureau's from 1996 to 1999 and Massac County Farm Bureau from 1994 to 1996.  He additionally held employment with Country Insurance and Financial Services and Cornbelt FS prior to his Farm Bureau Career. Jim was raised on a grain farm near Decatur.  He earned his bachelor's degree in Agribusiness from Illinois State University in 1991 and earned the designation of Farm Bureau Certified Manager in April 1998.  Jim and his wife, Dianne, reside in Mt. Pulaski.
jbirge@sangamonfb.org

Jeff Franklin currently serves as the Director of the SIU School of Medicine's Center for Rural Health and Social Service Development and the Interim Director of the SIU System's Institute for Rural Health.  Jeff has over 25 years of professional experience working in the educational arena with special interest in the areas of Coordinated School Health Education, Bullying Prevention, Social and Emotional Learning, and Youth Development. He is a certified Master Trainer for CATCH and the Michigan Model for Coordinated School Health Education. He has a Master's Degree in Education. In his role Prior to joining the staff of SIU SOM's Center for Rural Health and Social Service Development; He worked as an Educator for the University of Illinois Extension covering the subject matters of school health education, prevention, social and emotional learning, bullying prevention, and general youth development.
jfranklin@siu.edu

John Charles has spending almost two decades working for the Illinois Senate Democratic Caucus/Senate President's Office, John Charles was approved by the Board of Trustees in 2013 to serve as the Executive Director of Government and Public Affairs for the Southern Illinois University System.  In this role, he manages both state and federal government affairs for the university system and coordinates governmental activities and outreach between the administration, faculty, staff and students at each campus and all elected officials and government agencies.  Additionally, he acts as the spokesperson for the President's Office and the Board of Trustees as well as coordinates public and media outreach.
jcharles@siu.edu

Karen Leavitt Stallman is the Ag Resource Specialist for the FFRI.  Karen and her husband farm near Ellis Grove.  She has two degrees in Agriculture from SIU Carbondale and worked in higher education administration for 35 years.  
karenstallman@siu.edu

Karen Schieler with Compeer Financial, leads the corporate giving program and strategic relationships across the association's 144-county territory in Illinois, Minnesota, and Wisconsin. She has been with the Farm Credit System for 15 years, and lives in Heyworth. 

Linden (Lin) Warfel has farmed the family centennial farm near Tolono for 60 years and is now mostly retired.  He has produced corn, seed corn, soybeans and seed beans.  He has grown and shipped special soybeans for tofu to Japan, and grown and shipped white food grade corn to South Africa.  A complementary career has been in education, serving for ten years on his local k-12 school board, helping start and serving on the board of a Christian School, and serving 24 years on his local community college board.  He did terms as chairman in all three.  In addition, he served as a committee chair, and president of the Illinois Community College Trustees association.  Lin also served on several Illinois Community College Board committees: Financial Advisory Committee, Leadership and Core Values Committee, Adult Ed Funding Committee, and co-chair of the ICCB Funding Formula Task Force.  Lin also served a term on the U of I Ag Econ Advisory Committee.   A third complementary concurrent career has been with the Champaign County Farm Bureau, some 50 years on the legislative committee, chair 4 years, and as President 4 years. Lin co-chaired a statewide Farm Bureau led effort to Change How Illinois Education is Financed (CHIEF).  342 Illinois groups signed on to the effort, passed the House but the Senate President refused to call it for a vote. He is currently serving on two Champaign County Committees, one related to district boundaries and another related to county government structure.

Matt & Liz Hulsizer are both 5th generation farmers on their corn and soybean operation. Matt and Liz both attended the University of Illinois Urbana-Champaign with majors in Agriculture Business Markets and Management and minors in Agronomy. 
Matt returned home to his family farm that consisted of corn, soybeans, a 300 sow farrow to finish hog operation and a 50 head cattle herd. Matt has served on several local boards including the Knox County Cattleman Association & Knox County Farm Bureau. He is currently the President of Knox Co Inc Coop. He is a Deacon at Coldbrook Christian Church. Matt was recently selected as one of the 2021-2022 American Soybean Association Corteva Agriscience Young Leaders.

Liz worked for ADM out of college as a Grain Merchandiser. To relocate closer to the farm, Liz switched career directions and embarked on her journey to becoming a Trust officer. She attended four years of Canon Financial Institute at Notre Dame and graduated in the top 10% of her class and attained her Certified Trust and Financial Advisor accreditation. She currently works for a local bank as the Lead Trust Officer and Farm Manager for the bank. She was recently selected as one of the Top 5 under 40 for the Galesburg Chamber of Commerce, highlighting her work and efforts on mental health awareness. Liz was recently selected as one of the 2021-2022 American Soybean Association Corteva Agriscience Young Leaders.
ebowman9@gmail.com

Professor Mary E. Garrison, LCSW, ACSW, is a clinical supervisor, and consultant with over 30 years of practice in mental health services, policy, and advocacy. Mary provides professional presentations, and trainings regarding ethics, homelessness, and mental health. Mary serves as the NASWIL Chapter Ethics Committee Chair, is a representative for the NASW Delegate Assembly, is a member of the Macon County Continuum of Care. Mary serves as a board member for Kennedy Forum Illinois, NAMI Illinois, the Good Samaritan Inn and Webster Cantrell Youth Advocacy (President). Mary advocates passionately for individuals facing issues regarding mental health, poverty, and homelessness. Mary is a past recipient of the NASW Illinois Social Worker of the Year Award, the Cesar Chavez Social Justice Award, and the Macon County Continuum of Care Advocate of the Year Award. Mary published a co-authored book entitled "Your Playbook for Beating Depression: Essential Strategies for Managing and Living with Depression". 
mgarrison@millikin.edu
Dr. Nick Weshinskey is a licensed professional educator in the state of Illinois and holds a national board certification in counseling. He has been a high-school teacher, a psychotherapist, and a university faculty member and administrator. Dr. Weshinskey now serves as an Education Assistant Professor in Medical Education at the SIU School of Medicine and the Year One Curriculum Director. Prior to his work with the SIU School of Medicine, Dr. Weshinskey designed and oversaw curricular interventions to improve undergraduate students' academic and psychosocial success. Dr. Weshinskey's teaching and research interests include higher education pedagogy, faculty development, student development and socialization, qualitative inquiry, and men's studies.
nweshinskey52@siumed.edu
Robert Baren is the Senior Advisor to the Lt. Governor at the Office of Illinois Lt. Governor Juliana Stratton. Robert has almost 20 years of experience in Illinois Government, previously serving as Senior Advisor to Illinois Treasurer Michael Frerichs and as District Director to Illinois State Senator Don Harmon.  Robert was a member of the Board of Directors of the National Alliance on Mental Illness Metro-Suburban Chapter.  A native of Oak Park, Robert and his family now live on a small farm in rural Schuyler County.

Rod Stoll is the vice president of marketplace engagement at Farm Credit Illinois (FCI). The FCI agricultural lending cooperative is headquartered in Mahomet and serves the southern 60 counties of Illinois with the core purpose of Helping Farm Families Succeed. Rod was raised on a small grain and dairy farm near Chestnut before earning a dairy science degree at the University of Illinois. He continues his dairy industry involvement as a 30-year dairy bowl moderator with the National Junior Holstein Association and as the owner of one registered Holstein cow housed in Greenville. Rod and his seven siblings own their family's centennial farm in Logan County together.

Sharon Dodd is the Illinois Farm Bureau (IFB) Affiliate Association Program Manager specializing in the facilitation of the Illinois Specialty Growers Association, Illinois Milk Producers Association, and the IFB Local Food Program. She directly serves dairy farmers, Illinois specialty growers, agritourism businesses, farmer markets, value-added farms, and small businesses within the food supply chain. Sharon works to promote these industries and improve farm viability by providing IFB resources such as education, training, programming, market opportunities, and advocacy for farmers.
sdodd@ilfb.org

Shelly Nickols-Richardson is the Director of University of Illinois Extension and Outreach and serves as an Associate Dean in the College of Agricultural, Consumer and Environmental Sciences at the University of Illinois. She provides vision, leadership, and strategic direction for programs in agriculture, agribusiness, natural resources, environment, energy, community and economic development, family and consumer sciences, integrated health disparities, and 4-H positive youth development. She manages the family farm in Kansas.