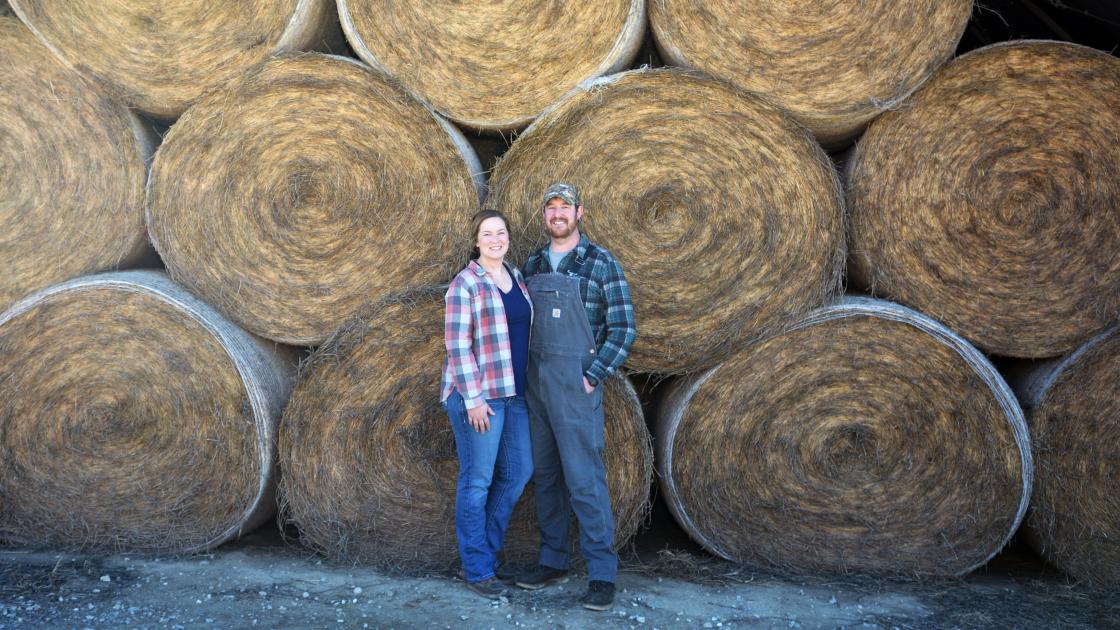 The next generation of agriculture
Josh and Emily want their farm to be a family operation with rich history and a bright future. They love what they do but realize that their marital happiness is not exclusively tied to the farm's success. Their farm and personal relationship are built on mutual respect for each other and others in the operation.
We asked Josh and Emily about farm family life and how they handle the stress and pressures that come with working on a farm.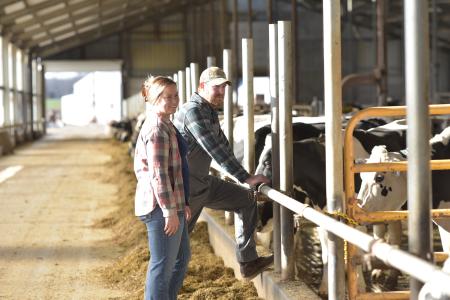 Why have you decided to continue with the production agriculture field, especially in a dairy enterprise?
Josh: I was born into it. My grandpa started in the '50s, dad took over in the '80s, I was born in 1991. I tried factory work in town and realized it was the farthest thing that I wanted to do, so I went to school in Agribusiness and came back to it. She got stuck because she married me. 
Emily: We met in college, got in engaged and I moved here, and we got married. We had an understanding that if working together didn't work out, I would be the one to find a job elsewhere, but so far it has worked. 

Were you brought up with a dairy background?
Josh: Dad was really good about not making me feel obligated to be here. I did help though growing up. 

When you started talking about continuing the dairy operation into the next generation, how was that transition discussed? 
Josh: Dad is still very active and still puts in the most hours on the operation. He takes care of pretty much everything except for the cows. I think he enjoys it. He would rather be in the shop tinkering than at home watching TV. I like to sleep and wake up with and spend time with my daughter. 
There has been a lot of learning along the way. We (Josh and Emily) work differently than my dad and grandpa did. You have to figure out what works best for the people involved. It has taken us a while to figure out what works for all of us involved. 
Emily: And it depends on the time of the season. Of course, it is more stressful when we are at our busiest. 

So how do you handle those stressful days?
Emily: Since there is plenty of jobs to be completed, we find those jobs where we can have some alone time. 
Josh: We rally at home. We don't take the day at the farm home with us. If Dad and I don't agree one day, it doesn't carry over to the next. We all trust and love each other and know everyone wants what is best for the family members and the farm. We are all working toward the same goal. 
Emily: We are all on the same page and that is very comforting. 

Other siblings and how do they fit into the farming operation? 
Josh: I have a sister who is a teacher in south county. We live such different lives. We get along, our children are 5 months apart and the whole family is so focused on the two grandchildren, especially grandma and grandpa. 

Has having a child changed your temperament at the farm?
Josh: I think so, I have cooled down some. I know that I want her (Chloe, daughter) to be here, and if I am a crabby jerk, she isn't going to want to be with us when she becomes independent. 
Emily: I try to separate the farm and family life. When I am ready to pick her up at the end of the day, it is hard when something gets in the way at the farm. I am ready for my "Chloe time". Before her, I could have tinkered until bed. Now I look forward to going home and being a family. 
 
What is the one part of the farm that helps you work through the stressful moments?
Emily: After several days of cow work, I like to find some field work to do—some alone time in the tractor is good. It is almost like meditation. Turning on music, podcasts or even just being in the quiet is good. 

So how do see yourself differently than other people and friends that are not farming?
Josh: We are in such a unique position, which is so different than most other couples. We are with each other 24-7. We enjoy our farm time and our family time. There may be long hours we put in, but I also can bring my daughter to work any day I want to. 
Emily: We both had really good role models. Our parents have provided a solid foundation for both of us. 

For some producers. The isolation of working alone is difficult, but you have each other. Does that play into how you handle stress?
Josh: Definitely, having Emily here beside me allows me to vent and I am better because of that. 
Emily: What I see different from our relationship than our parents is that we are interchangeable here and at the farm and at home, except for the heavy lifting, Josh does most of the grocery shopping and I work with the cows—whatever needs to be done, whoever is free can accomplish it.   

What would be the most important advice that you could share with another couple starting out who are involved in production agriculture? 
Emily: Be as open-minded as possible with your partner. If both of you have been raised on a farm the chances of you doing something the same way are very slim. It doesn't mean that one is right or wrong. It is just different, and the next generation may find some new way to accomplish it that is different than the previous generation. Change is not bad, just different.
Josh: If farming together as a couple doesn't work, realize it is no one's fault. We had many people tell us that it wasn't going to work, and I didn't know if it would. Emily working on the farm was not the basis of our getting married. Her and I living in a home together happily were more important than us working together happily. What I think is weird is people being married and one working on the farm, how do you understand what goes on in a day in each other's lives, how does that work?
Being open-minded about how each other handles situations and stress. Emily shuts down for 3 days, I blow a gasket and then I am fine. Not sure why, but we accept that about each other. 
Would you consider talking to someone other than your spouse about mental health wellbeing?
Emily: I had never thought about talking to someone other than Josh, but after hearing about the program and support you offer, yes, if I needed help, I think it would be my first phone call. 
Josh: If she told me I needed to I would. HAHA- No, if she couldn't listen to me or thought I needed to see someone I would. She is my therapist, but if she said she was tired of it, I would call someone. I need to vent. 
 
 
WE ALL NEED SOMEONE WE CAN TALK TO
Call or Text  1-833-FARM-SOS (833-327-6767)
Telehealth counseling sessions with SIU Medicine counselors are available for those in need of additional support. Up to six individual, couple or group sessions are available at no cost to the farmer or farm family member with the support of grant funding.