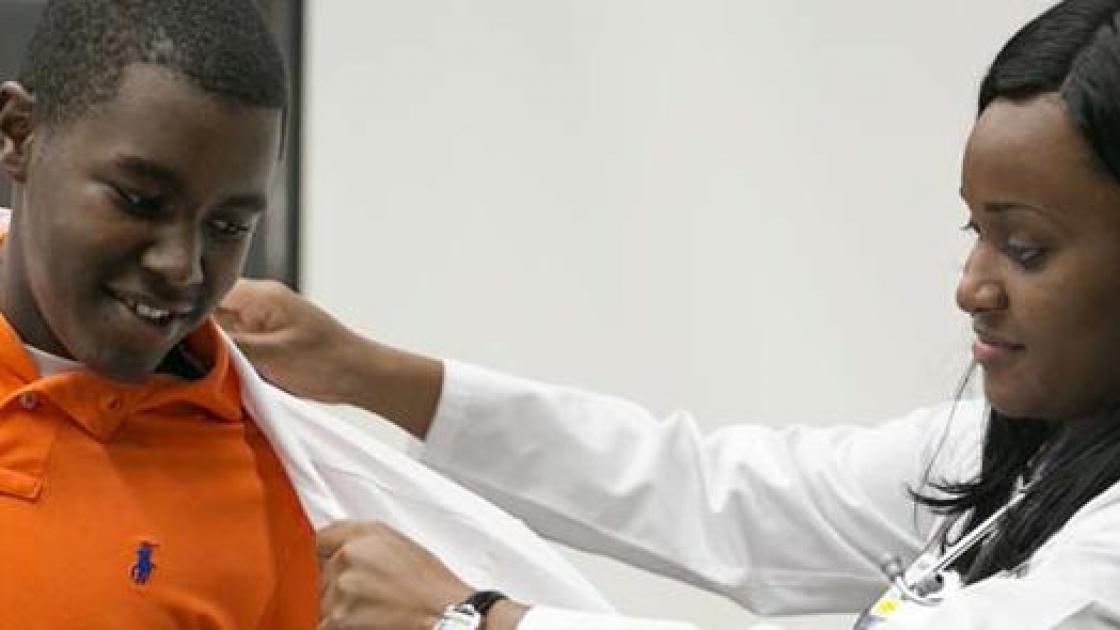 McNeese Physician Preparatory Pathway Program (P4)
Inspiring teens toward medical careers
Do you know a Springfield-area high school or junior high student who dreams of becoming a doctor? The Physician Pipeline Preparatory Program, or P4, gives young people a head start into medical careers and provides them with early mentors within the Springfield medical community. The after-school program is sponsored by SIU School of Medicine in partnership with Springfield Public Schools (SPS) and the Sangamon County Medical Society.
Students enter P4 when they are high school freshmen and continue through their senior year. This four-year experience familiarizes them with medical school coursework, admissions processes, test-taking skills, critical thinking and specialty training. The curriculum, developed by faculty and staff from the School of Medicine and SPS District 186, includes:
Special lectures
Physical skills-training
Job shadowing
Problem-based learning (PBL)
Laboratory aptitude
Research
College-planning seminars
Supplemental instruction in college-level science, technology, engineering and math courses 
Mentoring activities modeled after medical school education programs 
SIU Medicine physicians and scientific research faculty, medical students and educators from District 186 lead the after-school sessions.
The Pipeline is open to all high school students from Springfield schools and its environs, both public and private. Participating students are chosen through a competitive process by a committee that includes SIU and District partners, as well as community representatives. Applications must reflect superior academic performance and attendance, a high level of motivation and sincere interest in becoming a physician. The committee also gives consideration to students with a disadvantaged socioeconomic background or the potential to become a first-generation college graduate.
"P4 helped solidify my aspiration to become a doctor. It felt so real wearing the white coats and working on cases. It gave us insight into what we will be doing as medical students and physicians."  -  Ehitare Emuze, Class of 2013

"The diversity of peers, challenges and opportunities are forever advancing in P4. It's not just a program; it's a taste of the participant's future."  -  Leia Ruebling, Class of 2015
"P4 was a leap forward for a guy who never had an interest in a program like this. I now know that I want to be a clinical pathologist. I'm grateful for everyone who contributed to this program and allowed me to be a part of it."  -  Perion Black, Class of 2015