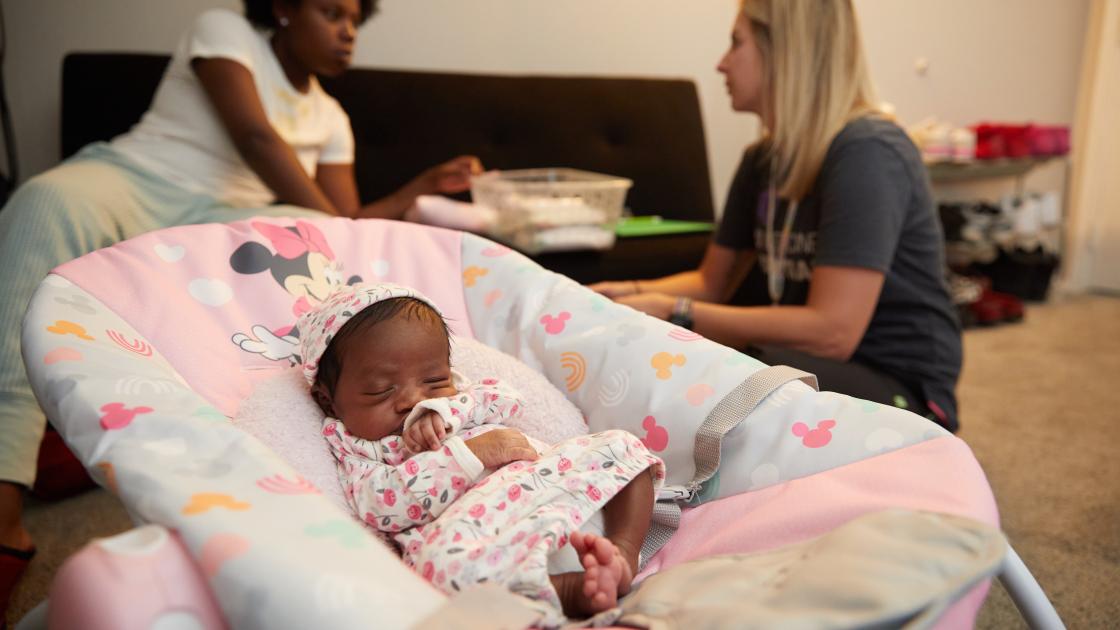 Community Care programs strengthening clients, making homes safer
Childbirth is one of the most physically and mentally stressful events a woman can experience. First-time mothers especially have a lot of questions before and after their child is born. Imagine then, the relief of having a personal nurse available by phone or in person, to answer all your questions and get you through the confusing moments, right up to your child's second birthday.
Donatella Gillespie, 21, knows the feelings. For the past 6 months, the Chicago native has been enrolled in SIU's Nurse-Family Partnership program serving Sangamon County moms and moms-to-be. She feels fortunate to have Lisa Homeier, RN, as a go-to resource for all her prenatal concerns. Now that daughter Envei has arrived -- beautiful and small, delivered at 37 weeks -- her concerns are many. 
In her first post-partum home visit to the family's cozy basement apartment, nurse Homeier presents the new mom with a basket of children's storybooks and a photo album, then settles in to cover a range of topics on mother and daughter. They discuss feeding routine, insurance coverage, sleep patterns, the "baby blues" and concerns about the newborn's temperature.
At the end of the visit, Homeier offers more genuine reassurance with a light touch. "Girl, you got this. You've always had a maternal instinct, from taking care of your little sisters."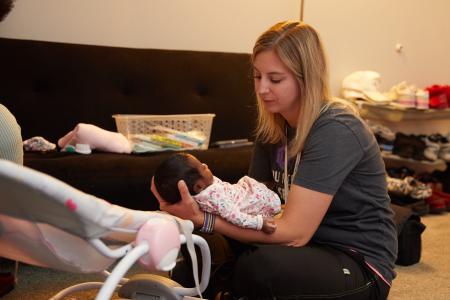 Access and proximity are fundamental to the success of the Nurse-Family Partnership program, Homeier says. "Many of our clients are young mothers who don't have all the resources they need, so we're able to help." With Donatella's family upstate, Homeier makes herself available 24/7, so "we can talk like we're sisters." 
Grant funding supports the program; it's free to new moms who are less than 28 weeks pregnant. Clients are referred by area physicians, social service agencies and can self-refer. Homeier and nurse Molli Carlyle are currently partnering with  about 40 new mothers, and the team would like to hire two more RNs to double the program's impact.
The Nurse-Family Partnership is just one of programs that the Office of Community Care administers to assist Sangamon County residents. It offers an array of services for specific individual needs and for general preventative purposes to help our friends and neighbors lead healthier lives. Read on for more information.
Access to Care may be the group's most well-known initiative. The nationally recognized program started in 2015, centered in the Enos Park neighborhood to address issues that impact patient health outside the clinic spaces, and reduce "hotspotting," the overuse of the emergency department for primary care medical issues. 
The program has been expanded twice; it now includes the Pillsbury Mills neighborhood and Springfield's immigrant community. The Office of Community Care Director Elise Albers oversees a corps of 10 community health workers (CHWs) to help meet the area residents' needs. 
For example, the OCC's Areli Calderon works closely with Springfield's Spanish-speaking residents. Albers says.
"Areli is very versatile. Lately she's been helping members of the community navigate not only the health care system, but also the city's transportation system, so they can get to work independently and not have to rely on Uber, a family member or walk."
Read more about CHW Kaye Barnes spreading the new Operation Taproot into Springfield's community gardens. 
Read more about CHW Nicol Moore helping a resident through a trying time.
The OCC's outreach is complemented by a second group of CHWs who operate within the Department of Family and Community Medicine.
"There are so many departments at SIU doing great things in the community, linking with other existing resources here," Albers says. "We are getting better every day at working together to reach as many people as possible while not duplicating any services."
Staff at the Survivor Recovery Center, 401 North Walnut St., in Springfield work with community members ages 5 and up who have undergone trauma. Therapists and staff assist with basic needs while also connecting these individuals with health care and mental health services, to help them recover and heal.
The Assisted Outpatient Treatment (AOT) Program works with community members who have serious mental illness and/or substance use disorder and are interacting with the criminal justice system to improve their health and social outcomes.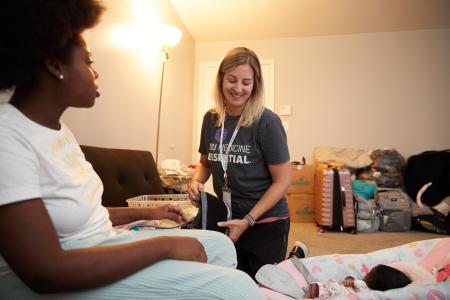 The AOT team receives referrals from the hospitals' psychiatric units but they can also come from the community. Now beginning its fourth year of funding, communication with outside stakeholders has increased awareness and participation. The team is serving more clients than ever before, says program director Kayla Riggs. 
"We've seen success from the 'step-down' program from the hospitals. It really gives clients structure. They are held accountable to follow a plan that they've agreed to, to help remain stable in the community, and keep themselves safe and out of trouble," Riggs says.
Communication has also improved for its patrons. Riggs recalls a client who rebuilt a family relationship, and went from speaking to loved ones once a year to talking with them once a week. 
"We like to think that no matter what the measure of helping this population is, it matters," she says.
Nick Banning leads programs for Whole House Health and Radon Education. Whole House Health is a home visiting program where a client's house is assessed for health-related adversities such as lead, radon gas, mold and pests. The Radon Education program provides at-home radon screening kits. These kits allow clients to test their own homes for radon. Radon is the second leading cause of lung cancer, and it has no smell, taste or color. The only way to find radon is by testing. 
It's a necessary safeguard. For instance, Banning provided a radon test for an older client that detected a dangerously high level in the family home — the cancer risk equivalent of smoking 28 cigarettes a day. "When we got the results, we were able to provide mitigation services at no cost through our grant support," he says. "A licensed crew came in and installed a permanent system that reduced the radon level."
Learn more about these and other programs at the Office of Community Care.
More stories from Aspects
Image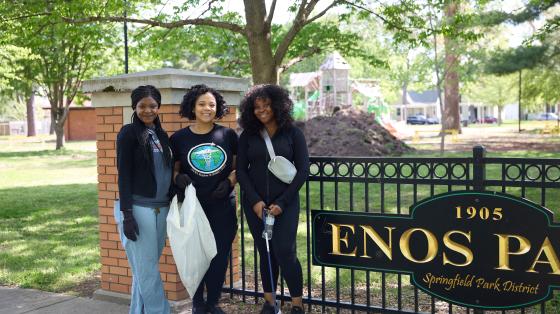 For more than 10 years, SIU medical students have organized and volunteered for a "spring cleaning" day in the Enos Park and Pillsbury Mills neighborhoods. It's fast becoming one of the more popular student-led traditions at SIU School of Medicine.
Image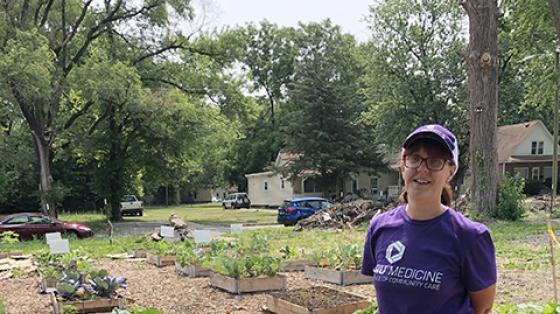 Community health worker Kaye Barnes sports a purple SIU Medicine T-shirt to complement her green thumb as she works in Springfield's community gardens.
Image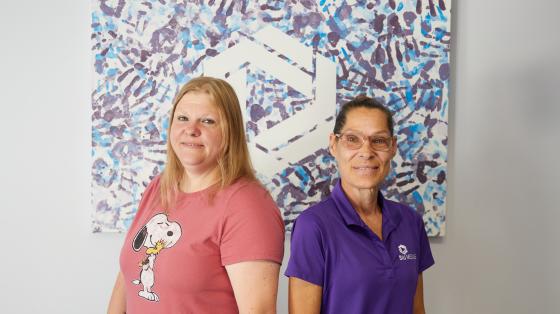 Community health worker Nicol Moore met Amber Hinkle, 41, during a 2021 neighborhood celebration in Comer Cox Park. Amber had chronic leg pain and had become discouraged with her physician.