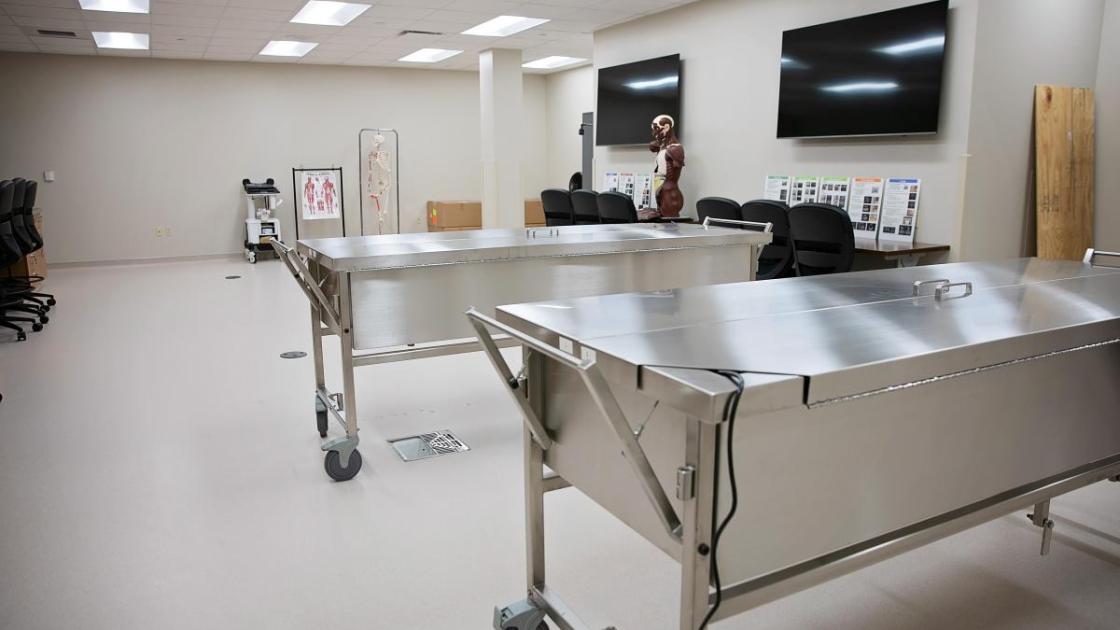 Please note: This information is subject to change. All applicants must meet the admission requirements of SIU Graduate School.
Applicants to the 26-month, 7-semester Master of Science in Physician Assistant Studies (MSPA) Program must hold a bachelor's degree from an accredited college or university by the time of matriculation to the graduate PA Program. The applicant must be a U.S. citizen or permanent resident and must have completed a minimum of 30 semester hours of coursework (including all prerequisite courses) in a U.S. regionally accredited, degree-granting college/university.  The master's program is 26 months (7 semesters) long. The first year is completed on-site in Carbondale. The subsequent months are spent at a rotation site determined later in the program. Other requirements are listed as follows:
1. The applicant must have successfully completed the following prerequisite courses or their equivalents: 
Medical terminology - one semester (or passage of proficiency exam)
Chemistry, with lab - two semesters (select from general, organic, inorganic, or biochemistry)
Psychology - one semester
Human physiology - one semester with lab (upper level preferred)
Human anatomy - one semester with lab (upper level preferred)
Microbiology with lab - one semester
General biology for science majors - one semester (may also select from genetics or cell and molecular biology)
Statistics - one semester
English composition - one semester
Genetics, pharmacology, pathophysiology and biochemistry, although not required, are highly recommended before matriculation.
All prerequisite courses must have a grade of "B" or higher.
All prerequisite coursework must be completed by the end of the fall term before matriculation, except one prerequisite course and medical terminology. One prerequisite course and medical terminology can be completed during the Spring term before matriculation.
Only grades of "C" or better will be accepted for transfer. Grade of "C-" or below will not be accepted. Grades of "C" in the courses listed below will lower the prerequisite GPA significantly and may threaten acceptable requirements.
2. The overall grade point average (GPA) and the overall science GPA, as calculated by CASPA, must be at least 3.2 on a 4.0 scale. The prerequisite course GPA, as calculated by SIU, must also be at least a 3.2 on a 4.0 scale. All grades in completed prerequisites, if not included in the initial application, should be forwarded as soon as possible to the PA Program Advisor after each semester ends.
3. Healthcare experience is preferred for applicants. This experience should be in conjunction with shadowing a licensed, certified, practicing physician assistant. Combinations of experience may vary and can be full-time or part-time, as an employee or volunteer.  Preference will be given to those applicants with credentialed experience in providing direct patient care, rurality, and shadowing a certified physician assistant.
4. Applicants are evaluated on the overall submitted application package, academic potential, motivation, familiarity with the PA role, level of maturity, oral and written communication skills, interpersonal skills, and potential for success in the SIU School of Medicine PA Program and the PA profession.
5. Students are highly encouraged to be proficient in the use of computers before matriculation to the program, especially with software applications such as Microsoft Word.
6. The application process is open once per year, from late April and ending on the published date. Applications are accepted through CASPA. Only those applications completed and verified by the close of the application cycle (November 1) will be processed or considered for acceptance. Applying does not guarantee admission to the PA Program. We utilize rolling admissions. Therefore, applicants are encouraged to apply early in the process. In addition to completing the CASPA application, after the applicant is invited by the program for an interview, they must then apply to the SIU Graduate School and pay the non-refundable application fee.
7. All applicants invited to join the SIU PA Program are required to pass a criminal background check through CertifiedBackground.com before matriculation.   
8. Students applying in 2023 and 2024 are not required to provide GRE scores. This policy is subject to change.
Please contact the SIU School of Medicine PA Program for a final list of prerequisites and other information at paadvisement-L@listserv.siu.edu
Thank you for your interest in the Master of Science in Physician Assistant Studies Program at Southern Illinois University.