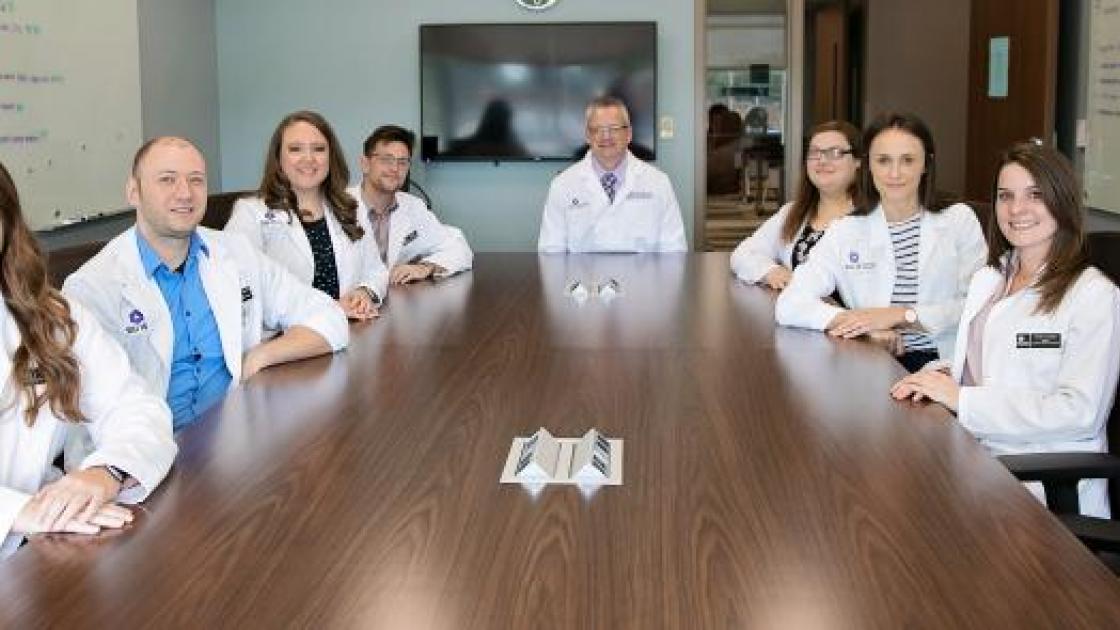 Program overview
The Application Cycle for the SIU School of Medicine Physician Assistant Program is April 28, 2022, through November 1, 2022.
Special Note: With the current COVID-19 pandemic, we are aware that some colleges/universities are offering pass/fail grades for courses. If given the option to select either a grade for a prerequisite course or pass/fail, we require that applicants complete the course with a letter grade. However, if the course is only offered with the pass/fail option, we will only accept the course with documentation that there was no option for a letter grade. A screenshot from a university webpage detailing that policy will be acceptable to the admissions committee.
For anatomy, physiology, and microbiology courses that are taken with the pass/fail grades, applicants will need to submit documentation from the instructor that shows the numerical course grade, as well as the letter grade equivalent. An email from the instructor's email account or letter on official school letterhead, with the instructor or school official's signature, will be sufficient documentation.
Welcome
The Southern Illinois University School of Medicine (SOM) Physician Assistant (PA) Program began in 1997 and utilizes a problem-based learning (PBL) format for the delivery of its medical curriculum. The Program is part of the SIU School of Medicine. The PA Program has been a pioneer in using PBL, simulated patients, innovative evaluation techniques, and clinical mentoring programs. 
The PA Program transitioned to a master's level degree program beginning with the class entering the summer of 2007. A Master of Science in Physician Assistant Studies (MSPA) can be acquired in 26 months. Applicants are required to complete a bachelor's degree before being considered for admission to the PA Program. Any degree in the sciences or medical field will suffice; other degrees are also accepted.
Note for Potential Students
The university does not offer degrees in pre-health professions. However, a student can enroll in a pre-health profession track and choosing a corresponding bachelor's degree. Therefore, a student planning a professional career as a Physician Assistant may want to consider the disciplines of Physiology, Anatomy, Biological Science, Chemistry, Radiological Sciences, Health Care Management, Psychology, Nursing, or other health-related undergraduate majors. Remember that in addition to a bachelor's degree, you must be a U.S. citizen or have a permanent resident visa, must have completed a minimum of 60 semester hours of coursework (including all required prerequisite courses) in a regionally accredited, degree-granting college/university, achieve high grades in prerequisite courses, and have strong references to be considered for admission to the SIU School of Medicine PA Program (please see the section below "Applicants" for more detailed information). Health care experience preferred. 
Curriculum
The Physician Assistant Program curriculum includes intense PBL modules combined with clinical experiences. These units of study are based on the most common disease states and preventive medicine guidelines utilized in medical practice. The curriculum is designed to prepare primary care providers for medical practice. All physician assistant courses are sequenced and are required of all students. The first year of study (Phase I: Didactic) is on campus in Carbondale. The second year (Phase II: Clinical Rotations)is completed at hub sites at several Illinois and Southeast Missouri locations. The second-year students may be required to relocate to one of these. Phase III is the eight-week Preceptorship and students may complete this at a site of their choice, with faculty approval. More complete curriculum information is available elsewhere on this website.
Applicants
Applications for the full 26 months (7 semesters) PA Program are accepted the year before matriculation, between April 30th and the published deadline. These dates may change for each application cycle. Contact the program advisor for updated information. There is a nonrefundable application fee paid in connection with the SIU graduate school application process. After applications are completed, those who are accepted into the program start classes in June. Accepted applicants will be required to submit a non-refundable enrollment deposit to reserve a position in the class. The deposit is due within 10 days of the program's invitation to the applicant and will be applied to tuition two weeks after matriculation.
Before students are accepted into the program they must complete a bachelor's degree, be a U.S.citizen or hold a permanent resident visa, have completed a minimum of 60 semester hours of coursework (including all required PA Program prerequisite courses) in a regionally accredited, degree-granting U.S. college/university. Academic credit is not awarded for prior work experience. Consideration for admission to the Physician Assistant Program is given to candidates with high Overall, Prerequisite, and Science grade point averages (GPAs), appropriate healthcare experience, and strong letters of recommendation - preferably one letter from a licensed Physician Assistant. The most qualified candidates are invited to participate in the interview process. Forty students are offered a position in the class each year.
Please be advised that border state students will not receive a tuition decrease. Therefore they will pay a higher tuition rate. Establishing residency to receive the in-state tuition rate can be applied for after six (6) months with a form and certain requirements. For more information, applicants may contact the Graduate School Registration Office at 618-453-2969 or the Program Advisor.
Degree Awarded
Upon successful completion of the program, a Master of Science Degree in Physician Assistant Studies (MSPA) is awarded. A Certificate of Completion in Physician Assistant Training and a Program pin are also awarded to students who complete the full 7 semesters, 26-month Program. These graduates are then candidates for national certification through the National Commission on Certification of Physician Assistants (NCCPA). (www.nccpa.net)
Program Advisement
To speak with the Program Advisor about recommended majors, the current PA program requirements, or if you need other assistance, call 618-453-5527 or send an email message to paadvisement-L@listserv.siu.edu. Potential candidates will be instructed when and where to send transcripts.
Southern Illinois University School of Medicine is an Affirmative Action/Equal Opportunity employer and provides equal employment and educational opportunities for all qualified persons without regard to race, color, religion, sex, national origin, age, disability, genetic information, sexual orientation, protected veteran status or marital status following local, state and federal law.