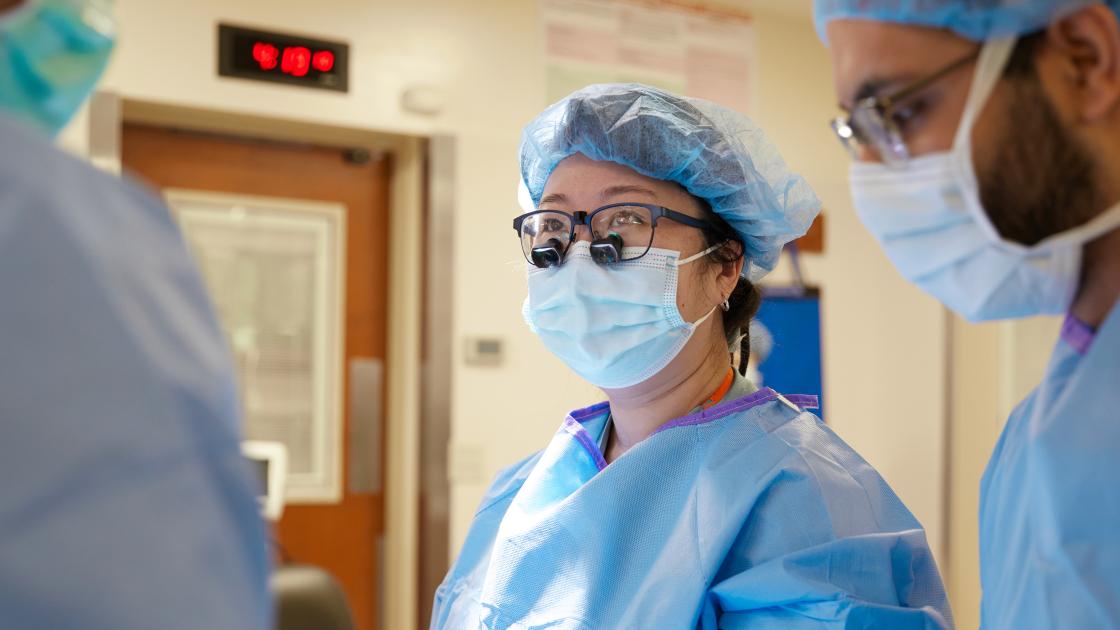 Medical Student Education Vascular Surgery
The Division of Vascular surgery proudly supports medical student education. SIU School of Medicine students in their third year begin core clerkship rotations. During the first eight months of the third year, students rotate through all core clerkships. Each clerkship is 4-weeks in duration. During the 4-week surgery core clerkship, each student is assigned one faculty preceptor from one of ten surgical specialties. Preceptors determine daily schedules, including clinic, surgery, and attending educational conferences. Students are allowed to work up to 80 hours per week. Students are immersed completely in the clinical experience of being a physician. See the below description for the Vascular and Endovascular Core Clerkship. 
The final 15 weeks of third-year medical student education at SIU School of Medicine consist of students selecting from a comprehensive list of selectives offered from all departments and specialties within the School of Medicine. See the description for Vascular Selective below.
A 2-week vascular surgery internship is offered as a fourth-year elective opportunity for medical students at SIU or visiting medical students.
Vascular and Endovascular Surgery Core Clerkship
PARTICIPATING FACULTY: Dr. William Robinson, Dr. Douglas Hood, Dr. Tian Zhang, Dr. Lynne Barkmeier, Dr. Andrew Lambert, Dr. Dhiren Patel, Dr. Stephen Ryan, Dr. Emily Serafin
Who to contact prior to starting

Email Dr. Robinson (wrobinson35@siumed.edu) and Mrs. Rhonda Loyd (rloyd@siumed.edu) the week before starting your rotation.

Where to meet on the first day
Will be emailed to students prior to start
Schedule information

The preceptor will give the student a tentative schedule prior to the rotation but this will adjust as OR cases/clinics/consults/etc. change the daily schedules. Given the flux in schedules, the chief resident on the vascular service will aid in making the daily schedule for students in order to maximize the student's educational experience.

Students will be assigned to OR cases and clinics with a number of Vascular Surgery attendings from SIU and Springfield Clinic in order to maximize exposure to a breadth of vascular surgery.

On average, students will spend 4 days in OR cases and inpatient care and 1 day in outpatient clinic per week with various attendings, although there will often be a mix of inpatient care and outpatient clinic on any given day.

 Students will be exposed to the non-invasive vascular laboratory.

 Students will attend SIU Division of Vascular Surgery Educational Conferences

Vascular Resident Core Conference (7-8 a.m., every Wednesday)
Vascular Conference (4-5 p.m., every Tuesday)
M&M/Case Conference (7-8 a.m., every Friday)

Rounds

Students will round with the resident team each morning and then with attendings on individual patients on a case-by-case basis during the day.

Students should pre-round on the patients they have participated in their surgery prior to meeting up with the residents for rounds. Students should write post-op and daily progress notes on all of their inpatients.

 Round with residents in the morning at either St. John's or Memorial (whichever hospital has more of the patients you are following or per Chief Resident instructions if there are no patients you are following)

 Weekend rounds are not expected but students are always welcome.

Clinic 

Students will likely shadow the attending (or resident) for the first few patients in the clinic before evaluating on their own. You will have ample opportunity to perform a history and physical, review key studies, and discuss the assessment and plan with the attendings and residents on clinic patients.

The student can easily access the schedule on Touchworks and read up on patients in advance as they wish; and if there is a strong desire to see a particular patient, every effort will be made to accommodate.

Operating Room 

A tentative schedule of OR cases to be scrubbed will be given weekly, with the final schedule given daily by the Chief Resident for the next day. We will try to accommodate special interests and requests the students may have.

 Students should have an understanding of the pertinent anatomy and review the operative procedure prior to coming to the operating room for their assigned case(s).

Review the indications for surgery of their assigned case(s).

Review the patient's history prior to the surgery.

Make post-operative rounds on assigned patients.

You can also help your resident with paperwork, operative notes, prescriptions, etc. Just ask.

Call Requirements 
No call expected.  If the student desires to experience in house call with a junior consult resident or home call with the Chief Vascular Resident, please discuss with preceptor and this can be arranged. There may be interesting "off hours" consults and cases such as ruptured aneurysms or a cold leg at night that would be interesting to see.
Resources 

Rutherford Vascular Surgery, 9th Edition (we can provide login info)

Multiple online journals (we can provide login info)

Attendings can provide hard copy texts to borrow

Required Student Presentations
A single presentation at the end of the four weeks based on an interesting patient which briefly reviews the patient and a topic pertinent to that patient's management. 15 minutes and 10 slides maximum. Will be done during the Tuesday 4-5 p.m. Conference during last week of rotation.
When/how to end your day
Expected to go home after completion of assigned clinics, cases, and any afternoon rounds. Students should always check with their chief resident or resident team regarding daily-wrap and schedule for the next day.
Written Feedback

You will receive 3-4 "My progress" evaluations from various attendings and residents in addition to a final evaluation by the Preceptor. The student can request evaluations from specific attendings.

Best to request any additional feedback via email to the preceptor/resident
Selective Course Offering Syllabus
(Academic Year 2021-2022)
PEP Department:  Surgery
PEP Selective Title:  Vascular 
Course Selective Number:
PEP Departmental Advisor:
Telephone Number:  217-545-8856
E-mail Address:
PEP Selective Responsible Faculty (If different than above): Maggie Boehler 
Telephone Number: 217-545-5145
E-mail Address: mboehler@siumed.edu
DESCRIPTION OF COURSE ACTIVITIES AND LOGISTICS: 
Students will join the vascular service with the vascular resident and attending vascular surgeons and will participate in the pre-operative, operative, and postoperative management of a wide variety of patients with vascular disease. In addition, students will be introduced to vascular laboratory diagnostic procedures and methods for evaluating the extent and severity of vascular disease.
The primary goal of the student while matriculating on Vascular Surgery is to observe common conditions that occur in patients with vascular disease, particularly those requiring surgical OR endovascular intervention.
OBJECTIVES: 
Become familiar with vascular diagnosis and evaluations.
Be introduced to vascular laboratory diagnostic techniques and the interpretation of arteriograms and phlebograms.
Expand knowledge of general objectives in the management of vascular diseases.
Discuss the presentation and management of a patient with a symptomatic high-grade stenosis of the internal carotid artery.
Discuss the presentation and management of patients with an ischemic ulcer or gangrene of the foot secondary to atherosclerotic occlusive disease.
Be familiar with the pathophysiology and treatment of infrarenal abdominal aortic aneurysms.
Understand the role of the non-invasive vascular laboratory in diagnosing vascular disease.
 EVALUATION: 
1. Observations, case presentations, and discussions with faculty.
2. The student will maintain a logbook of all patient encounters.
ADDITIONAL FACULTY:   
Douglas Hood
William Robinson
Tian Zhang
PREREQUISITES:  NONE
 INTENDED AUDIENCE;
NOTIFICATION REQUIREMENT: 
      Contact Rhonda Loyd the FRIDAY BEFORE beginning the selective
ENROLLMENT:  Indicate the minimum and the maximum number of students you will take at one time in this PEP.   
MINIMUM:   0   MAXIMUM:  1
Please indicate any additional enrollment restrictions that apply: NONE
SCHEDULE:  Please specify the LENGTH of the PEP Selective.
PEP SELECTION LENGTH:   1 or 2 weeks