Welcome from the Diagnostic Radiology Chief Resident
Thank you for your interest in Southern Illinois University School of Medicine's Diagnostic Radiology residency program. SIU radiology offers an underappreciated and wonderful environment with awesome opportunities to develop strong diagnostic and procedural skills and to support research. The residency provides experience at three hospitals which expose the resident both to academic and private practice environments. In these environments, one observes differing styles of practice, works with different mentors in each subspecialty, and gains experience with different PACS systems as well as health teams to round the individual's experience. At these sites, we have well-trained attending physicians who work for private practices but volunteer for academic involvement with the residency which shows their dedication to your education. The story that many attending physicians share is about initial attraction to our institution or return to practice at SIU because of their exceptional experience (often as medical students or residents) with the people, health system, and education they received. SIU has great networking to institutions; alma mater institutions of faculty and residents include Massachusetts General, Beth Israel Deaconess, Johns Hopkins, Mayo Clinic, University of California San Francisco, University of California San Diego, Emory, University of Michigan, Indiana University, Northwestern, Mallinckrodt, Duke, Yale, et cetera.
While residents benefit from the attributes of our small-to-medium community setting in Springfield, the residency does not fall short on gaining experience of procedures, diagnostic examinations, library resources, or research opportunities. The hospitals which participate in the SIU radiology residency are Springfield's Memorial Medical Center and St. John's Hospital. Memorial Medical Center is a 500-bed facility offering outpatient services, a comprehensive stroke care center, level 1 adult trauma, level 2 perinatal care, adult and pediatric emergency services, regional burn center, kidney transplant center, as well as additional inpatient services. St. John's Hospital is a ~460-bed facility offering outpatient services, a busy emergency department capable of pediatric care and pediatric critical care, level 1 adult trauma, level 2 pediatric trauma, extensive cardiovascular services, primary stroke services, level 3 perinatal care, and complete women's and children's center and additional inpatient services. Our rotations are structured to take advantage of these radiologic health care opportunities, to provide residents with a rounded and wonderful experience in diagnostic examinations and procedures, as well as to set up the individual for success on their board examination, fellowship, and career path.
A testament to our great educational experience is the side-by-side teaching that occurs by dedicated volunteer faculty for the structured rotation which you are completing for that month. As one gains autonomy, experience, and confidence, the teaching process adapts to meet your needs. Despite no radiology fellowships being yet established at SIU, residents are the first to participate in dictating exams, performing procedures, or having direct instruction from faculty. The rotations leave our residents far surpassing the minimum expectation of examination completion set by the Accreditation Council for Graduate Medical Education (ACGME). Our Midwest interpersonal charm, low cost of living, and small town benefits including little traffic attract strong resident and attending physicians alike. Beyond gaining the skills you need to do well in your career, wonderful advocates and mentors to your education, including but not limited to Drs. Long, Zata, and Blitstein, are plentiful and invested in your success. Frequently, our faculty ask residents how to improve our experience, the learning environment, provide us with resources to meet our career goals, or provide the tools we need to follow in the footsteps of their success.
In closing, our residency program and community offer flexibility and opportunity during a residency training period which will be stressful no matter where you end up. I cannot say enough positive things about my experience and how I will forever be grateful for the opportunity, education, and career establishment SIU as an institution has provided me. The wonderful people at SIU will make a positive impact on your life and help guide you toward your career goals. Even among the resident group, close bonds develop and result in lifelong friendships and professional contacts. An example of our interpersonal professional emphasis is demonstrated through a 'resident night out' whereby the group gets together outside of the hospital setting to enjoy each other's company and have fun. Our camaraderie, mentorship, and diligence toward patient care drive resident satisfaction and career success. In reflecting upon my time at SIU, I can say that these things made the experience so much more enjoyable and my time here is something I can look back upon as a wonderful chapter of my education. We hope you consider our program during your interview season, wish you the best of luck, and remind you to enjoy the experience of residency!
Image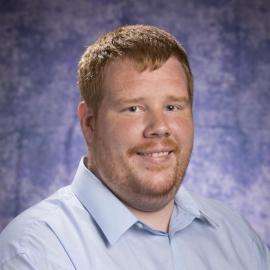 Gage Agers, DO
Chief Resident 2021-2022
Southern Illinois University School of Medicine Diagnostic Radiology Residency Program