Community Outreach
Community outreach opportunities happen year-round, especially for the underserved population. Resident physicians play a key role in providing outreach services. 
Being able to build relationships with patients from all cultural and socioeconomic communities is one of the factors needed by family medicine providers.  Truly caring, listening, and paying attention to the little details make a world of difference in your patients' care. Volunteering strengthens family medicine residents' interest in family medicine and community need, while also opening their eyes to the numerous difficulties that many individuals in our country face in accessing services they need to be healthy.    
Neighborhood Federation Back to School Fair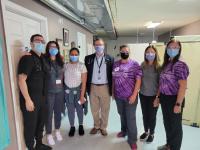 Annually, SIU partners with the Quincy Neighborhood Federation to get children school-ready at the Back to School Fair hosted at the Parsons Center in Quincy, IL. SIU provides school and sports physicals at no cost to the children. This is a community-wide effort and kids are provided haircuts, book bags, school supplies, immunizations, and much more! Interested in learning more about the Neighborhood Federation?  Check out the Quincy Neighborhood Federation Facebook page.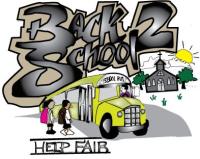 Back to School HELP Fair
In partnership with the First Baptist Church and other community partners, SIU also provides outreach at the Back to School HELP Fair.  If history repeats itself, annually, over 100 children receive school and sports physicals from the SIU team!  Preparations for the 2021 event were highlighted in the Quincy Herald-Whig.  
Sleep in Heavenly Peace-Liberty, IL Chapter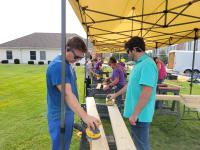 Sometimes it's a good idea to learn something new and step out of your comfort zone.  Recently, SIU participated in a Build-A-Bed Day for the Sleep in Heavenly Peace-Liberty, IL Chapter. This was a day-long project constructing beds for children who sleep on the floor. Residents didn't mind putting down their stethoscopes for this great cause. Build-A-Bed Day is something we can't wait to bring back soon! 
Building a Healthier Adams County and surrounding area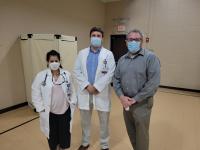 Throughout the years, Residents have taken part in efforts such as skin cancer screenings for the local agricultural community, blood pressure checks, 5-2-1-0 events, health fairs, blood drives, and speaking engagements for local organizations. Efforts are geared towards building relationships with patients in the community and encouraging them to seek care regularly at our Federally Qualified Health Center.
Learn more about other local organizations that offer volunteer opportunities:
Bella Ease
Blessing Health System
Quanada
Quincy Humane Society
United Way of Adams County