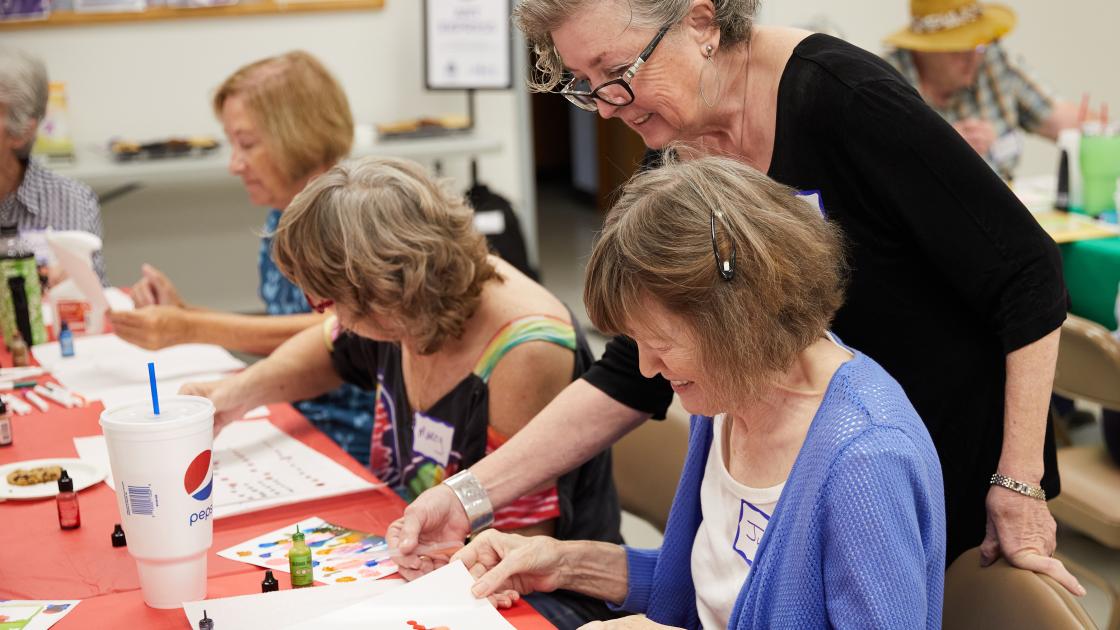 Art Express
Create bonds with others while expressing creativity in a relaxing environment.
Art Express helps showcase the creativity often alive and well throughout disease progression.
Founded in 2012 by SIU Medicine's Center for Alzheimer's Disease and Related Disorders, Art Express is offered in partnership with the University of Illinois at Springfield, Human Development Counseling Program (HDCP). The goal of Art Express is to give people an outlet to creatively express themselves without needing memory or verbal communication skills. Beautiful artwork is often a welcome byproduct, but is not the primary focus. Although memory is often impaired early in the course of disorders such as Mild Cognitive Impairment, Alzheimer's and others, creativity is often alive and well, even in the more advanced stages of a disease. Participants benefit from the therapeutic effects of participating in art expression and using the abilities that are still alive and well, as well as from interacting with the UIS counseling students in an environment free from the stresses of trying to keep up with our fast-paced world.
Art Express is staffed by Karen Lee, MA, a UIS-HDCP faculty member and lead art therapist. HDCP graduate students assist with the class, partnering with individual class participants to assist with the art projects and provide therapeutic perspectives. Class participants benefit from the attention and contributions of the students and the students learn what it is like to live with dementia and gain valuable experience with working with persons with memory loss and care partners.
Who can participate?
Persons with memory loss are referred to Art Express through the Smith Alzheimer's Center at SIU Medicine. Some attend class with a family member, while others attend with another care partner or attend alone. If care partners attend, they participate in the class along with memory loss participants, students and staff.
What participants say about Art Express: 
"I love doing this. It just clears my mind of all the worries and the effort to remember everything. I can just paint for a while." 
"I really enjoy coming to this class. I think it's my favorite part of the week."
"It aids in the thought process, along with eye-hand coordination. And I enjoy the people."
Where & When
Classroom space is donated by Hope Presbyterian Church in Springfield, a fully accessible facility. Class takes place weekly on Wednesday afternoons.
No cost to participate
Art Express is offered without cost to participants. Smith Alzheimer's Center and UIS provide support for this valuable program, and supplies and other costs are paid through private donations.
Thank you to the Fat Ass 5K for its generous support of Art Express.
For more information, contact:
217.545.7204
care@siumed.edu
Art Express photos