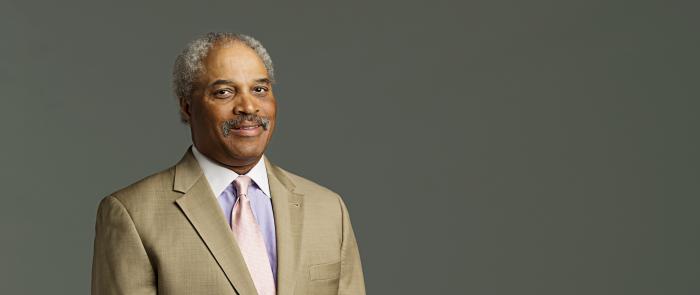 Director Hypertension Clinic, John M. Flack, MD, MPH
John M. Flack, MD, MPH, is a board-certified internal medicine specialist and an American Society of Hypertension (ASH)-certified Clinical Hypertension specialist.  He completed an NIH post-doctoral fellowship in cardiovascular epidemiology at the University of Minnesota School of Public Health.  He received internal medicine residency training as well as his medical degree from the University of Oklahoma Health Sciences Center where he was elected to Alpha Omega Alpha (AOA) medical honor society; he also served as chief medical resident at OU.  Flack also received a bachelor's degree in chemistry from Langston University where he lettered for four years in baseball and one year on the football teams. 
Among his many honors, Flack has been repeatedly name to Top Doctors, Detroit's Super Doctors and Hour Magazine Best Doctors lists.  He was honored as Academic Physician of the Year from Oklahoma University School of Medicine (2012) and as a Detroit News Michigan of the Year (2009). He was also awarded the American Heart Association F. Dewey Dodrill Award for Excellence (2007) and was recognized as Crain's Detroit Business Healthcare Hero Award for Outstanding Physician Achievement (2005). 
As a renowned and widely published (more than 200 peer-reviewed publications) hypertension specialist.  Flack's clinical practice focuses almost exclusively on the diagnosis and treatment of hypertension and related-cardiovascular conditions.  He has special expertise in the diagnose and treatment of secondary forms of hypertension, difficult to control (resistant) hypertension and hypertension in African Americans.  Dedicated to improving patient outcomes, he is actively involved in testing new drugs and devices for the treatment of resistant hypertension.   Flack's research also suggest that vitamin D, a safe, cheap and readily available over-the-counter supplement is useful in helping overweight African Americans with hypertension and severe vitamin D deficiency lower their blood pressure and lose weight. 
His treatment philosophy is to gradually lower blood pressure with diet (reduction in dietary sodium, moderation in alcohol intake, appropriate increase in physical activity and weight loss) with careful selection of well-tolerated antihypertensive drugs that are not only effective but safe in the combinations used.