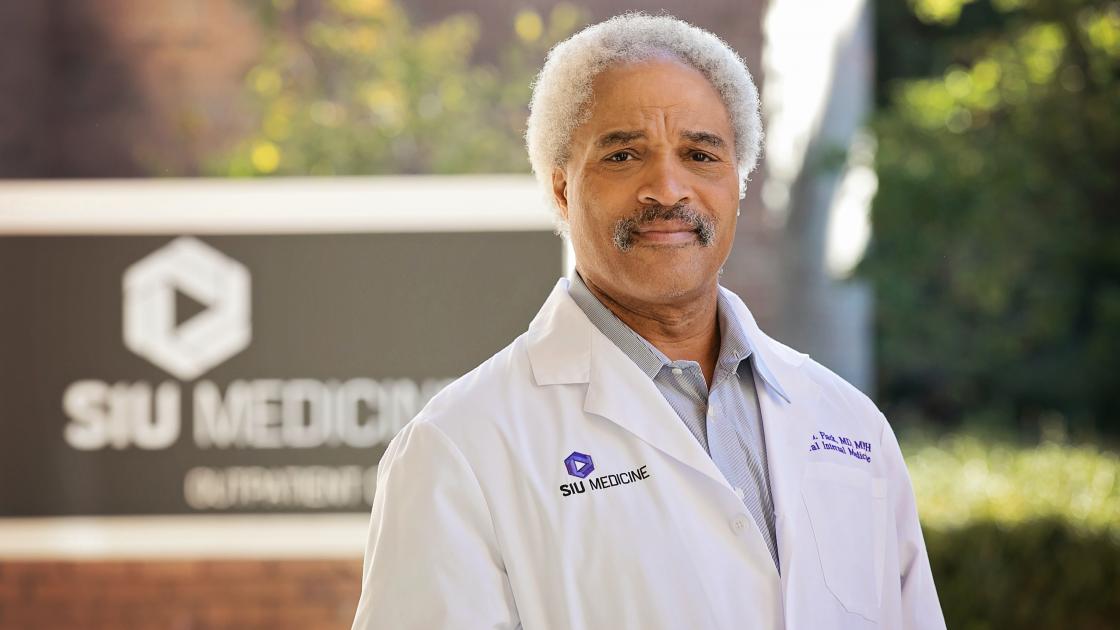 Welcome to the Department of Internal Medicine
First and foremost it is indeed an honor to have the opportunity to lead the SIU's Department of Internal Medicine. I am extremely fortunate to have inherited the mantle of a department that has long had steady, insightful management and leadership. Accordingly, the department has attracted and retained an impressive group of outstanding educators, clinicians, scholars and researchers.  As we prepare to meet and defeat contemporary challenges and forge new directions, we do so with a strong cadre of Division and Center leaders and an exemplary, robust faculty.  Southern Illinois University School of Medicine and the Department of Medicine have long embraced the mission of education and teaching with great skill and exceptional creativity. 
I am very pleased that we are resourced to strategically invest and grow the department, in close alignment with our hospital and community partners, while more closely aligning with our stated mission to serve the people of central and southern Illinois through high level execution of our missions in education, scholarship/research, and service.   As we move forward, we will collectively craft a vision utilizing broad-based strategic planning that highlights mission-aligned strategies for attaining our shared goals. Healthcare in general, and for sure academic medicine, faces a shifting and elusive landscape that will continue to challenge our historical approaches to teaching, discovery, and service to our patients and the communities that we serve. Perhaps the greatest danger in the present and future is to stay wedded to previously successful strategies without adequate introspection and timely adjustments necessitated by the continually evolving milieu within which we exist.  

There are several opportunities and a few challenges that are imperative for us to deal with. First, we will increase our research and scholarly productivity. Accordingly, we have an ambitious plan to turn our ambulatory and in-patient sites of care into ongoing laboratories of observation; this will be accomplished by building an informatics platform to store de-identified clinical data.  Such data will provide our faculty and trainees the vehicle for augmenting our contributions to patient-oriented discovery and scholarship output.  We will ensure that this goal is accomplished by augmenting the impressive team of advanced methodologist in the SIU Center for Clinical Research (CCR) who, in turn, will work in tandem with us to continuously analyze this rich, newly created dataset.   We will use the team science approach (not exclusively) to accomplish this ambitious goal.   

Second, we enthusiastically embrace our leadership role in medical student education and, in conjunction with SIU educational leadership, are implementing the new, innovative year 3 student curriculum based on evidence and educational theory. This will require a carefully coordinated effort and sustained partnership between our diverse cadre of talented educators at SIU SOM and the Department of Medicine.

Third, we will work continuously to ensure that our clinical care is structured and delivered in the manner that we want for ourselves and our families. We are working with all due speed to improve ambulatory access for our patients. We will also start two practice innovation sites, one each in the Divisions of General Internal Medicine and Endocrinology.  These sites represent our approach to developing collaborative practice models that include social workers, PharmD's, and nurse practitioner/physician assistants working in conjunction with physicians, dietician's, Diabete's educators, nurses, and medical assistants. Our goal is for this multi-disciplinary collaborative practice model to improve patient satisfaction, access and outcomes as well as professional satisfaction and retention.   

Fourth, we will develop new clinical and research programs in areas where we currently have or will recruit expertise in areas such as hypertension, preventive cardiology, structural heart disease, and adult congenital heart disease. It is my intent that participation in new and existing programs will be highly agnostic to clinical pedigree. Ideally these programs will be multi-disciplinary and will therefore utilize the talents of sub-specialists as well as primary care physicians.   

Finally, staff and professional development are high priorities for the Department of Medicine. A lofty goal is for the department to be recognized as a highly desirable work environment that is conducive to the growth and development of an exceptional array of competencies and skills.  This will be a linchpin activity as implement strategies to improve job satisfaction, recruitment and retention of the talented staff and professionals who are keys to our pursuit of excellence in all we do.    

Our goals cannot be successfully pursued and attained in isolation. We will pursue the aforementioned goals, whenever possible, in collaboration with other departments within the SIU School of Medicine as well as with new academic, clinical and community partners. The pursuit of these aforementioned will enhance our ability to provide high caliber, innovative training opportunities to all levels of learners.    

At present, we are recruiting into leadership, faculty, and staff positions. Leadership positions currently being recruited include the Vice Chair for Diversity, Inclusion and Community Engagement and the Division Chief for Cardiology.  We are also recruiting faculty in Cardiology, Endocrinology, Gastroenterology and Dermatology as well as nurses, nurse practitioners and physician assistants.  

Springfield is a hidden gem on the plains of Illinois. The Department of Medicine is embarking on an exciting journey of transformation. If you are looking for a new opportunity, please check us out.
Best regards,
John M. Flack, MD, MPH
Professor and Chair, Department of Internal Medicine