The SIU Internal Medicine residency prides itself on a highly supportive, positive work environment. Many features of our program that support this environment are included in the residency specifics of the website. In addition, we are proud of the availability of the following features:
Electronic record support: Each hospital has computerized lab reports and the availability to pull-up x-ray viewing in patient care areas. Each hospital and the medical schools clinical practice has an electronic health record.

All ancillary services provided: The hospitals and the medical school provide lab technician and phlebotomist, EKG technicians, respiratory therapist, hospital transport, peripheral IV-starting, and interventional radiology procedures around the clock.

Daily interactions with colleagues: Our program sets aside regularly scheduled times for all of the residents to gather for educational sessions. This allow our house staff to keep in close contact with each other throughout their training.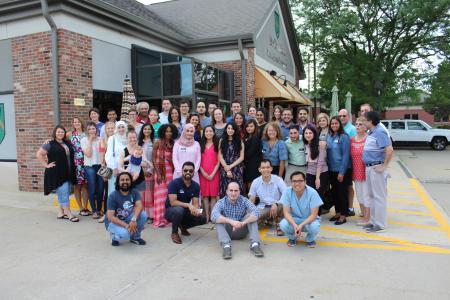 Library facilities
The SIU School of Medicine offers a comprehensive regional medical library with extensive stacks and state-of-the-art electronic information retrieval. The library is open 90 hours a week, and all services are available to SIU house staff. Each hospital support 24-hour per day library access for house staff, with ample available resources, either onsite or via electronic means.
Practice profile
Residents who join the SIU internal medicine residency will have experience in the care of patients from all socio-economic, ethnic, and cultural backgrounds, as well as the entire spectrum of medical conditions. Our affiliated community hospitals have their doors and emergency rooms open to all patients, as does SIU Medicine, the Medical School's faculty practice. These institutions provide care for a substantial sized primary practice, drawn from the 200,000+ people in the Springfield service region. They also offer secondary, tertiary, and quaternary service to our entire referral region which includes more than 2 million people in central and southern Illinois, from 50 miles north of Springfield to the southern tip of the state. Although Springfield is a relatively small city, because we draw from a wide area and because our hospitals and practice are not restricted to specific populations or neighborhoods, we see an exceptional diversity of patients that may be surprising to some who have not experienced medical care in this region. And, our residents take part in the care of all of our patients, practice as "junior partners" of the attending's.
Training sites
As an Internal Medicine Resident at SIU School of Medicine, your training will take place at our affiliated hospitals, Memorial Medical Center, St. Johns Hosptial and our own SIU Medicine Clinics. 
"I love Springfield because it's centrally located. It has everything that you could need or want, without having a big city feel. I love feeling like I'm part of a family at SIU! I feel like everyone at SIU is always ready to help and teach. I think that our program structure perfectly balances patient care and resident well-being, and that our instructors are genuinely invested in our development as physicians and leaders." -Peyton Thomas, MD, PGY1
"Dr. Varney is a great program director as well as a great clinician. I have realized that Dr. Varney takes out a lot of time to get feedback from residents about various things from noon conferences to structure of grand rounds. He makes sure residents are happy with how the structure of the program is! Dr. Varney is also a great clinician. During my time in clinic on Y-week, he incorporates a lot of teaching into each patient encounter. Furthermore, he teaches me how to improve patient physical exam in order to reach a diagnosis or to decipher whether this is a chronic condition. Overall, Dr. Varney is fantastic!" -Huma Khan, MD, PGY2
"I feel like we get to see cases, have the exposure, and access resources that people living in large cities only see, however, that's not the case. We get to live in a small town with a family and community feel and low cost of living but have all the exposure of a large city." -Cullen Hoos, MD, PGY2
"SIU was my first choice! I knew I wanted to do Med/psych, choosing a program came to picking the one with a established foundation for my education. I love this place, education is priority here! I love that I can be in a large institution and yet live in a town that is affordable. People here truly care, and I am glad I made this choice." -Vanessa Costa Einspahr, DO, PGY2