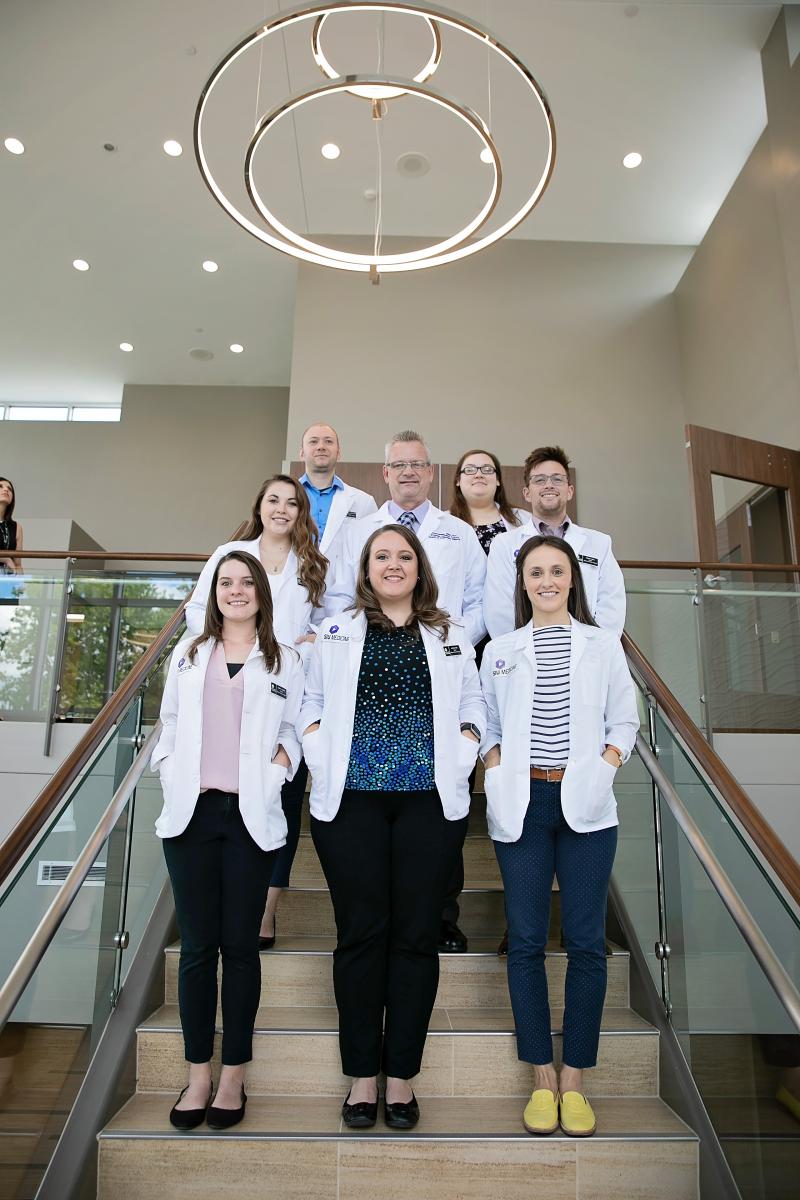 Q. What degree does your program offer?
We offer a Master of Science in Physician Assistant Studies (MSPA).
Q. How long is the program?
26 months, 7 semesters
Q. How many students do you accept each year?
40
Q. When do students start the program?
Late May or early June each year.
Q. Can I start at a later date?
No. All students begin the program on the same date.
Q. May I work while in the program?
Physician assistant education is rigorous and requires a great amount of time for curriculum obligations and studying. Therefore, students are discouraged from working while enrolled in the PA Program. If employment is necessary, students must realize that program requirements come first. Students may be asked to resign from their jobs if it is determined that a student is at risk of unsatisfactory progression through the program or dismissal from the program. 
Physician assistant students are not allowed to work within the PA Program in areas that deal with curriculum administration and student records. Students may assist with equipment set-up, speaker-ready assistance, etc. Although students are discouraged from working on other jobs while in the PA Program, they are allowed to work in other university programs, per hiring guidelines of the university. For any employment, the student's work schedule should NOT interfere with PBL Group sessions or program activities.
Q. What qualities are you looking for in applicants?
For the MSPA, the most academically and experientially qualified students will be invited to participate in formal interview sessions. Preference is given to those applicants with health care experience, exceptional academic performance, strong references, and experience shadowing a PA-C. Selection of candidates for admission to the PA Program will be made by committee review following the applicants' interviews.
Q. What type of health care experience are you looking for in an MSPA applicant?
Health care experience is recommended, including PA-C shadowing. When the experience includes contact with physician assistants, it provides you with greater insight into the role of the PA.  A combination of volunteer and observation in a medical setting in connection with PA-C shadowing will also be considered.
Q. Will volunteer health care experience be considered for the MSPA?
Yes, the admissions committee considers all health care experience and exposure.
Q. What are the prerequisite courses for the MSPA?
To enter the program you must complete both a bachelor's degree and these listed prerequisite courses.
Q. Do you offer credit for prior medical experience?
No PA Program credit is given for experiential learning or if you are already a medical doctor. No advanced placement is awarded toward the completion of either PA degree program.
Q. I've worked in health care for many years. I don't have time to take the entire required bachelor's degree and/or all prerequisite courses. Will you waive any of these courses for the MSPA?
No. All applicants are required to have a bachelor's degree and complete all prerequisite courses before entry into the PA Program.
Q. Do I need to take any tests to apply?
No
Q. What about Grade Point Average (GPA)?
We utilize the CASPA overall and science GPAs as well as a program prerequisite course GPA (determined by SIU standards) in determining eligibility. You must have an earned overall GPA of 3.2 (A=4.0) or higher; your science GPA must also be at least 3.2 (A=4.0). The GPA for prerequisite coursework must be at least a 3.2 on a 4.0 scale.
Q. How do I apply?
Application is a two-part process. In Part 1, a prospective student must apply online to CASPA. Application season opens April 26 and closes on the published deadline. This deadline may change depending on the year. Check our website or with our advisor. Part 2, the applicant must apply to the SIU Graduate School using the ApplyYourself System . Do not upload transcripts or letters of recommendation to the SIU Graduate School application. 
A rolling admissions process is utilized and students are admitted only once each year to the MSPA Program. Therefore, applicants are encouraged to apply early.
Q. What does it cost to apply?
There is a fee to apply for the MSPA. This fee is subject to increase by the SIU Board of Trustees without prior notice. CASPA also charges a fee. 
Q. I will need financial aid. Who should I contact about this?
Contact the SIU Financial Aid Office at 618-453-4334, and tell them that you want more information on financial aid to help cover Physician Assistant Program costs.
Q. Will I spend the entire 26 months, 7 semesters entirely in Carbondale?
No, the first year (Phase I) is spent on campus in Carbondale. During the second year (Phase II), students complete their clinical rotations. Applicants must be aware that they may be required to relocate to one of our hubsites for Phase II (approximately 12 months) of the curriculum. These sites may change from year to year. Phase III is an eight-week preceptorship arranged individually by each student and program faculty.
Q. How can I find out if the courses I've taken meet your prerequisite course requirements?
You should include a copy of the course description and syllabus in a letter or e-mail attachment to the program advisor. This will allow the admissions committee to have the necessary information to make the determination.
Q. What if I have prerequisite courses in progress? May I still apply?
Yes. However, during the spring semester before the program begins (summer), you may take only one outstanding prerequisite course (with an earned grade of "A" or "B") and medical terminology. Contact the program advisor with questions regarding this.
Q. What is the application deadline?
Application for the MSPA program must be completed using CASPA and the SIU Graduate School application during the period of April 26 through the published deadline. This deadline may change from year to year. Check with our official website or the program advisor for updates. Incomplete or late applications will not proceed through the process.
Q. When and where do interviews take place?
Interviews are held at the discretion of the admissions committee, but are usually scheduled July through February as needed. Interviews are held at SIU.
Q. Does everyone get an interview?
No, only those identified by the admissions committee as the most capable applicants are interviewed. Because we only select up to 40 students each year, the process is very competitive.
Q. May I specialize?
In Phases II and III each student has one elective rotation and one preceptorship in which he/she may choose to complete clinical rotations in specialty areas, with faculty approval.
Q. Are there any courses or requirements that may be waived for completion and graduation from the PA Program?
No. All PA Program students must complete all program requirements successfully to graduate.
Q. How do SIU SOM PA graduates do on the national board exam?
Our graduates have done very well on the PANCE (national board exam). The program has a current overall national certification rate of 99% for all PA graduates.
Q. If I'm not accepted to the Program, may I reapply?
Yes. We encourage applicants to reapply to the program. You'll need to repeat the complete application process. Discuss the implications of reapplication with our program advisor.
Questions about the profession:
Q. What is a physician assistant?
A physician assistant (PA) is a health professional licensed by the state or credentialed by a federal employer to practice medicine as delegated by and with the supervision of a physician. PAs provide a broad range of medical and surgical services that traditionally have been performed by physicians.
A hallmark of physician assistant practice is that PAs work as a member of a team, with their supervising physicians as the leaders of the team. As members of the medical team, PAs diagnose and treat illness. They can meet the needs of patients in a variety of clinical and hospital settings. PAs have long been recognized as quality health care providers.
Q. What does a physician assistant do?
As part of their responsibilities, physician assistants perform physical exams, diagnose illnesses, develop and carry out treatment plans, order and interpret lab tests, suture lacerations, apply casts, assist in surgery, provide patient education and preventive health care counseling, and prescribe medications.
To allow the physician-PA team to be more efficient in providing care to patients, the vast majority of states do not require PAs and their supervising physicians to be at the same location. All state laws require the supervising physician to be available, either in person or by telecommunications, when the PA is seeing patients.
Q. What kinds of conditions can PAs treat, and what situations require physician care?
The scope of the PA's work corresponds to the supervising physician's practice. In general, a physician assistant and the supervising physician will see patients with the same kinds of illnesses. The cases handled by physicians are generally the more complicated medical cases or those that require care that is not a routine part of the PA's scope of work.
Supervising physicians determine which patients and what kinds of illnesses they want PAs to treat. Close consultation between the patient, PA, and physician is done for unusual or hard to manage illnesses. Physician assistants are taught to know when it is appropriate to have the patient seen by the physician. It is an important part of PA training.
Q. What is the education process for a PA?
The typical applicant to a physician assistant educational program has a Bachelor's degree and four years of health care experience. PA programs look for students who have a desire to study, to work hard, and to be of service. All PA programs are accredited by one independent organization supported by the American Medical Association, the American Academy of Family Physicians, the American College of Surgeons, and other national medical organizations. Whether located at a college, university, medical school, or teaching hospital, all PA programs must meet the same national accreditation standards.
The typical PA program provides students a broad education in primary care medicine in two phases. The first phase includes lectures and lab sessions in anatomy, physiology, pharmacology, microbiology, medical ethics, and similar courses. The second phase is spent in clinical rotations in such specialties as family medicine, internal medicine, pediatrics, emergency medicine, obstetrics and gynecology, geriatrics, surgery, psychology, and other specialties. During this period, students treat patients in each of the major disciplines of medicine and perform additional coursework on campus.
A PA's education doesn't stop after graduation, though. To keep abreast of medical advances, PAs are committed to life-long learning. PAs take continuing medical education classes throughout their career and sit for a national recertification exam every six years.
Q. How did the profession begin?
In the mid-1960s, physicians and educators recognized that there was a shortage and an uneven distribution of primary care physicians. To expand the delivery of quality medical care, Eugene Stead, M.D., at the Duke University Medical Center in North Carolina, put together the first class of physician assistant in 1965. He selected four Navy corpsmen who received medical training during their military service but who had no comparable civilian employment opportunities. Stead based the education of PAs in part on his knowledge of the fast-track training of doctors during World War II.
Q. Where do physician assistants work?
PAs are employed in virtually all types of health care settings – hospitals, clinics, private physician offices, schools, HMOs and even in the White House as members of the medical team taking care of the president and vice president. The US government employs PAs in the military, Veterans Administration, Bureau of Prisons, Public Health Service, and other agencies.
PAs can be found in communities of all sizes, from the smallest rural town to major metropolitan areas, and in virtually every medical and surgical specialty. Although the majority of PAs work in primary care medicine – family medicine, internal medicine, pediatrics, and obstetrics and gynecology – many work in specialty medicine, such as cardiothoracic surgery and orthopedics. PAs may also work in the areas of medical education, health administration, and research.
Q. What's the difference between a PA and a physician?
Physician assistants are trained in medicine, just like physicians, and some PAs attend many of the same classes as medical students. Both are educated to detect diseases, treat them, and to assist with healthier lifestyles. A major difference between PA education and physician education is the amount of time spent in formal education. Physicians complete an internship after graduation and the majority of them complete a residency in a specialty after the internship. PAs are not required to undertake either.
Q. What is the difference between a PA and a nurse practitioner?
"On a daily basis in the United States, physician assistants and nurse practitioners function in similar roles. Both can diagnose, treat, and prescribe, but the training of physician assistants is generalist in nature and modeled on medical school curriculums. All physician assistants learn primary care and rotate through the major specialties while in training. Nurse practitioners, on the other hand, have traditionally been trained in one specialty (pediatrics, women's health, etc.). Recently, family practice as a specialty has gained in popularity. Physician assistants are employed more often as house officers within the hospital setting than are nurse practitioners; surgery and its subspecialties are the most popular in-house specialties. Physician assistants are also more involved in emergency care than are nurse practitioners.
Politically, physician assistants consider themselves to be a part of medicine as a member of the physician-led team, and some physician assistants sit on physicians' state medical boards. In contrast, nurse practitioners come from a nursing background and feel closest to nursing. Most state legislation for nurse practitioners sets up the state board of nursing as their regulatory body. Although both groups seek to be part of the medical care team, most nurse practitioners do not feel a political need to be tied to a physician. This has led some nurse practitioners to seek independent practice, which physician assistants have not done. It is the setting and the specialty that determines how these two professions practice, rather than legislative or professional regulations." (Obtained from: http://www.paworld.net/whatpadoes.htm on May 23, 2007)
Q. Have physician assistants been accepted on the health care team?
Most physicians who have worked with physician assistants like having PAs on staff. The American Medical Association, the American College of Surgeons, the American Academy of Family Physicians, the American College of Physicians, and other medical groups support the physician assistant profession by having voting members on the boards that accredit PA educational programs and certify individual PAs.
PAs enjoy a collegial relationship with other providers because physician assistants have demonstrated their commitment to their patients and their competence in delivering quality medical care. Their training as team players enables them to work with other providers to ensure appropriate patient care in all settings.
According to the Eighth Report to the President and Congress on the Status of Health Personnel in the United States, "Physician assistants have demonstrated their clinical effectiveness both in terms of quality of care and patient acceptance."
Q. What does the "C" in PA-C mean?
Physician assistant-certified. It means that the person who holds the title has passed the certification exam developed jointly by the National Board of Medical Examiners and the National Commission on Certification of Physician Assistants (NCCPA). The NCCPA is an independent organization, and its commissioners represent different national medical organizations and the PA profession. Only graduates from accredited PA educational programs are allowed to take the initial exam.
To maintain the "C" after "PA," a physician assistant must log 100 hours of continuing medical education every two years and take the national recertification exam every six years. The certification and recertification exams help ensure there is a core medical and surgical knowledge that each PA-C should attain and maintain.
Q. What is the American Academy of Physician Assistants?
AAPA is the only national professional society to represent all PA in every area of medicine. Founded in 1968, the Academy represents PAs in all 50 states, the District of Columbia, Guam, and the federal services. Its mission is to provide quality, cost-effective, and accessible health care to support the professional and personal development of PAs. AAPA pursues these goals through government relations and public education program, research and data collection efforts, and continuing education activities.