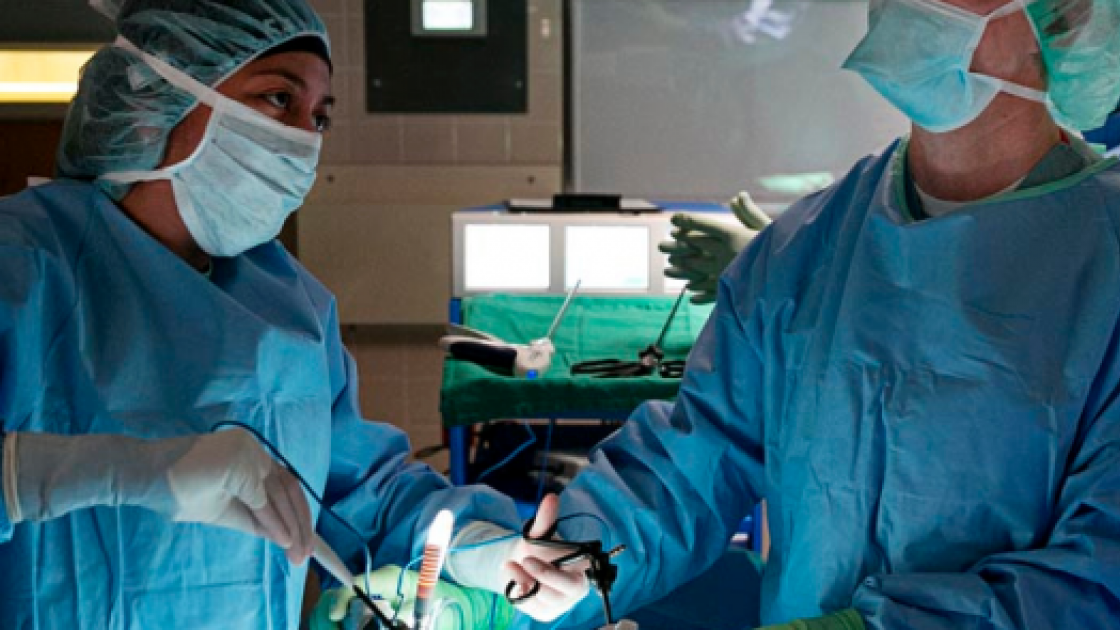 Goals:
The goals of the core surgery clerkship are:
Provide a clinically immersive experience with a designated faculty preceptor who will through direct observation and targeted feedback assist students to develop their clinical skills i.e. history and physical exam skills, differential diagnoses development, diagnostic justification, and development of diagnostic and therapeutic management plans.  
Provide the opportunity for development of communication and interpersonal skills i.e. oral presentation skills, patients, families, caregivers and healthcare teams, and documentation skills.
Divisions and departments available for student experience include:
General Surgery
Cardiothoracic Surgery
Colorectal Surgery
Neurosurgery
Orthopedic Surgery
Plastics Surgery
Trauma/Critical Care
Urology
Vascular Surgery
Department of Otolaryngology
Structure:
The Surgery Clerkship is 4 weeks long and is a combination of inpatient surgical experience, outpatient surgical experience as well as ambulatory clinics. Each student will be with one surgical subspecialty for the duration of the clerkship and will have a chance to develop skills for the surgical patient in the areas of clinical history and physical skills, treatment plan, technical skills in the operating room and treatment of the critically ill patient.
Personalized Education Plan (PEP)
Following the Core Clerkships in the remaining 15 weeks, the students, will complete a personalized education plan to further experience areas of interest or improvement of clinical skills. During the PEP time the students will enroll in surgical specialties for a 2-4 weeks experience and will work with the resident team as well as the surgical faculty.
The goals of the personalized educational plan (PEP) surgery are:
Provide students opportunities to experience a wide variety of surgical specialties to assist students in determining their career paths.
Provide students who already have chosen a career path with a deeper experience in surgery specialties to develop their specific educational goals.
Evaluations:
Student's professionalism and clinical skills will be evaluated utilizing the On the Fly forms. At the end of the clerkship all On the Fly forms are compiled to develop an overall summative evaluation for the student.
Contacts:
Dr. Jarrod Wall, Clerkship Director
Phone: 217-545-5183
Maggie Boehler, MS, RN, Nurse Educator
Phone: 217-545-5145
Cathy Schwind, MS, RN, Nurse Educator
Phone: 217-545-5331