General
During the course of the urology residency program, the individual resident will have a variety of responsibilities including, but not limited to, patient care, preparation for conferences, teaching, and research. Each responsibility will be shared with other individuals including fellow residents, urology faculty, attending physicians and surgeons from other services. In each instance, the resident's share of responsibility will be commensurate with the level of experience of that resident. The individual urology resident should always initiate communication between the chief resident in urology and the faculty to assure that involvement and input from all responsible parties is maintained. Clear communication between these individuals is the key to optimal patient care and a valuable learning experience.
In-Service Exams
In-service exams provide the faculty information about cognitive advancement in comparison to peers. Residents' participation is mandatory and exceeding 50 percentile of peer group is required. Failure to do so may result in academic probation, suspension of operating room privileges, withdrawal from national, regional or local meetings, or other remediation as determined by the faculty. Mock oral and written exams are administered in addition to the formal In-Service exam given in the fall of each year.
Service Rotations
Residents will rotate through two rotations while in their PGY2-5 years. The first service covers HSHS St. Johns Hospital and SIU Outpatient clinics. Residents will cover all inpatients of both the SIU and Springfield Clinic patients located at this hospital along with all surgical cases. Residents will be exposed to all Urologic subspecialties, including pediatrics, during rotations. Multiple DaVinci Robots are available at this hospital with teaching consoles and simulators to aid in education. New and innovative surgical devices are available at St Johns including Rezum and Thulium lasers. The second rotation is Memorial Medical Center. Residents on this rotation will cover all inpatients for SIU and Springfield Clinic location at this hospital. All subspecialties of Urology except for pediatrics are represented by the surgeries conducted at Memorial Medical Center. Multiple DaVinci robots are available with teaching consoles and simulators to aid in education. Thulium, high watt holmium, and UroLift devices are all available at this location. Duties and cases covered at both hospitals by the residents will be commensurate with the level of training and education.
Outpatient Clinics
The outpatient clinical experience in which patients are evaluated and managed is necessary for residency training and accreditation and is a key element of urology training. The resident outpatient experience will be one in which the residents are given appropriate responsibilities and an opportunity to make diagnostic and therapeutic decisions concerning the need for surgery.  They will have the opportunity for continuity of care outside of the hospital for those patients who have had surgery.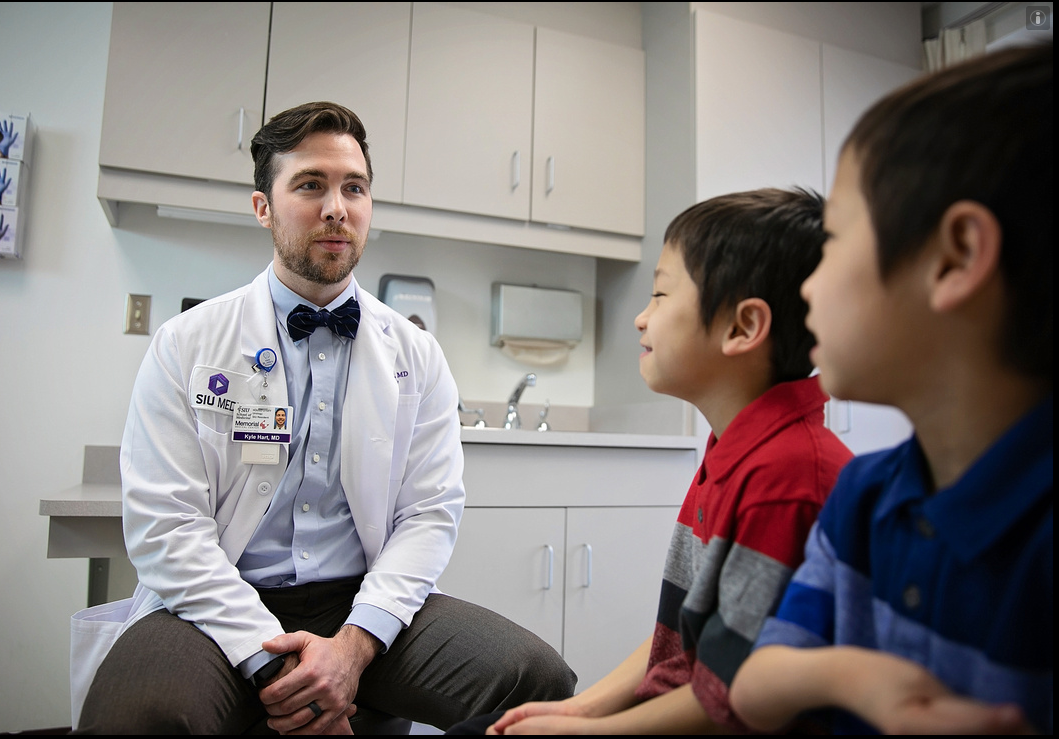 Each resident will have their own personal half-day clinic every week under the supervision of a faculty member. This clinic includes experience in outpatient procedures such as cystoscopy and transrectal ultrasound-guided biopsy of the prostate. Each resident is responsible for the care of patients in their clinics, including promptness in attendance, evaluation and management of clinical problems, follow-up of laboratory and imaging studies, scheduling surgery and follow-up appointments and communication with referring physicians. Specific disease states can be discussed with the representative faculty specialist.  Clinics will be organized in a way that residents will be able to follow their patients throughout their residency, giving them the opportunity to manage patients over an extended period of time.  The faculty providing oversight may change but resident involvement will be consistent. 
Operating Room
The resident is expected to be available when the patient is taken to the operating room. When the patient enters the operating room, the resident should be available to have all imaging readily available, to aid in proper positioning of the patient and to be present during induction of anesthesia. The resident should oversee the prepping and draping of the operating room. In addition, residents who participate as the operating surgeon should have chart documentation of participation and understanding of the preoperative workup.
The chief resident has the option to choose cases on any of the services. Exceptions include resident clinic patients and faculty decisions. The resident assigned to a service where the chief resident is the operating surgeon will be present during the operation and will be responsible for the postoperative care. It is expected that the chief resident will be available to all of the residents for advice and help with the care of all patients, especially in those cases in which he or she served as the operating surgeon.
The residents will be participating in robotic surgery and will become competent in many robotic urologic procedures. As part of the robotic curriculum, residents will be required to create [rpfiles and complete all simulation on the DaVinci robotic simulators prior to participating in robotic procedures. These simulators are located at both St. Johns and Memorial Medical Center are readily available to all residents at all times.
The ACGME has established a required minimum number of cases in each of the index categories and procedures to maintain program accreditation. Therefore, it is important to maintain an accurate accounting of surgical cases. Residents at all levels are required to log their operative cases onto the ACGME website on a daily basis. Failure to do so may result in the suspension of operative room privileges.
Inpatient Consults
As professionals, mutual respect for other physicians is important for patient care. If medical consultation from another service is requested on our patients, direct verbal communication with the physician is required. Physician-to-physician contact is mandatory and mere written physician orders are not acceptable. Direct physician-to-physician contact communicating the assessment and plan is mandatory. Failure to do so may result in loss of operating room privileges.
Inpatient consults will be primarily completed by the junior residents with aid and supervision from the senior and chief residents. All consults and plans will be discussed with more senior residents and attendings.
Committee Participation
Each resident is expected to participate in at least one SIU committee.