Vascular Surgery Residency Curriculum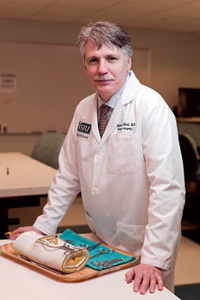 The Division of Vascular Surgery offers a five year vascular surgery residency program, with one position available each year, that was approved by the Accreditation Council for Graduate Medical Education (ACGME) in 2009.  Applicants must be graduates of LCME-accredited medical schools, osteopathic schools accredited by AOA, or foreign medical schools with ECFMG certification.  Southern Illinois University School of Medicine is affiliated with two 600-bed private hospitals, St. John's Hospital and Memorial Medical Center, that are separated by three-quarters of a mile.   Residents who complete the program are eligible for a primary vascular surgery certificate from the American Board of Surgery.  
The operative caseload is varied, covering virtually every aspect of peripheral vascular surgery, but is weighed toward open and endovascular management of carotid stenosis, aortic aneurysms, and lower extremity arterial occlusive disease.  The resident is also responsible for interpreting non-invasive laboratory studies, for seeing inpatient consultations, for preparing a vascular conference every week, and for assisting in the outpatient clinic.
Ample time is provided for the residents to participate in clinical and non-invasive vascular laboratory research. 
SIU has an outstanding reputation for innovative methods of surgical education, including a premier surgical skills lab. Vascular surgery residents will participate in structured learning experiences including a "boot camp" to master basic surgical skills such as knot tying, suturing, central line placement, anastomotic techniques, chest tube insertion, surgical airway placement and laparoscopic skills.  In addition, vascular residents will participate in the department's Residents as Teachers (RATS) program.  Core surgical rotations are concentrated in the first three years of the residency in conjunction with the Division of General Surgery.
For further information please contact:
Rhonda Loyd
217-545-8856