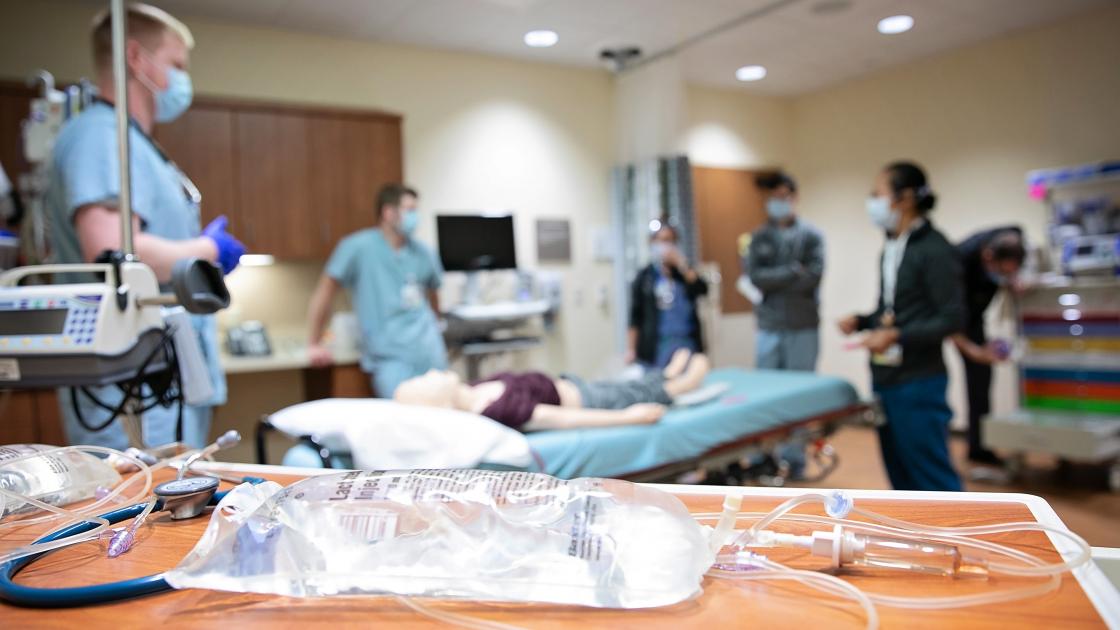 Pediatric Emergency Medicine Division
Welcome to the SIU Division of Pediatric Emergency Medicine
The mission of our pediatric emergency medicine division is to provide outstanding, evidence-based, compassionate, family centered, care to the ill and injured children in our community and region.  Our pediatric emergency medicine physicians have completed an additional 3 years of fellowship training, and are dual board certified in pediatrics and pediatric emergency medicine by the American Board of Pediatrics. We are intentionally focused on providing innovative medical education, and doing clinical and quality improvement related research, to ensure high quality pediatric emergency care is provided by our residents.
There are currently 3 full-time pediatric emergency physicians on staff to provide comprehensive pediatric clinical care in an emergency department that is affiliated with the Children's Hospital at HSHS St. John's Hospital, in Springfield IL, with annual pediatric visits of 12, 000. It is a level 2 pediatric trauma center for our region with access to all pediatric subspecialties.
The emergency department serves as a primary gateway to the HSHS Children's Hospital for admission, which has 30 beds on the general floor and intermediate care areas, and 8 beds in the pediatric intensive care unit. It is the only level 3 neonatal intensive care unit providing care to premature and other critically ill infants in south central Illinois. Our emergency department at St. John's Hospital has been designated by the Illinois Emergency Medical Services for Children as and emergency department accredited for the management of children.
To achieve our mission, our primary focus is on providing innovative medical education for our medical students, emergency medicine and pediatric residents. Our robust curriculum consists of bedside teaching in the emergency department, lectures, procedural skills lab, small group case based learning, and high-fidelity simulation at the Memorial Center of Innovation. The goal is to provide our residents with clinical experience and knowledge in the timely recognition and initial management of critically ill and injured pediatric patients. Additionally, our emergency medicine residents gain invaluable pediatric critical care experience from their rotations through the pediatric intensive care unit and pediatric anesthesia. The dedication to excellence in teaching by our pediatric emergency medicine faculties has been recognized with many teaching awards from medical students, emergency medicine and pediatric residents.
Research and Quality Improvement
With tremendous research support from the SIU-SOM Clinical Research Consortium, and extensive collaboration with other departments, such as Pediatric medicine, our team has completed national, multi-centered quality improvement projects to improve, and maintain high quality pediatric emergency care for the children in our region. Our faculty have extensive research interests including pediatric disaster preparedness, pediatric medical education, and diversity, equity and inclusion topics.
Future endeavors include growing our division in terms of faculty members who are diverse and inclusive, in order to provide more continuous pediatric emergency care/coverage, advocate for a dedicated pediatric emergency department, and continuing our scholarly work in medical education and quality improvement.
Please reach out if you have any further questions or inquiries.
Best,
Myto Duong, MSc, MB, BCh, BAO, FAAP
Division Chief, Pediatric Emergency Medicine
Associate Professor
Department of Emergency Medicine
Southern Illinois University, School of Medicine