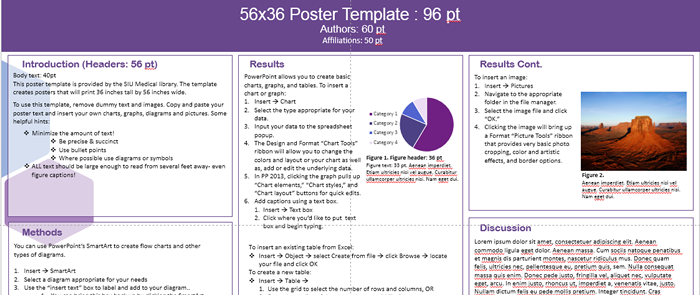 Poster Service Hours
Monday – Friday,
8:00 AM – 4:30 PM
To submit a poster
Email:  reference@siumed.edu  (Please include your full name and department)
In person: Bring to the Library on a flash or thumb drive.
Posters submitted after 4:30 PM will be printed the next day.
Who may use the service
Departments pay a yearly fee to subscribe to the service.
Faculty, staff, residents, students and researchers from subscribed departments may use the service to print posters.
Cost
See the  Library Service Fees page
What we will print
We will print posters related to academic, scholarly, research and clinical work .
Personal poster printing is not available.
Format and Templates
Submit posters as PowerPoint files.
If other software is used, the file should be saved and submitted as a PDF document.
Before designing a poster see the Poster and Presentations Guide for instructions and templates.