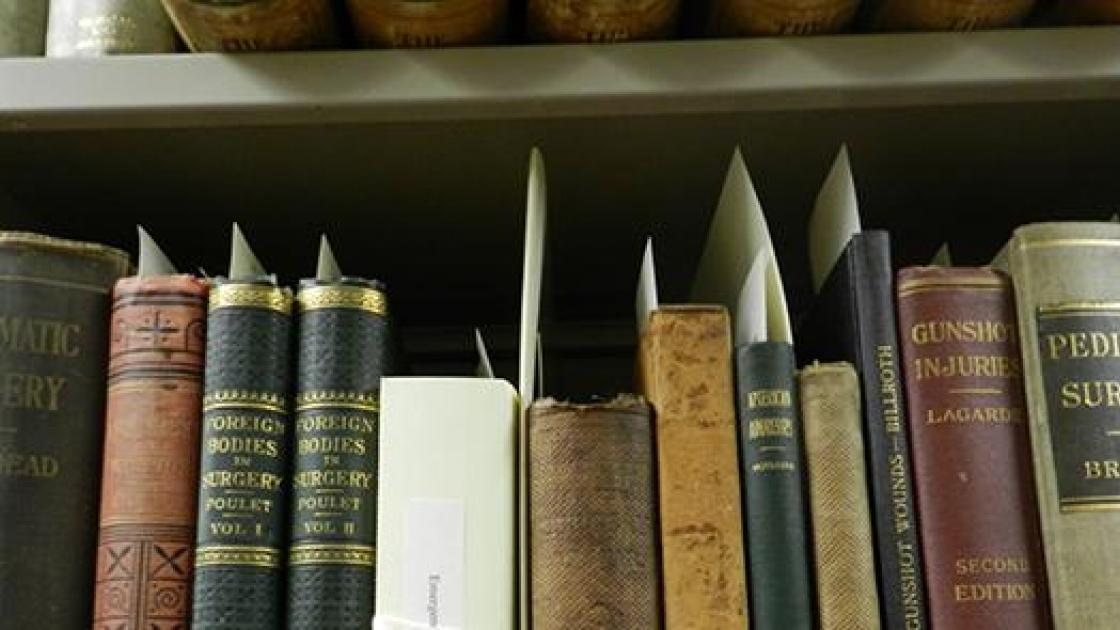 Special Collections and Archives
Special Collections
The Special Collections Department consists of rare books, archives, and a few manuscript collections, which relate to the history of medicine. The core of the rare book collection was purchased from Dr. Morris Saffron, and is rich in works in venerology, dermatology, and the history of medicine.
Three other collections of note are:
Frank B. Norbury Collection (neurology and psychiatry)
Kemper/Buckmaster Collection (a 19th-early 20th century working physicians collection)
William Moore Collection (homeopathy and popular medical texts)
All books in Special Collections are included in the Medical Library Catalog.
Special Collections statistics
| Time Period | Holdings |
| --- | --- |
| Incunabula | 0 |
| 16th century | 13 |
| 17th century | 26 |
| 18th century | 138 |
| 19th century | 1,112 |
| 20th century | 1,244 |
| Archival size | 417 linear feet |
| Manuscript collection | 11 |
| Photographs | 878 |
The total number of volumes in the collection is 5,178.
Archives
The SIU School of Medicine Archives consist of 417 linear feet of print and non-print materials of historic value emanating from the School. Popular items in this non-circulating collection include curriculum documents and the School's yearbooks. A few manuscript materials are housed in special collections, mostly related to the central Illinois region.
For more information on our Archives or to schedule an appointment to view the collection, please contact a librarian at reference@siumed.edu or 217-545-2113.
Acknowledgment
A published work using these materials as sources must acknowledge this library. A citation should include the following information:
Special Collections Southern Illinois University School of Medicine, Springfield, IL.
Your cooperation is greatly appreciated in the preservation of this collection.